Bachelor of Physiotherapy: Top Colleges, Job Prospects, Entrance Exam, Course details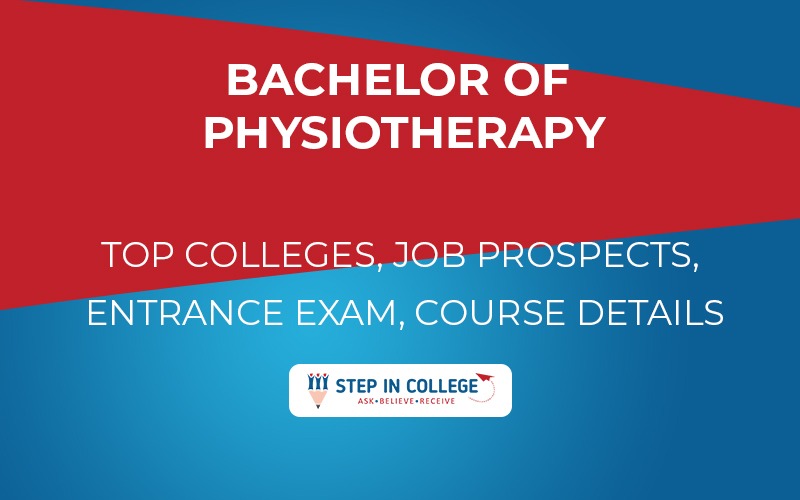 Published by : Step in college
Bachelor of Physiotherapy or BPT is an undergraduate 4-year course. Physiotherapy is a professional bachelor's degree that provides jobs upon completion. In hospitals and physiotherapy centers, you can either work as a certified healthcare provider or can set up your own clinic and practice separately.
Bachelor of Physiotherapy Course details, Eligibility, Syllabus, Entrance Exam, Top Colleges, Job Prospects | StepInCollege
Physiotherapy is a field of medicine that deals with physical activity, such as exercise and massage. Students participating in this program are taught about abilities related to manual therapy, exercises, and the introduction of methods of electro-physical rehabilitation that heal a variety of spine, back, neck, and even stress-related disorders and diseases.
The BPT course provides education, guidance, and therapy services to people in their senior years who need special physical and psychological treatment.
In This Course, Candidates will undergo training to treat muscle spasms and injuries as part of the program. The various aspects of human anatomy are also covered by the Bachelor of Physiotherapy to impart a thorough understanding of the species. Individuals' physical and muscular wellbeing will be your responsibility as a physiotherapist. The course teaches people to manage problems with locomotion and muscle problems caused by aging, illnesses, accidents, disabilities, etc. If you have studied at a good college, there is a good salary range in this area.
Bachelor of Physiotherapy (B.P.Th) Eligibility Criteria
Min Required Qualification: 10+2
Combination of subjects: Physics, Chemistry and Biology as compulsory subjects and occasionally English
Minimum Required Marks (Aggregate): 50% (relaxation for reserved category students available)
17 years old is the minimum age requirement.
Note: Candidates are expected to have their marks checked through the original copies of their documents and mark sheets during the time of admission.
Bachelor of Physiotherapy (B.P.Th) Entrance Exam
IPU CET
BCECE
IEMJEE
VEE
LPUNEST
Bachelor of Physiotherapy (B.P.Th)Top Colleges
CMC, Vellore
Madras Medical College, Chennai
Sri Ramachandra University, Chennai
Lokmanya Tilak Municipal Medical College, Mumbai
Institute of Postgraduate Medical Education and Research, Kolkata
Government Medical College, Nagpur
Manipal College of Allied Health Sciences, Manipal
Bundelkhand University
NIMS University
Christian Medical College, Ludhiana
Bachelor of Physiotherapy (B.P.Th) Syllabus
First Year: Anatomy, Basic Nursing, English, Psychology, Physiology, Sociology, Kannada, Biomechanics, Biochemistry, Integrated Seminars, Orientation to Physiotherapy.
Second Year: Pathology, Exercise Therapy, Constitution of India, Electrotherapy, Microbiology, Introduction to Treatment, Clinical Observation Posting, Research Methodology & Biostatics, Pharmacology, First Aid & CPR.
Third Year: General Medicine, Orthopedics and Sports Physiotherapy, Orthopedics and Traumatology, Allied Therapies, General Surgery, Supervised Rotatory Clinical Training.
Fourth Year: Neurology and Neurosurgery, Community-Based Rehabilitation, Community Medicine, Supervised Rotatory Clinical Training, Neuro-physiotherapy.
Bachelor of Physiotherapy (B.P.Th) Job Prospects: People's lifestyles in India have changed as a result of rapid urbanization. With most young people now heading to the business sector, the level of stress has risen rapidly. The demand for good physiotherapists, therefore, is growing.
In private orthopedic clinics, hospitals, rehabilitation centers, fitness centers, sports centers, security establishments, etc., physiotherapists are required. Physiotherapists with advanced degrees may open their own clinics and care for their patients. The job profiles and career areas that one may apply for after graduation are as follows.
Employment Areas
Health Institutions
Defence Medical Establishments
Fitness Centres, Educational Institutions
Hospitals
Physiotherapy Equipment Manufacturers
Orthopedic Departments
Job Profiles
Assistant Physiotherapist
Researcher
Lecturer
Therapy Manager
Private Physiotherapist
Sports Physio Rehabilitator
Osteopath
Customer Care Assistant
Consultant