Bachelor of Science (B.Sc.) in Agriculture: Course details, Top Colleges, Job Prospects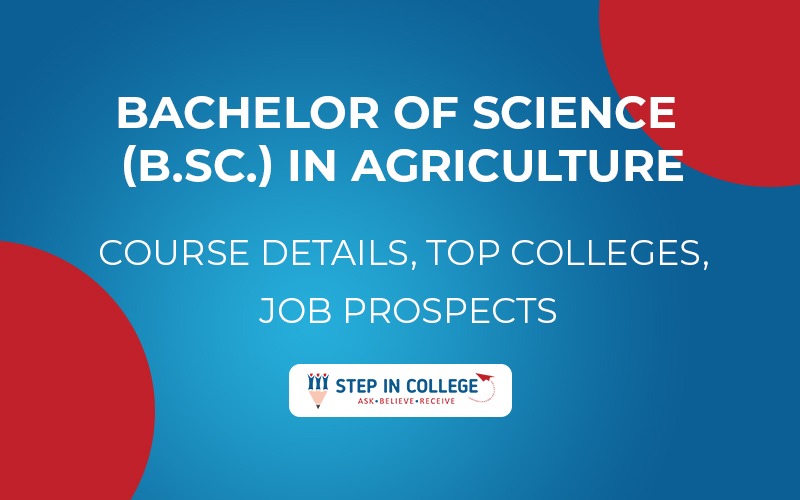 Published by : Step in college
BSc Agriculture is an undergraduate 4-year course. This course covers agricultural science as well as the successful application of advanced agricultural methods and equipment in real-world circumstances. As India's economy relies primarily on agriculture, the significance of this course can be understood by aspirants at a professional level. As a technical degree course to be studied on a wide scale, the government has recognized this course. Students interested in enrolling in this course should have a basic understanding of the field as well as a creative mindset.
Bachelor of Science (BSc) in Agriculture Course details, Eligibility, Syllabus, Entrance Exam, Top Colleges, Job Prospects | StepInCollege
Since India's economy has traditionally been heavily reliant on agriculture, Bachelor of Science in Agriculture is one of the most common BSc specializations. It provides various topics related to various forms of agricultural practices and their advantages. This course would be very useful for students pursuing careers in livestock, agribusiness, and agricultural science. The curriculum covers a broad range of topics related to different forms of farming practices, with the goal of raising productivity while minimizing soil erosion and pollution.
B.Sc Agriculture Eligibility Criteria
Applicants must have completed their class XIIth studies from a recognized Board and must have taken Physics, Chemistry, and Biology as part of their qualifying test.
Applicants should have cleared their respective qualifying examinations at least with a minimum aggregate of 50%
Applicants who have studied mathematics at the qualifying level can also apply if they have also studied biology along with other subjects in the science stream.
To be eligible for BSc agriculture entry, applicants should not be less than 18 years of age.
B.Sc Agriculture Entrance Exams
BCECE
PAU CET
OUAT
SAAT
CG PAT
BHU UET
BSc Agriculture Top Colleges
Govind Ballabh Pant University of Agriculture and Technology
Junagadh Agricultural University
Chandigarh University
Shivaji University
Orissa University of Agriculture and Technology
University of Agricultural Sciences
Annamalai University
Kalasalingam Academy of Research And Education
Siksha O Anusandhan University
Bharath University
B.Sc Agriculture Syllabus
First Year: Comprehension and Communication Skills in English, Production Economics and Farm Management, Introduction to Computer Applications, Fundamentals of Agribusiness Management, Rural Sociology and Constitution of India, Principles of Agricultural Economics, Plant Biochemistry, Agricultural Marketing, Trade and Prices, Educational Psychology, Agricultural Finance, and Co-operation.
Second Year: Principles of Soil and Water Engineering, Economic Entomology, Energy Sources and their Application in Agriculture, Crop Rest and their Management, Farm Power and Machinery, Sericulture, Protected Cultivation Structures, and Agro-Processing, General Entomology.
Third Year: Dimensions of Agricultural Extension, Agricultural Microbiology, Entrepreneurship Development, and Communication Skills, Soil Microbiology, Extension Methodologies for Transfer of Agricultural Technologies.
Fourth Year: Fundamentals of Statistics, Weed Management, Field Crops - 1 (Kharif), Irrigation Water Management, Introductory Agriculture, Principles of Agronomy and Agricultural Meteorology, Practical Crop Production - 1, Practical Crop Production - 2, Rain-fed Agriculture and Watershed Management, Field Crops - 2 (Rabi), Farming System, Organic farming and Sustainable Agriculture, Experimental Techniques in Agricultural Research.
B.Sc Agriculture Job Prospects: India's economy is based on agriculture, and BSc Agriculture graduates have a range of choices. There are different jobs available for graduates in the private sector as well as in the government sector. There are many opportunities for lucrative employment in the field of agricultural science with organizations like NABARD and the Ministry of Agriculture. Private companies that manufacture agricultural products require qualified individuals in order to develop their production techniques as well as their business. With the need to come up with sustainable agricultural methods, there is still a lot of space for study after pursuing a BSc in agriculture. Some of the profiles that candidates will follow after completing this course are below:
Agriculture Officer
Agricultural Research Scientist
Marketing Executive
Assistant Plantation Manager
Agriculture Development Officers
Agriculturists
Agriculture Technician
Business Development Executive
Rice Breeder
Junior Agriculture Specialist
Seed Technologist
Junior Associate – Research