B.Sc. Agri + Mba (ABM): Syllabus, Top Colleges, Job Prospects | StepInCollege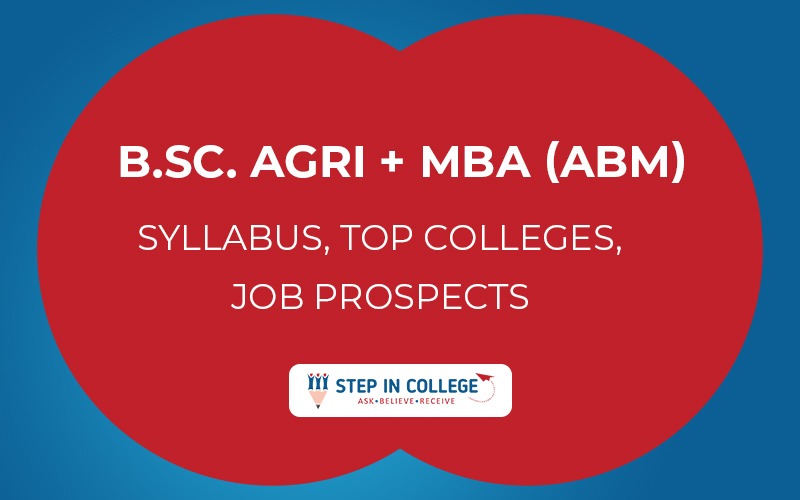 Published by : Step in college
B.Sc. Agri+Mba (ABM) 5-year duration. The agricultural and horticultural science courses follow the ICAR-recommended national curriculum, which is accompanied by a comprehensive curriculum and projects in the Business School. The goal of this program is to produce knowledgeable and successful management professionals who understand the different aspects of practical horticultural agriculture and food production systems and the constraints of optimizing trade-in maximizing income and financial management systems related to risk management processes in industries.
B.Sc. Agri + Mba (ABM) Course details, Eligibility, Syllabus, Top Colleges, Job Prospects | StepInCollege
Choosing a career as an agricultural specialist is a life choice that will not be regretted. Obtaining an agricultural-related degree opens the door to a number of potential career choices. The need for well-trained agricultural professionals is more critical than ever before, as the world seeks economic transformation. There is no doubt that agriculture will continue to form the backbone of the economic growth of any country.
B.Sc. Agri + Mba (ABM) Eligibility Criteria
10+2 with PCB and a minimum grade of 55 percent.
B.Sc. Agri + Mba (ABM) Top College
Agricultural College and Research Institute
Bhagwant University
Dr. Panjabrao Deshmukh Krishi Vidyapeeth
M.M. Institute of Management
Tamil Nadu Agricultural University - TNAU
B.Sc. Agri + Mba (ABM) Syllabus:
Semester 1: Agricultural Heritage, Fundamentals of Soil Science & Management of problematic soils, Forestry and Environmental Studies, Fundamentals of Agronomy,
Fundamentals of Horticulture, Fundamentals of Rural Sociology Educational Psychology, Functional basic English-1, Functional intermediate English-1, Foundation course in Mathematics, Introduction to Life Sciences.
Semester 2: Fundamentals of Plant Pathology, Fundamentals of Agricultural Microbiology, Fundamentals of Genetics, Fundamentals of Crop Physiology, Introductory Soil & Water Conservation Engineering, Fundamentals of Agricultural Economics, Fundamentals of Entomology, Fundamentals of Agricultural Extension Education
Semester 3: Crop production technology-I (Kharif crops), Fundamentals of Plant Breeding, Agricultural Finance and Cooperation, Agri- Informatics, Farm Machinery and Power, Production Technology for Vegetables and Spices, Environmental Studies and Disaster Management, Livestock and Poultry Management, Statistical Methods.
Semester 4: Crop Production Technology-II (Rabi crops), Production Technology for Ornamental Crops MAP and Landscaping, Renewable Energy and Green Technology, Problematic Soils and their Management, Production Technology for Fruit and Plantation Crops, Principles of Seed Technology, Farming System & Sustainable Agriculture, Agricultural Marketing Trade & Prices, Introductory Agro-meteorology & Climate Change.
Semester 5: Principles of Integrated Pest and Disease Management, Manures Fertilizers and Soil Fertility Management, Pests of Crops and Stored Grain and their Management, Diseases of Field and Horticultural Crops and their Management -I, Crop Improvement-I (Kharif Crops), Entrepreneurship Development and Business Communication, Geoinformatics and Nano-technology and Precision Farming, Practical Crop Production – I (Kharifcrops).
Semester 6: Rainfed Agriculture & Watershed Management, Protected Cultivation, and Secondary Agriculture, Diseases of Field and Horticultural Crops and their Management-II, Post-harvest Management and Value Addition of Fruits and Vegetables, Management of Beneficial Insect, Crop Improvement-II (Rabi crops), Practical Crop Production –II (Rabi crops), Principles of Organic Farming, Farm Management Production & Resource Economics, Principles of Food Science and Nutrition.
Elective Courses for Semester IV To VI: Agribusiness Management, Landscaping, Food Safety and Standards,
Protected Cultivation, Hi-tech. Horticulture 3(2+1), Agricultural Journalism.
Semester 7: Seed Production & Processing Technology attachment & Report, Soil Plant Water and Seed Testing attachment and Report, Protected Cultivation Systems attachment and report, Village attachment and report, Agro-Industrial Attachment and report, Unit attachment in Univ./ College. KVK/ Research Station Attachment and report.
Semester 8: Management process & Organization behavior, Marketing Management, Managerial Economics, Accounting for Business, Quantitative Techniques, Economic Environment for Agribusiness, Contemporary Issues in Agribusiness, Managerial Communication.
Semester 9: Managing Human Resources, Business Research, Financial Management, Production & Operations Management, Project Management, Agripreneurship & Innovation, Business Laws & Ethics, Summer Internship Project
Semester 10: Strategic Management, Agribusiness Supply Chain Management, International Agribusiness & Trade, TBD, Elective -I, Elective -II, Elective -III, Elective -IV.
B.Sc. Agri + Mba (ABM) Job Prospects
Graduates of the BSc Ag + MBA-Agribusiness program are in high demand for management positions in modern farming systems, agro-industries, food companies, allied industries, farm machinery, agrochemical and seed industries, and food processing export/imports in the expanding national and international trade. In India or abroad, such graduates may also create their own business enterprises. Both food processing contract manufacturers of agrochemical seed grain horticulture contract farm machinery manufacturers and traders of food and farm produce exporters and importers. Many possible employers :
Advanta
Cargill
DuPont Monsanto
Lemken India Agro Equipments
National Agro-Industry
Nujivedu Seeds
Rasi Seeds