B.Sc. Medical Laboratory Technology (MLT): Course details, Eligibility, Syllabus, Top Colleges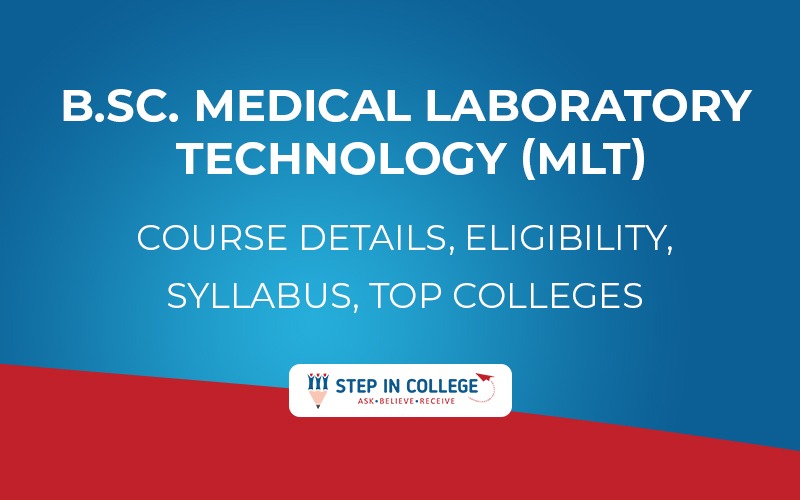 Published by : Step in college
BSc in Medical Laboratory Technology is a paramedical curriculum that, with the assistance of clinical laboratory tests, provides practical and theoretical information about the diagnosis, treatment, and prevention of different types of diseases and health problems. Professionals from the Medical Laboratory play an important role in diagnosing the disease and providing the best diagnosis and treatment available for it.
B.Sc Medical Laboratory Technology (MLT) Course details, Eligibility, Syllabus, Entrance Exam, Top Colleges, Job Prospects | StepInCollege
Throughout the curriculum, students learn how to recognize and diagnose diseases as well as the various treatments available. They also learn about the collection and sampling of important data, as well as research, documentation, and reporting. Students should have good research skills and the ability to finish the assignment precisely in order to succeed in the program. Students should also have a background in research, laboratory equipment, and instruments, as well as the ability to efficiently use a computer and its applications.
B.Sc Medical Laboratory Technology (MLT) Eligibility Criteria
10+2 or equivalent examination with science as a mandatory stream is required as a minimum qualification.
Minimum Marks Requirement: 50%. This percentage may vary from one college to the next.
B.Sc Medical Laboratory Technology (MLT) Entrance Exams
JEE Mains
JEE Advanced
JNUEE
B.Sc Medical Laboratory Technology (MLT) Top Colleges
Manipal Academy of Higher Education, Manipal, Karnataka
Jamia Hamdard University, New Delhi, Delhi NCR
Siksha 'O' Anusandhan University, Bhubaneswar, Orissa
King's George Medical University, Lucknow, Uttar Pradesh
SRM Institute of Technology, Kanchipuram, Tamil Nadu
Christian Medical College, Vellore, Tamil Nadu
Chandigarh University, Chandigarh
Bangalore Medical College and Research Institute, Bangalore, Karnataka
Government Medical College, Kozhikode, Kerala
Government Medical College and Hospital, Chandigarh
B.Sc Medical Laboratory Technology (MLT) Syllabus
First Year: Human Anatomy, Biochemistry 1, Microbiology 1, Physiology 1, Subsidiary Subjects, Pathology 1.
Second Year: Biochemistry 2, Microbiology 2, Environmental Science & Health, Sociology, Pathology 2, Physiology 2.
Third Year: Ethic & Database Management, Research, and Biostatistics, Biochemistry 3, Computer Applications, Pathology 3, Microbiology 3.
B.Sc Medical Laboratory Technology (MLT) Job Prospects: Graduates with a BSc in Medical Technology Laboratory have a number of career openings in both the public and private sectors. Medical technologists are in high demand because they are a critical component of the field of medicine and science.
Most students are hired as qualified laboratory medical technicians at the beginning of their careers. They are employed as if they have sufficient technical and educational experience.
Laboratory Manager
Healthcare Administrator
Hospital Outreach Coordinator
Medical Officer
Research Associate
Resident Medical Officer
Laboratory Information System Analyst
Laboratory Testing Manager
The following are the top employers for BSc graduates in Medical Technology:
Fortis Hospital
Apollo Hospital
Holy Family Hospital
Max Healthcare
HLL Life Care Limited
Ranbaxy
Medanta Hospital