Bachelor Of Computer Application [BCA]: Data Science Course details, Eligibility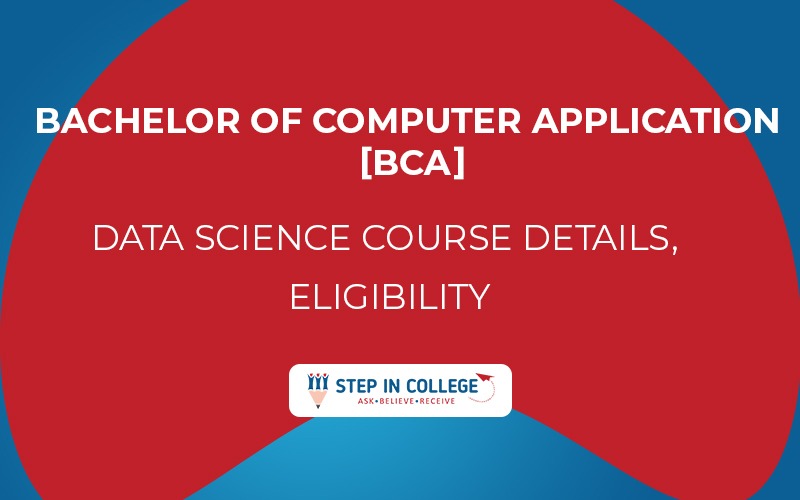 Published by : Step in college
BCA in Data Science is an undergraduate 3 years degree Course. It deals with mathematical science and computer knowledge. In addition to data science subjects, BCA Data Science is a course that teaches you in the field of computer and software applications. The key goal of the course is to bridge the gap between the fields of data science and computer applications by maintaining a healthy balance between them. Subjects such as DBMS, Machine Learning, Big Data Analytics, Python Programming, Discrete Mathematics, and the like are typically covered.
Bachelor Of Computer Application [BCA] Data Science Course details, Eligibility, Entrance Exams, Syllabus, Top Colleges, Job Prospects | StepInCollege
BCA Data Science enables you to gain knowledge of systems, software, and statistics, both theoretical and practical. The syllabus of BCA Data Science consists of laboratories, project work, elective topics, and language courses. As this is a newly launched course, distance learning can not be followed.
Eligibility Criteria for BCA Data Science
10+2 with mathematics as a mandatory subject in any applicable stream.
A minimum of 50 percent of marks.
For groups SC, ST and Mentally impaired, there is a 5 percent relief.
The 10+2 qualifying percentage varies from one organization to another.
Entrance Exams for BCA Data Science
K L University Written Test
Apex Common Entrance Test (ACET)
BS Abdur Rahman Institute of Science and Technology Entrance Test
Poornima University Entrance Test
VELS Institute of Science, Technology and Advanced Studies Entrance Test and alike
BCA Data Science Top Institutes
Poornima University, Jaipur
Vivekananda Global University, Jaipur
BS Abdur Rahman Institute of Science and Technology, Chennai
K L University, Andhra Pradesh
VELS Institute of Science, Technology and Advanced Studies, Chennai
Teerthanker Mahaveer College of Computing Sciences and Information Technology, Uttar Pradesh
SAGE University, Indore
Apex University, Jaipur
BCA Data Science Syllabus
Discrete Mathematics
Database Management System
Computer Networks
Big Data Analytics
Python Programming
Machine Learning
Data Modelling and Visualization
Statistics and Probability
Introduction in Data Mining and many more
BCA Data Science Job Prospects
BCA Data Science graduates, ample job opportunities, and career prospects are open. As a graduate of BCA Data Science, you will work in various fields, such as education, multimedia, security and surveillance, and others.
Data Scientist
Machine Learning Engineer
Business Analyst
Statistician
Software Engineer