Bachelor of Science in Radiology: Course details, Eligibility, Entrance Exams, Top Colleges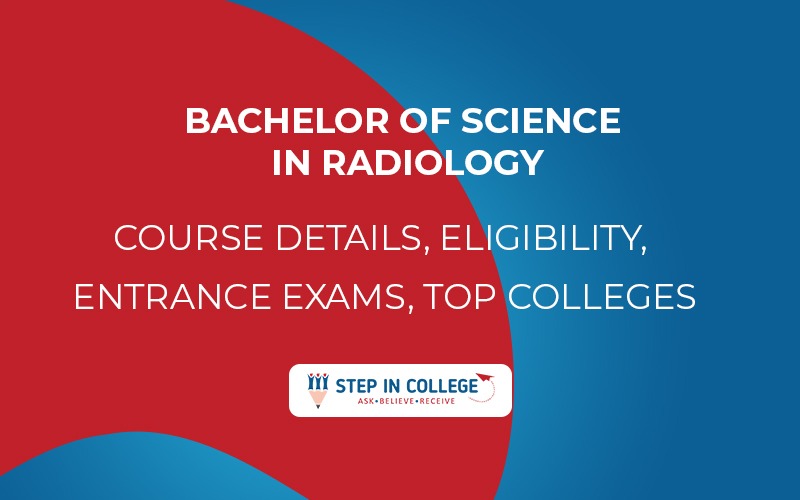 Published by : Step in college
B.Sc. in Radiology is an undergraduate 3 years course. In radiology, a series of tests are conducted which scan and take photos of the different parts of the body. Radiology helps us to diagnose different disorders; it is essential to identify deficiency and the dysfunction of different parts of our body. Injuries that cannot be detected through our naked vision and regular tests are diagnosed using radiological scans and tests. It is one of the most important medical science inventions that proved very useful.
Bachelor of Science in Radiology Course details, Eligibility, Entrance Exams, Syllabus, Top Colleges, Job Prospects | StepInCollege
Radiology can be taken up by those interested in medical science. One of the departments that play a crucial role in hospitals is the radiology department. We could not diagnose any diseases without radiology. Diagnosis for treatment is crucial; if there were no radiology, physicians would not be able to do their job. Those concerned with the field of medical science should consider radiology as one of their possibilities. You could specialise in radiology in different ways. You can take or graduate a certificate course.
B.Sc in Radiology Eligibility Criteria
The applicant must have cleared the examination of their class 12 board by science from an acknowledged board of education such as CBSE, ICSE, or the State Board equivalent.
In qualifying, in compulsory subjects like physics and chemistry and in the one optional subject between math or biology, all applicants should have obtained a minimum total score of 50 percent or more.
In accordance with the university or university guidelines offering the courses, candidates may need to participate in an entrance test.
B.Sc in Radiology Top Colleges
All India Institute of Medical Sciences (AIIMS), Delhi
Christian Medical College - (CMC), Vellore
Armed Forces Medical College (AFMC), Pune
Maulana Azad Medical College (MAMC), New Delhi
Jawaharlal Institute of Postgraduate Medical Education & Research (JIPMER), Puducherry
St. Xaviers College (SXC), Mumbai
Madras Medical College (MMC), Chennai
Sri Devaraj Urs Academy of Higher Education and Research (SDUAHER), Kolar
Om Paramedical & Technical Education (OPTE), New Delhi
Swami Rama Himalayan University (SRHU), Dehradun
B.Sc in Radiology Syllabus
First Year: Human Anatomy, Physiology and Pathology, Radiography Equipment, Physics of Diagnostic Radiology, General Physics, Radiation Physics, X-Ray: Introduction and Properties, Computers: Introduction and Basics.
Second Year: Patient Care and Ethics, Contrast Radiography Process, Clinical Radiography, Organisational Behaviour, Imaging Processing Techniques, Emergencies and its Principles, MRI, Ultrasound and CT Scan, Project Work.
Third Year: Instruments for Advanced Imaging Modalities, Radiobiology & Radiation, Quality Control, Imaging Processes Except for X-Ray, Log Book Auditing, Doppler and Echography, Anaesthetics in Diagnostic Radiology, Interventional Processes in Radiology.
B.Sc in Radiology Job Prospects
One of the more lucrative options for students is to take career options and job prospects after BSc in Radiology. Students tending to prepare for higher studies and specialisation in different fields of radiology such as diagnostic radiology. Oncology of radiation, paediatric radiology, radiology of the gastric gut and many more.
The career prospects of an applicant can generally become more lucrative and successful options through higher education such as MSc, MPhil and PhD degrees. You can therefore pursue your Master's degree and improve your knowledge of your field, as well as your career prospects, other than pursuing a career. However, if you play your cards correctly, you can aim for a career after B.Sc. in radiology. As the need for quality healthcare in the country is increasing, the demand for highly qualified professionals in the field is immense.
Employment areas
Government and Private Hospitals
Government and Private Clinics
Radiology Laboratories
Diagnostic Labs
Nursing Homes
Cancer Treatment Centres
Job roles
Radiologist
Assistant Radiologist
Radiology Technician
Ultrasound or Diagnostic Radiology Technician
Radiology Nurse
Radiographer
Medical Image Analyst