B.Sc. in Radiography: Course Details, Top Colleges, Job Prospects | StepInCollege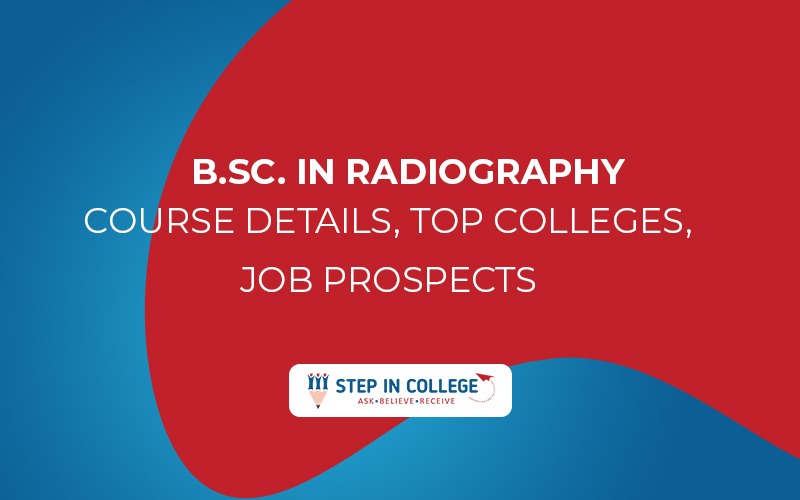 Published by : Step in college
BSc Radiography is an undergraduate 3 years course. Radiography is a paramedical course for students involved in conducting diagnostic tests and medical procedures using radiation techniques. Bachelors of Science in Radiography is a paramedical field that focuses on the treatment of diseases affecting the body's internal organs. They use X-rays as part of this procedure. In India, the course is generally known as a B.Sc in Radiography course. Both classes, however, will teach students how to use radiographic imaging of the human body to obtain valuable knowledge about a patient. Experts in the field typically operate in fields like Accident and Ambulance, Operation Theatre, and so on. They've been qualified to take X-rays, MRIs, and CT scans, among other items. In addition, radiography is used to treat cancer patients.
B.Sc. in Radiography Course Details, Eligibility, Syllabus, Entrance Exam, Top Colleges, Job Prospects | StepInCollege
The program for a B.Sc. in Radiology or B.Sc. in Radiography course is designed to teach students how to use various forms of radiographic imaging to obtain results, such as CT scans, MRIs, and so on. After completing a B.Sc degree in India, one can pursue a range of specializations in radiology.
B.Sc in Radiology Eligibility Criteria: Admissions to any course are mainly concerned with eligibility. The following are the minimum requirements for admission to BSc Radiography programs:
Candidates must have passed their class 12 board exam in the science stream from a recognized board such as CBSE, ICSE, or an equivalent State Board.
Candidates must have earned a minimum aggregate score of 50% or higher on the qualifying exam in compulsory subjects like Physics and Chemistry, as well as one optional subject from Mathematics or Biology.
According to the guidelines of the university or college offering the course, applicants may be expected to take an entrance exam.
BSc Radiography Entrance Exams: Admission to some institutes for BSc Radiography is done by entrance exams conducted by the institute itself. The following are some well-known entrance exams:
University College of Medical Sciences and GTB Hospital Radiography Entrance Exam
Rajiv Gandhi University of Health Sciences Radiography Entrance Exam
B.Sc in Radiology Syllabus
First Year: Human Anatomy, Physiology, and Pathology, Radiography Equipment, Physics of Diagnostic Radiology, General Physics, Radiation Physics, X-Ray: Introduction and Properties, Computers: Introduction and Basics
Second Year: Patient Care and Ethics, Contrast Radiography Process, Clinical Radiography, Organisational Behaviour, Imaging Processing Techniques, Emergencies, and its Principles, MRI, Ultrasound and CT Scan, Project Work
Third Year: Instruments for Advanced Imaging Modalities, Radiobiology & Radiation, Quality Control, Imaging Processes Except for X-Ray, Log Book Auditing, Doppler and Echography, Anaesthetics in Diagnostic Radiology, Interventional Processes in Radiology
BSc Radiography Top Colleges
Rajiv Gandhi University of Health Sciences, Bangalore
Tata Memorial Centre, Mumbai
Maharaja Agrasen Medical College, Haryana
National Institute of Mental Health and Neuro Sciences, Bangalore
BSc Radiography Job Prospects and Career Aspects: Graduates with a BSc in Radiography have a lot of choices when it comes to their career and work opportunities in that sector. They will work as an X-Ray Technician, Physiotherapist, Radiation Safety Specialist, and a number of other occupations. Not all graduates, however, are willing to work and earn money. Any of these gifted students chose to obtain a master's degree in radiography. The curriculum prepares students so well that they are prepared with the knowledge they need to succeed in the field of radiography.
Employment Opportunities
Government and Private Hospitals
Government and Private Clinics
Radiology Laboratories
Diagnostic Labs
Nursing Homes
Cancer Treatment Centres
Job Profiles
Radiologist
Assistant Radiologist
Radiology Technician
Ultrasound or Diagnostic Radiology Technician
Radiology Nurse
Radiographer
Medical Image Analyst