Diploma in Medical Imaging Technology: Course details, Eligibility, Syllabus Top Colleges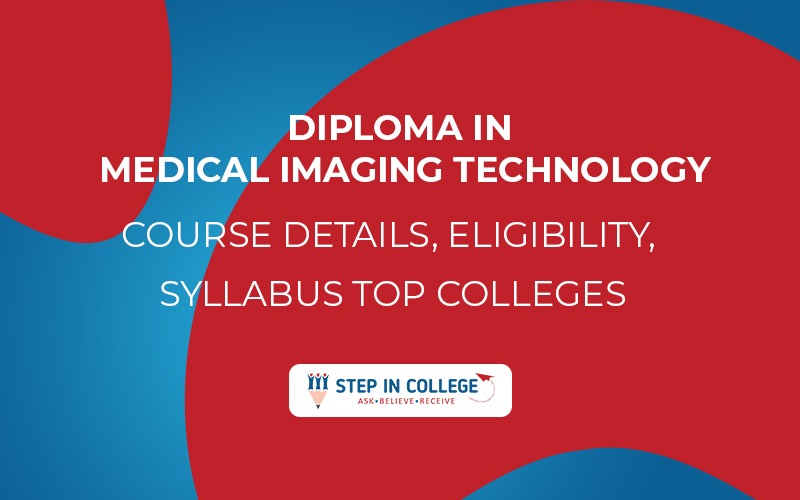 Published by : Step in college
The scope is on using smart medical technology in medical imaging and cancer treatment. This sequence of allied health sciences. The fields are diverse: radiology, radiotherapy, and nuclear medicine. This program suits students who want to expand their horizons and pursue a medical and research or technological research career with companies that lead to a diagnostic imagery revolution.
Diploma in Medical Imaging Technology Course details, Eligibility, Syllabus, Top Colleges, Job Prospects | StepInCollege
The course includes traditional subjects, such as anatomy, biochemistry, general physics or electronics, mathematics, medicine in the community, radiodiagnosis. The curriculum is interdisciplinary and provides students with prior approval flexibility to choose courses from other disciplines. The program also includes a series of guest lectures and speeches by leading industry leaders. The course is currently available at the diploma and graduate levels. They can select either of the modes of the program, depending on the need of the students, but the requirements for both levels vary.
After this program is completed, students will acquire detailed medical imaging knowledge and learn the necessary practical skills to organize the department of radiology.
Graduates from the program are able to find jobs in hospitals with the public as well as private diagnostic facilities, leading companies like GE Healthcare, Siemens, Philips, etc. or to continue their Master's training in the field of imagery.
Diploma in Medical Imaging Technology Eligibility
Candidates should have completed 10+2 (any group) with an accepted school board mark of at least 50 percent.
Diploma in Medical Imaging Technology Syllabus
Specialized Diagnostic Techniques
Radiological Technology, Radiotherapy and Radio Diagnosis
Pathology
Human Anatomy and Human Physiology
Radiation Physics, Medical Microbiology, and Biochemistry
Diploma in Medical Imaging Technology Top Colleges
GITAM University, Visakhapatnam
Parul University
Christian Medical College, Vellore
JSS Medical College, Mysore.
Sri Ramachandra Institute of Higher Education and Research.
Armed Forces Medical College
HCG Academics
Impact Paramedical and Health Institute
Oasis College of Science and Management
SIHS Pune - Symbiosis Institute of Health Sciences
Diploma in Medical Imaging Technology Job Prospects
Employment Areas
Colleges & Universities
Content Writing (Medical)
Govt./Private Hospitals
Medical Labs
Nursing Homes
Job Types
Applications Specialist for Equipment
Computed Tomography Specialist
Educator
Interventional Radiology Specialist
Magnetic Resonance Imaging Specialist
Manufacturer
Medical Imaging Technologist
Radiology Information Specialist
Sales Representative
Sonographer