Diploma in Physiotherapy: Course Details, Eligibility, Syllabus, Top Colleges, Job Prospects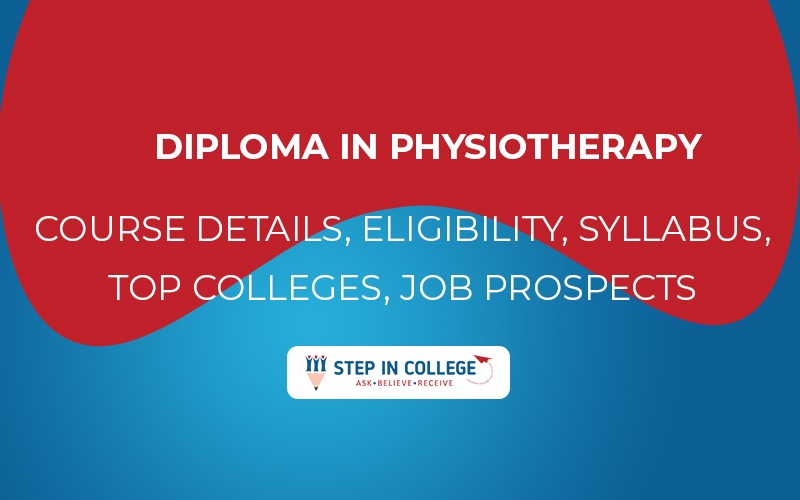 Published by : Step in college
The DPT (Diploma in Physiotherapy) program teaches clinicians how to optimize human movement efficiency, allow clients to achieve optimal independence in physical movement and function, use evidence-based methods to handle human body disorders in people of all ages, provide medication, preventive guidance, and care, and rehabilitate those with a physical and psychological disability.
Diploma in Physiotherapy Course Details, Eligibility, Syllabus, Top Colleges, Job Prospects | StepInCollege
A diploma in physiotherapy is a medical nursing professional course. After successfully completing class 12th in the Science stream, the course can be followed. To be more accurate, DPT is concerned with physiotherapy and related healthcare fields. Students learn how to treat people with physical disabilities and accidents in a number of environments, including hospitals, community clinics, private practices, and sports clubs, as part of their course work.
The two-year diploma program is intended to develop skilled and trained practitioners who can perform unique tasks to enhance the lives of patients. Diploma in Physiotherapy seeks to develop qualified practitioners capable of supporting clinicians in specific medical practices by addressing subjects such as Physical Rehabilitation, Electrotherapy, and other methods of helping patients recover physical mobility. Physical therapy, also known as physiotherapy, is a medical healing procedure that entails physical prescription and regeneration, physical activity, force, and exercises to correct hindrances or distortions of normal body movement, as well as physical recovery to normalcy by back rubs and physical exercise and movements.
Diploma in Physiotherapy Eligibility Criteria
Candidates for a Diploma of Physiotherapy must have completed a 10 + 2 or equivalent test in the Science stream from a recognized board of education.
Candidates must have achieved a 45 percent or higher on the qualifying exam in subjects such as physics, chemistry, biology, and/or mathematics.
In certain universities, applicants may also take an entrance test.
Diploma in Physiotherapy Entrance exams
JIPMER PG
NEET PG
AIIMS PG
DNB CET
UPSEE
KCET
AP EAMCET
GCET
MU OET
JCECE
OJEE
CETPPMC
GUJCET
DSAT
Diploma in Physiotherapy Top Colleges
Christian Medical College, Vellore
Madras Medical College, Chennai
Sri Ramachandra University, Chennai
Lokmanya Tilak Municipal Medical College, Mumbai
Christian Medical College, Ludhiana
Institute of Post Graduate Medical Education and Research, Kolkata
Diploma in Physiotherapy Syllabus
First Year: Clinical Pathology, Applied Pathology, Pharmacology, General Anatomy, General Physiology, Physical Exercise Therapy
Second Year: Gynaecology, Psychology, Electrotherapy, Physical Rehabilitation Medicine, Computer Training
Third Year: Physical Rehabilitation, Orthopaedics, Medical Physiotherapy, Surgical Physiotherapy, Biomechanics and Kinesiology, Out-Patient Therapy
Diploma in Physiotherapy Career Options and Job Prospects: Physically challenged people are treated by such professionals in orthopedic departments, the private and public sectors, health institutions, rehabilitation centers, defense medical organizations, gyms, health centers, NGOs, sports clubs, and sports franchises, among other places. Cases of musculoskeletal problems have been on the rise in recent years as a result of society's changing lifestyle. A physiotherapist's intervention is usually sufficient to resolve such issues. Physiotherapists are usually referred to in such cases.
Employment Areas:
Rehabilitation Centers
Defense Medical Organizations
Colleges & Universities
Pharma Industry
Private & Government Sectors
Orthopedic Departments
Health Institutions
Job Profiles:
Assistant Physiotherapist
Researcher
Self Employed Private Physiotherapist
Sports Physio Rehabilitator
Therapy Manager