Master Of Physiotherapy [MPT]: Entrance Exams, Syllabus, Top Colleges, Job Prospects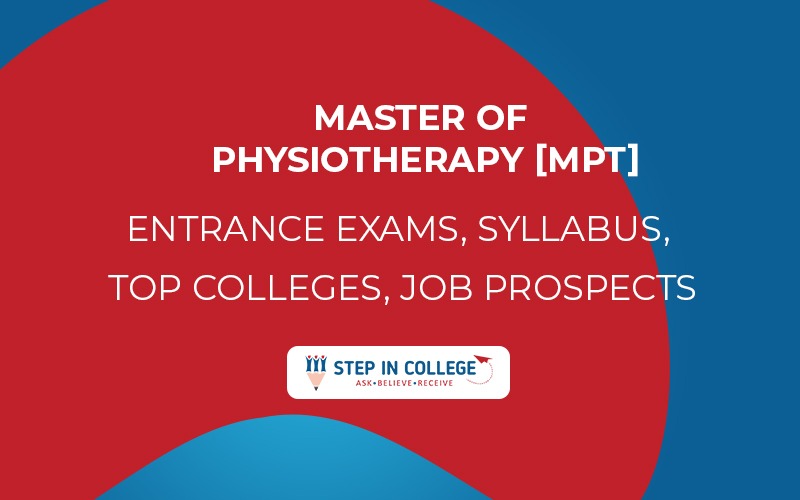 Published by : Step in college
The Master of Physiotherapy or MPT course is a postgraduate 2-year program. In the context of allied health sciences in order to improve an individual's quality of life. MPT is a research-oriented program that directly allows a wider and deeper understanding of physiotherapy and its effects on human welfare, as with most PG medical and allied health research courses.
Master Of Physiotherapy [MPT] Course details, Eligibility, Entrance Exams, Syllabus, Top Colleges, Job Prospects | StepInCollege
The students gain the knowledge and the ability to offer medical solutions to their physical handicaps in the course of their Masters in Physiotherapy (MPT). In addition, student students will be exposed to a critical and analytical understanding of the field and its applications in a series of case studies and clinical practice. As MPT graduates, candidates will participate in the rehabilitation and restoration of medicine in order to tackle motor-disabilities, postural improvements, breathing difficulties and many other physical-restrictive impairments.
Master of Physiotherapy (MPT) Eligibility Criteria
Required minimum qualification: Physiotherapy Bachelor's degree
Required minimum marks: 50% to 60%
Master of Physiotherapy (MPT) Entrance Exams
MAHE OET
NEET PG
IPU CET
CMC Vellore PG
Master of Physiotherapy (MPT) Top Colleges
Manipal University, [MU] Manipal
Chitkara University, [CU] Patiala
Punjabi University, [PU] Patiala
Lovely Professional University, [LPU] Jalandhar
RV College of Physiotherapy, [RCOP] Bangalore
Bethany Navajeevan College of Physiotherapy
Jaipur Physiotherapy College and Hospital, [JPCAH] Jaipur
ITS Physiotherapy and Biotechnology College, [IPABC] Ghaziabad
Padmashree Dr DY Patil University, [PDDYPU] Mumbai
Dolphin PG Institute of Biomedical & Natural Sciences, [DPIB&NS] Dehradun
Master of Physiotherapy (MPT) Syllabus
First Year: Research Methodology and Biostatistics - Introduction, Sampling Distribution and Basic Probability, Musculoskeletal Structure, Biomechanics of Tissues, Exercise Physiology, Advanced Manual Therapy, Health & Fitness, Advanced Electrotherapy.
Second Year: General Physiotherapy for Maternal and Childcare, Physiology and Anatomy of the Nervous System, Motor Development in Humans, Musculoskeletal Conditions, Clinical Training, Cardiovascular and Respiratory Systems, Healthcare and Fitness, Anatomy and Physiology.
Master of Physiotherapy (MPT) Job Prospects
For candidates who are holding a bachelor's degree, MPT is a great career choice. This course helps them to improve their physiotherapy knowledge. In countries such as Australia, New Zealand, Canada and the UK, the field of physical therapy has a wide range of employment.
Employment areas
Fitness Centres
Health Clubs
Physiotherapy Clinics
Hospitals
Sports Training Facilities
Private Clinics
Orthopedic Departments
Physiotherapy Equipment Manufacturers
Job roles
Physiotherapist
Osteopath
Research Assistant
Sports Physio Rehabilitator
Therapy Manager