Master of Business Administration [MBA] in Entrepreneurship: Entrance Exams, Syllabus, Top Colleges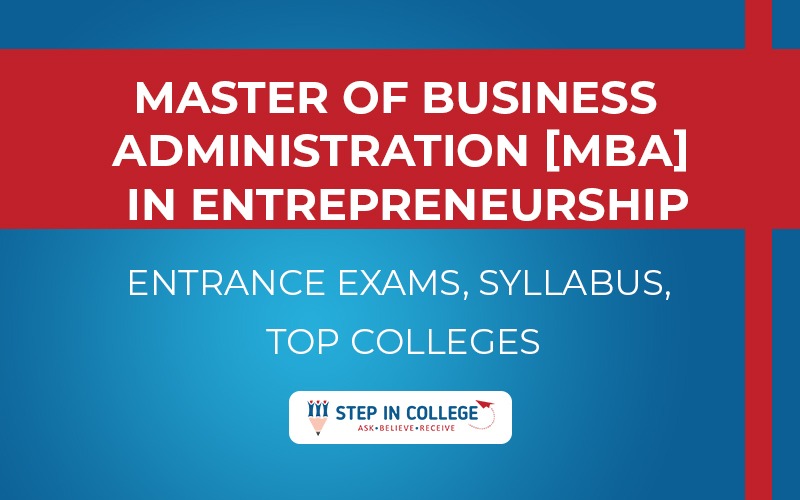 Published by : stepincollege
Master Of Business Administration [MBA] in Entrepreneurship Course details, Eligibility, Entrance Exams, Syllabus, Top Colleges, Job Prospects | StepInCollege
Entrepreneurship Master of Business Management is a postgraduate degree program. This course has a length of 2 years. The Entrepreneurship MBA course is a postgraduate management course that provides students with information about how to become prosperous entrepreneurs. It has always been among the most influential specializations in the Masters in Business Administration program. The course is a thesis on how inventions can be transformed into economic products. In nearly all areas and markets, applicants are deserving of being recruited. It is best to recognize entrepreneurship as the process of becoming an entrepreneur. In order to turn inventions into economic commodities, an entrepreneur is someone who undertakes finance, innovations, and market acumen.
MBA Entrepreneurship for Eligibility Criteria
The candidate must have a bachelor's degree from a recognized college or university in any appropriate discipline.
Candidates need to have a valid CAT/MAT/SNAP/XAT/NMAT/GMAT ranking.
Experience at work is not compulsory but greatly preferred.
MBA Entrepreneurship for Entrance Exams
MBA in Entrepreneurship for Syllabus
First Year: Project Management, Operations Research, Financial Management, Management Informations Systems, Production and Operations Management, Marketing Management, Management Process and Organisational Behaviour, Statistics for Management, Managerial Economics, Business Communication, Financial and Management Accounting, Human Resource Management.
Second Year: Legal Aspects of Business, Research Methodology, International Business Management, Strategic Management and Business.
MBA in Entrepreneurship for Top Colleges
Symbiosis International University
University Business School, Panjab University
Amity Business School
Manav Rachna International Institute of Research and Studies
Chandigarh University
Royal Global University
Flame University
K R Mangalam University
SAGE University
Rabindranath Tagore University
MBA in Entrepreneurship for Job Prospects: There is also a correspondence and distance learning mode available for the course. In common fields such as sales, advertisement, promotions, etc., it is considered to open doors for a lucrative profession, and the positions available are normally at the executive or managerial level.
Job profile
Marketing Manager
Human Resource Manager
Financial Manager
System Analyst
Finance Controller
Chief Human Resource Manager
Assistant Manager
Assistant Manager
Trainee Telesales
Senior Network Administrator