MBA (Finance): Course Details, Eligibility, Syllabus, Top Colleges | StepInCollege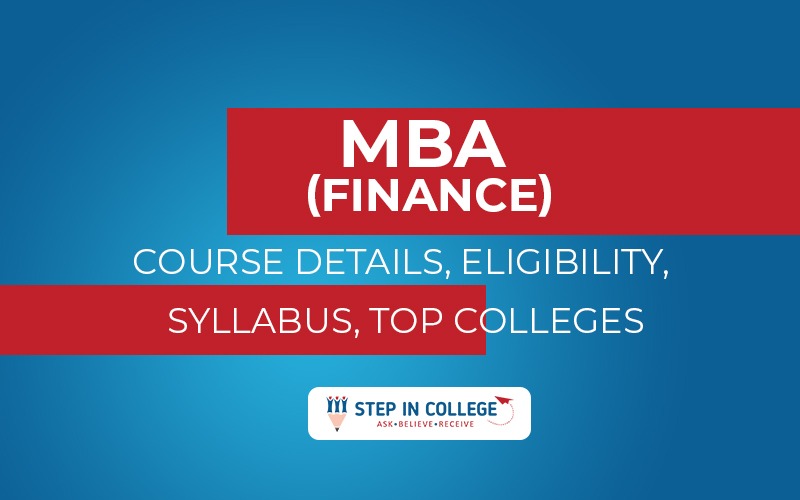 Published by : stepincollege
Master in Business Administration or MBA in Finance is a postgraduate course. The duration of this course is 2 years. MBA finance is an internationally accepted master of a post-graduate level course. Those who have completed their bachelor's degree can apply for the MBA finance program. MBA finance course will help the students in developing Business skills, Financial skills, Management skills which are required in most enterprises on a daily basis.
MBA (Finance) Course Details, Eligibility, Syllabus, Top Colleges, Job Prospects | StepInCollege
The Finance Stream Master in Business Administration (MBA) offers knowledge of the management, regulation, and analysis of the selection, expenditure, and money capital. This course, MBA Finance, offers students in the financial world a range of opportunities to learn how to review business data, predict economic patterns, optimize asset prices, combine risk and profitability, and eventually control the investment portfolio.
MBA (Finance) Eligibility Criteria
Students should be having a bachelor's degree, with a minimum aggregate of 50% or equivalent CGPA from any of the recognized universities.
Generally, 45% of aggregate is enough for SC/ST candidates.
MBA (Finance) Entrance Exams
GMAT - Graduate Management Admission Test
CAT - Common Admission Test
MAT - Management Aptitude Test
CMAT - Common Management Aptitude Test
KMAT - Karnataka Management Aptitude Test
PGCET - Post Graduate Common Entrance Test
XAT - Xavier Aptitude Test
SNAP - Symbiosis National Aptitude Test
MBA (Finance) Syllabus
First Year: Financial Planning, Valuation of Bond & Shares, Time Value of Money- Introduction, Finance Functions, Cost of Capital, Cost of Different Sources in Finance, Financial Management, Leverage, Capital Structure - Introduction, Features & Factors Affecting Capital Structure, Calculus for Business, Advance Marketing, Macroeconomics
Second Year: Theories of Capital Structure, Capital Budgeting, Risk Analysis in Capital Budgeting, Capital Rationing, Working Capital Management, ash Management, Models for Determining Optimal Cash Needs, Inventory Management, Dividend Decisions, Statistics for Business, Money and Capital Markets, Portfolio Analysis
MBA (Finance) Top Colleges
IIM- Ahmedabad
Faculty of Management Studies, Delhi (FMS Delhi)
IIM- Calcutta
IIM- Lucknow
S.P.Jain Institute of Management and Research, Mumbai
IIM- Bangalore
Xavier's Labour Research Institute Jamshedpur (XLRI)
IIM- Indore
IIM- Kozhikode
MBA (Finance) Job Opportunities
There are enough prospects for an MBA Finance degree waiting around, all you need to do is snatch it. Any of this is because of one's varied skill set. In banking consultancies, financial institutions, and banks, there are many MBA finance work openings. Candidates can get into fields like merchant banking, investment banking, and consumer banking, international finance, corporate finance, and institutional finance. Once you build up your work experience then you can serve in government committees and apply your knowledge to policy-making issues.
Jobs Profile
Taxation
Corporate Finance and Corporate Banking
Investment Banking
Credit Risk Management
Risk Management
Equity Analyst
Derivative Structuring
Hedge Fund Management
Private Equity
Business Analyst
Sales and Trading
Treasury