MBA International Business: Syllabus, Top Colleges, Job Prospects | StepInCollege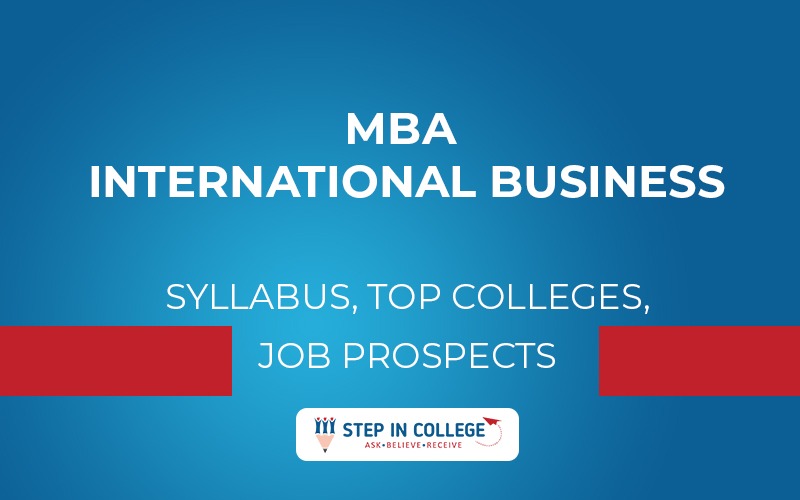 Published by : stepincollege
Master Of Business Administration or MBA in International Business is a post-graduate management degree. The duration of this course is 2 years. It is becoming an extremely popular option for the new generation today. Candidates with wonderful communication skills, an aptitude towards international policies, and knowledge about international markets are most suitable for the program. It gives students knowledge about various foreign policies, trade, foreign investments export management, forex risk management, and makes them job-ready for international businesses. The goal of the course is to help to professionalize the country's foreign trade management and to increase exports and imports by developing, evaluating and carrying out analysis.
MBA International Business Details, Eligibility, Syllabus, Top Colleges, Job Prospects | StepInCollege
Worldwide organizations creating organizations across nations have made a different and serious labor force that can run organizations universally. A large portion of the labor force zeroed in on taking organizations worldwide requires the sharpness to contend globally. In India, to be a piece of such a labor force has offered to ascend to the ubiquity of MBA in International Business. Organizations that are expecting to extend and build up their business in a far off nation require applicants that are prepared to manage global situations and are additionally learned with the ideas and speculations that can be useful for business' foundation. There is another factor and that is the danger involved thus the applicants who have contemplated International Business are supported by worldwide organizations during enlistment.
MBA (International Business) Eligibility Criteria
Recognized bachelor's degree in any field of at least 3 years duration.
In this course, there is no age limit for accepting entry.
MBA (International Business) Entrance Exam
MBA (International Business) Top Colleges
Indian Institute of Foreign Trade, Delhi
Symbiosis Institute of International Business, Pune
ICFAI Business School, Hyderabad
CMS Business School, Bangalore
Nirma University, Ahmedabad
Institute Of Management Studies, Banaras Hindu University, Varanasi
MBA (International Business) Syllabus
First Year: Economics & Management Decisions, Quantitative Techniques, Financial Accounting, Marketing Management, Human Resource Management, Financial Management,
IT for Managers, Research Methodology, Application Statistics, Dissertation 1, Dissertation 2
Second Year: Domain-Specific Courses, Summer Internships, Domain Tailored Courses, Industry Visits, Cross-Cultural Management, Indian Policies & Trade Policies, International Business Negotiation, E-business & E-commerce, Merges & Corporate Regulation
MBA (International Business) Career Options and Job Prospects: It equips students with cross-cultural and foreign business awareness. Applicants with an International Business postgraduate degree can find employment in computer companies, MNCs, electronic companies, export/import companies, banks, international companies, travel and tourism, hospitality services, foreign direct investment agencies, etc.
Job Profiles
Business Development Manager
Export Managers
Export Executives
International Finance Manager
Global Business Manager
International Marketing Manager
Investment Banker
Top Recruiting
Citi Bank
Axis Bank
HSBC
Amazon
Google
Accenture
American Express
WIPRO
IBM
Accenture