MBA IT: Details, Eligibility, Syllabus, Top Colleges, Job Prospects | StepInCollege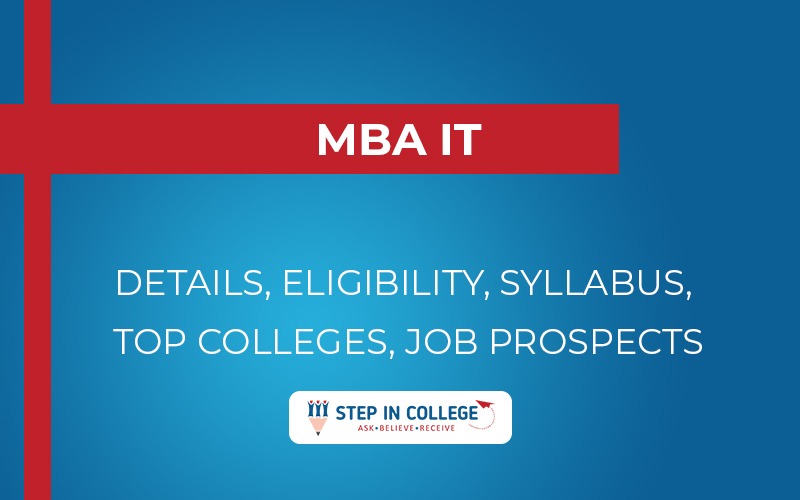 Published by : stepincollege
Master in Business Administration or MBA Information Technology is a postgraduate master's degree program in management. The duration of this course is 2 years. Information Technology has made one of the most advisable courses across all courses and degrees. It is known and recognized generally that we face a daily reality such that innovation has become a significant piece of our lives and we are reliant on it at an enormous scope in any event, for the littlest of things. An MBA in IT is one of those degrees which is consistently popular.
MBA IT Details, Eligibility, Syllabus, Top Colleges, Job Prospects | StepInCollege
It offers a wide cluster of occasions to the applicants who try to be a piece of the profession way subsequent to seeking an MBA in IT. Applicants who seek after the course of MBA in IT are ready for the administrative work profile while additionally having an inside and out information on Computer Applications. The program of MBA in IT plans contender for an incredible vocation as a certified IT proficient at the administration level.
MBA IT Eligibility Criteria
A Bachelor's degree or equivalent from a recognized institution must have been obtained by the applicant.
MBA IT Entrance Exams
CAT
XAT
MAT
CMAT
SNAP
NMAT by GMAC
MBA IT Colleges
Faculty of Management Studies, Delhi University, New Delhi
ICFAI Business School, Hyderabad
Jamnalal Bajaj Institute of Management Studies, Mumbai
IIM, Ahmedabad
IIM, Lucknow
IIM, Bangalore
GIBS Business School, Bangalore
MBA IT Syllabus
First Year: Management Process and Organisational Behaviour, Managerial Skills Development (NUES), Managerial Economics, Financial and Management Accounting, Database Management and Administration (DBMA), Quantitative Techniques for Decision Making, Management of Technology Innovation and Change, Practical- DBMA Lab, Business Research, Business System Analysis and Design, Financial Management, Human Resource Management, Marketing Management, Production and Operations Management, Business and Legal Environment, Practical- ERP (Basic Function Area) Lab
Second Year: ERP- Advanced Business Application Programming, Software Project Management, E-Governance and Framework of ICT, Information System Management, Summer Training Project, Electives 1 (Semester 3), Electives 2 (Semester 3), Electives 3 (Semester 3), Entrepreneurship Development, ERP- System Administration, Corporate Social Responsibility, Ethics, and Human Values, Dissertation, E-Business, Electives 1 (Semester 4), Electives 2 (Semester 4), Practical
List of Electives for Second Year: Data Centre Management, Network Application and Management, Knowledge Management, Web Technologies, E- Customer Relationship Management, Information Security, Business Intelligence and Applications, E- Supply Chain and Management, Cloud Computing, Software Quality Assurance, E-Business Financial Modeling
MBA IT Career Options and Job Prospects: The career opportunities that open up after completing the IT MBA course are enormous. They will delve into IT Configuration Management fields, IT Administration Areas, IT Financial Management Areas, Operation Management Areas, etc.
Job profile
Quality Analyst
Assistant Manager
Chief Technology Officer
Business Analyst
Application Programmer
Computer Information Specialist
IT Specialist
Computer and Information Systems Manager
Information Systems Manager
Project Manager
IT Director