Bachelor of Technology [B.Tech] (Data Analytics): Top Colleges, Job Prospects | StepInCollege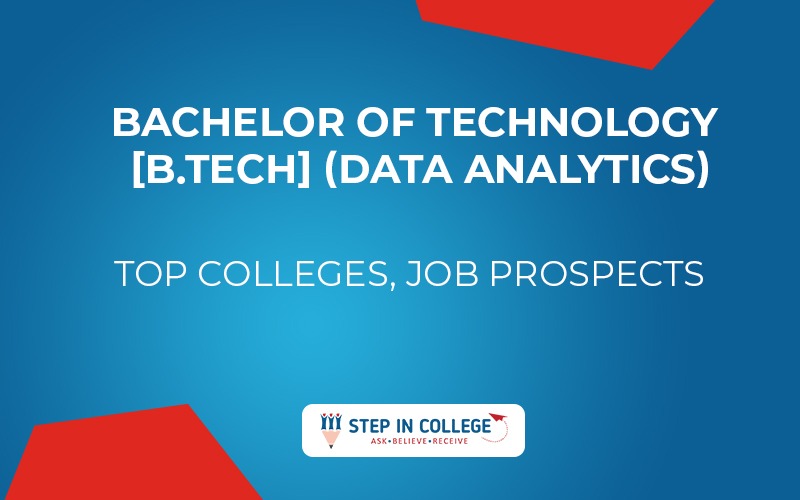 Published by : stepincollege
Bachelor of Technology [B.Tech] (Data Analytics) Course Details, Eligibility, Syllabus, Top Colleges, Job Prospects | StepInCollege
B.Tech in Data Analytics is a four-year engineering degree program. This program's primary aim is to educate enrolled students about existing and emerging Big Data-related strategies and hypotheses, such as statistics, data mining, data storage, and data visualization. Engineering Mathematics, Data Structures, Data Analytics, and other subjects are discussed in this course. Active graduates of the course are employed in fields such as Design Engineering, Computing/ IT Consulting, and Solution-Building skills such as System/ Network Administrators or IT Managers.
BTech Data Analytics Eligibility Criteria
Applicants must have completed 10+2 in grades X and XII with Physics, Chemistry, and Mathematics as primary subjects and have a minimum aggregate score of 60% to be accepted for the course. This percentage criterion, however, can vary by the institute.
BTech Data Analytics Entrance Exam
JEE
UPESEAT
VITEEE
KCET
HITSEEE
B.Tech in Data Analytics Syllabus: There are various topics and courses that students will be learning.
Mathematics I-II, Physics, Chemistry, Programming and Data structures, Advanced Data Structures, Big Data Overview, Database Management Systems, Basic Electronics Engineering, Environmental Science, Design Thinking, Design and Analysis of Algorithms, Engineering Mechanics, Computer System Architecture, Computer Graphics, Program Elective II: Big Data on Cloud and so on.
B.Tech in Big Data Analytics Top Colleges
DIT University
SRM University
PEC University
Banasthali Vidyapith
Graphic Era University
IIT
BTech Data Analytics Job and Career Prospects: In order to improve the veracity of the data feeding into a big data network, big data tools are required to clean, standardise, and map data from multiple silos, both internal and external. From similar data sources, Big Data engineers monitor and perform data categorization, customization, and noise reduction.
Big data is being used in a number of sectors and fields. This industry is rising and evolving at a healthy rate. It is expected to play a significant role in a number of industries and domains. In such situations, skilled Big Data experts are in high demand. IT firms, international corporations, consultancies, data analysis firms, and data analytics firms.