Jaipur National University Details: Awards & Achievements, placements, Facilities| StepInCollege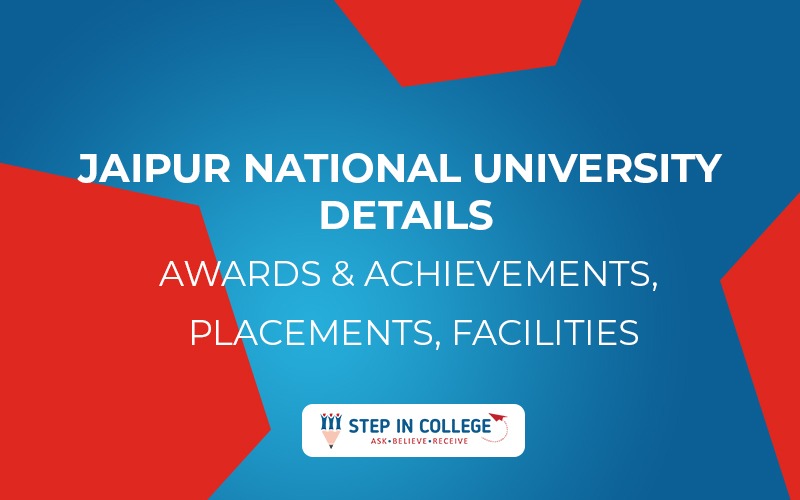 Published by : stepincollege
Jaipur National University Details, Awards & Achievements, placements, Facilities, Course, Scholarships | StepInCollege
The Mahima Shiksha Samiti sponsors Jaipur National University, which is a private self-financed university in Jaipur. It was established on October 22, 2007, by an Ordinance of the Government of Rajasthan; in 2008, the University was granted approval under Section 2 of the UGC Act after a thorough inspection by an expert panel of UGC representatives (f). The University offers Under Graduate, Post Graduate, and Doctoral Programs in a number of fields, including Engineering, Pharmacy, Life and Basic Sciences, Business Administration, Education, Law, Mass Media, Hotel Management, Computer, and Device Sciences, English Language, Social Work, Nursing, Medical, and Para-Medical Courses, and more, with over 7000 students and about 600 faculty members. The University has firmly established itself as the most sought-after educational institution for higher and technical education, setting standards in all fields of study. JNU, Jaipur has developed into a multi-faculty and multi-disciplinary university over the course of its twelve-year journey, and it continues to aim for new heights of excellence. The University is a fine amalgam of affordability and quality, with its proven academic credentials. The university claims that students and teachers should be trained holistically in order to become successful professionals. Daily Lectures, Symposia, Conferences, Sports, Cultural Events, and Extracurricular Activities are all respected at the university and help students grow their personalities and progress.
Awards & Achievements
National & International Compendium, New Delhi, conferred the Golden Educationist of India Award in 2013 for Outstanding Achievement in the Field of Education.
The Indian Solidarity Council awarded him the Star of Asia Award in 2014 for Outstanding Achievements and Remarkable Role in the Field of Education.
In 2013, he received the Edupreneur Award for his efforts in ushering in a new era in Rajasthan Engineering Education.
Higher Education & Human Resource Conclave 2017 awarded me for excellent work in the field of higher education in December of 2017.
The Confederation of Indian Universities (CIU) in conjunction with the International Association of Educators for World Peace awarded him the Technical Education and Entrepreneurial Research (VEER) Award in 2009.
placements
Jaipur National University has its own Placement Cell that helps students find work and internships on campus. In addition, the Placement Cell offers instruction in soft skills, personality development, written and oral communication skills, and job patterns in both the public and private sectors.
| | |
| --- | --- |
| Amazon | Aditya Birla Group |
| Infosys | Wipro |
| Tata Motors | Mahindra |
| ITC | Smart Cube |
| Byju's | Capgemini |
| Deloitte | Tech Mahindra |
Facilities
Laboratories
Auditoria
Libraries
Infrastructure
Cafeteria
Gymnasium and Sports
Open Air Theatre
Transportation
ATM & Banking E-Lobby
Health Facilities
Course
B.Tech
M.Tech
B.Sc
M.Sc
BBA
MBA
BA
MA
BCA
MCA
Scholarships
Scholarships with a value of $9500 or more are available.
Scholarships/Fellowships for Research Assistants and Scholars (JRF/NET/Ph.D) offered by Jaipur National University on the basis of merit
Various government support agencies provide scholarships.
JNU Jaipur students may apply for scholarships to help them move from undergraduate to graduate school.
Defense Personnel's Children Scholarships
Jaipur National University offers an Early Bird Registration Scholarship