Mody University: fee, Scholarships, Placement, Achievements, Facilities, Course | StepInCollege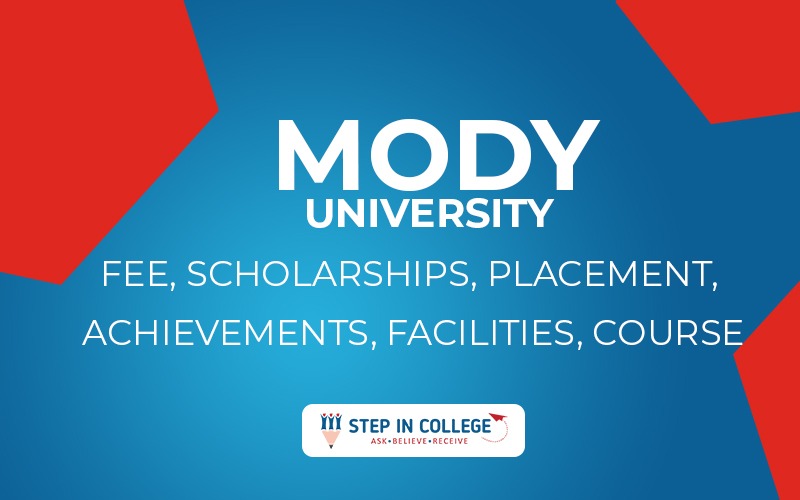 Published by : stepincollege
Mody University Details, fee, Scholarships, Placement, Achievements, Facilities, Course | StepInCollege
The Mody University is a private university dedicated to assisting the female population in obtaining a high-quality education using cutting-edge technology in an IT-savvy environment. It was founded in 2013. It provides students with the ability to study the subject of their choosing. They can enroll in a variety of undergraduate and postgraduate courses in subjects such as Arts, Science, Commerce, Engineering, Management, Law, Fashion, Interior Design, Architecture, Physiotherapy, and Agriculture, among others.
There are engaging classrooms, large sports courts, natural beauty, spiritually important sites, and artifacts within the University grounds. This, in essence, not only offers the best learning environment for women but also ensures that they are aware of the country's cultural heritage.
Fee
The total fee for a Modi University course ranges from Rs. 65,000 to Rs. 2,95,000.
Scholarship
Fees are waived in full for the entire term: Charge waiver of 70% for toppers of any Central/State board: Students who scored >95 percent in PCB/PCM in Class XII or had an AIR of up to 150000 in JEE Mains are worthy.
50% fee waiver: For students who scored >90% in PCB/PCM in Class XII and had an AIR of 150000-200000 in JEE Mains.
Placement: With the support of its own in-house team and third-party organizations of national repute, CDC runs a 'Social Skills' and 'Technical Skills' training and evaluation program. These classes' schedules are cleverly integrated into the daily timetables of different programs, enabling students to evaluate and discover themselves during their course. Aside from that, during the year, experienced and accomplished professionals from a number of fields come to campus to engage with students and share their industry experience. Seminars, seminars, workshops, and other activities are held on a regular basis to provide more immersive, complex, and informative learning.
| | |
| --- | --- |
| Amazon | Hewlett Packard |
| Accenture | Oracle |
| Capgemini | Honeywell |
| L&T Technology | IBM |
Achievements
ASSOCHAM, Chamber of Commerce and Industry Education Post & Information, ASSOCHAM, Best Women's University in Asia-Pacific, 2020.
India Today ranked Mody University 22nd among Private General Universities in MDRA 2019.
CEGR Awards named Rajasthan University of the Year in 2019.
ASSOCHAM, Education Post & Information Chamber of Commerce & Industry named ASSOCHAM's Best Women's University in Asia-Pacific in 2019.
Mody University has been ranked as the fourth-best private university in India by the IIRF for the year 2019.
IIRF Best Engineering Colleges-2019 ranked Mody University's "School of Engineering & Technology" 66th out of 435 colleges.
IIRF Best 25 Private Law Colleges 2019 rated Mody University's "School of Legal Studies" as number 25.
IIRF Best 25 GOVT & 25 Private Colleges 2019 listed Mody University's "School of Design" among the top 50.
Facilities
Cafeteria
Auditorium
Library
Central Computer Centre
Transportation
Health Care
Sports
Course
There are various courses in Ug and Pg.
B.Tech Artificial Intelligence and Deep Learning (CSE)
B.Tech Information Security (CSE)
B.Tech Internet of Things (CSE)
M.Tech Computer Science Engineering
BBA Marketing
BBA Human Resource Management BBA Financial Services
BBA Tourism Management
Tourism & Travel Management
MBA General
MBA Dual Specialization in Finance
BA English
BA Psychology
B.Com Accountancy
B.Com Taxation
B.Arch