Amity University Details: Courses, and fees, Scholarship, Placements, Hostel | StepInCollege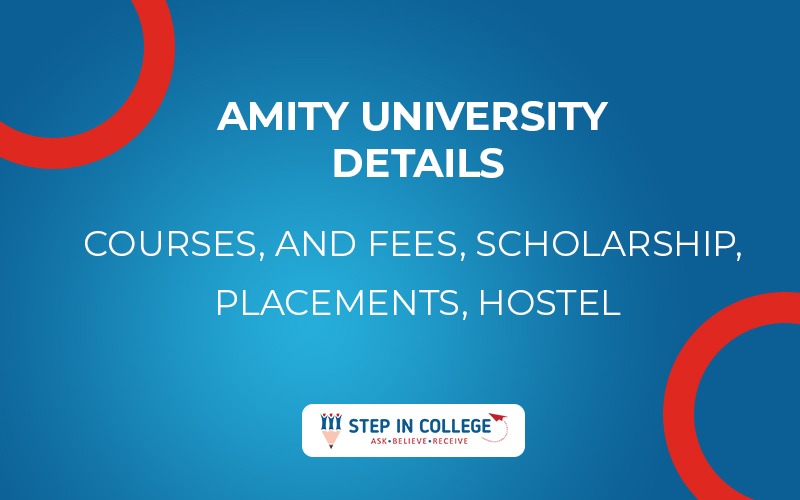 Published by : stepincollege
Amity University, Jaipur (Amity Jaipur) is one of India's most prestigious private universities. The University is a learning center nestled in a lush green setting. Amity University Rajasthan established the university in the year 2008. Amity Jaipur is on the way to academic achievement and excellence. Amity Jaipur's goal is to train future global leaders by fostering excellence in academia, science, technology, and holistic growth, among other things. Amity Jaipur has also received numerous awards, including the ASSOCHAM's Best Private University in North India in 2014 and Best University Campus in 2014.
Amity University Details, Courses, and fees, Scholarship, Placements, Hostel | StepInCollege
Amity University Jaipur is located on 152 acres of land in one of India's oldest mountain ranges (Aravali). Amity Jaipur is equipped with cutting-edge technology and modern infrastructure. Aside from the stunning architecture, the university offers a variety of appealing facilities such as hi-tech laboratories, modern classrooms, a digital library, a cafe-coffee day, 24/7 wifi, medical rooms, and more. For students who are far from home, Amity Jaipur also offers a completely residential facility with all of the necessary amenities and security.
Courses: Amity University in Jaipur offers a variety of undergraduate and postgraduate programs in areas such as architecture, biotechnology, commerce, communication, information technology, economics, engineering, fashion, management, and law. The average Fees for the courses from 50k to 5.24lac. The structure of all Amity Jaipur programs is diverse and up to date with modern global education. Amity also has some of the best and most committed faculty members in the country. Aside from that, the university offers a variety of Faculty Development Programs to help faculty members improve their expertise and skills in a variety of fields.
Ranking/ Achievements:
Nielsen ORG-MARG: Rajasthan's #1 University
Silicon India: Top Private University in North India
Assocham: Best University Campus
World Education Summit: Best Private University
Education Excellence Summit: Best Private University in North India
Hindustan Times: Excellence in Employability & Placement
The Week: Amongst Top 5 Private Universities in India
Sentinel Education Institutions' Ranking: Among Top 30 Business Schools in India
Times of India on 26th June '14: Among Top 5 in Emerging Engineering Institutes in India
Hostel: The common fees for both boys and girls from Rs. 60,000 - Rs. 1,00,000. Rooms are available:
Non-Ac Rooms: Rs. 60,000
Ac Rooms: Rs. 1,00,000
Triple sharing, Double sharing, and Single rooms are available.
Common washroom Rs. 40,000 (Non-Ac)
Amity University provides various hostel facilities to the student as Room with washroom bed chair table attached and almirah, Air-cooled or air-conditioned space options, Mess facility with a number of kitchens (Indian, South Indian, Continental), Free access to the Internet via a Wi-Fi system (for academic purpose), Hospital with resident physicians and ambulances (on-campus), Protection 24 hours a day; Turnstile Entry to residential areas to ensure security
Placement: The Amity University Placement Cell in Jaipur has a dedicated faculty and industry experts who work throughout the year to find the best opportunities for students. Amity University's placement cell is in charge of the internship and final placement activities for students.
The CRMC team invites leading companies from all sectors to participate in the placement process. India Bulls, Genpact, Evalue Serve, Methodex, ITC, Legrand, Airtel, and other companies are just a few examples.
Scholarships: Scholarships are available at Amity University in Jaipur for deserving students. Scholarships are provided to students based on their grades in Class 12 and graduation. The following is extensive details about Amity University, Jaipur scholarships:
Scholarships for MBA
Scholarships for Programmes after Graduation (Non-MBA)
Scholarships for Programmes after 10+2