JKLU Details: Scholarships, Awards, Placement, Facilities, Course | StepInColleges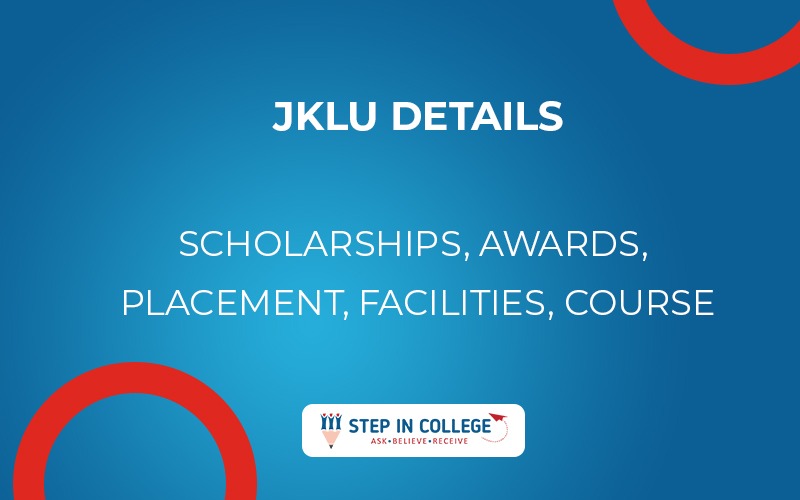 Published by : stepincollege
JK Organization's entry into India's industrial landscape almost coincides with the start of an age of industrial consciousness – an effort for self-sufficiency and the establishment of a dynamic Indian industry. JK Organization has been a pioneer in India's economic and social growth. It has always sought to provide high-quality goods while also generating work opportunities for a large number of citizens. It has worked to make India self-sufficient by pioneering the manufacture of a variety of industrial and consumer goods, as well as embracing cutting-edge technology and creating its own know-how. It has also invested in industrial projects in a number of other countries.
JKLU Details, Scholarships, Awards, Placement, Facilities, Course | StepInColleges
Under the visionary leadership of Late Shri Hari Shankar Singhania, Former President, JK Organization, the Singhanias of today have achieved exemplary growth in diversified industries with a leading role in major businesses over the years through companies such as JK Tyre, JK Paper, JK Lakshmi Cement, Fenner India, JK Agri Genetics, and other successful enterprises.
Scholarships for Undergraduate courses
In the first year of study, meritorious students will receive scholarships ranging from 25% to 100% of their tuition fees based on their exam scores. In subsequent years, the top 10% of students who achieve a CGPA of 8 or higher in a programme are granted scholarships equal to 50% or 75% of the tuition fees.
Merit-cum-means Scholarships
A limited number of merit-cum-means scholarships worth 25% of tuition fees are awarded to students whose parents' annual income is less than Rs 3 lakhs and who have a CGPA of 7 or higher.
Exceptional students may also apply for on-campus assistantships and part-time positions at the university.
JK Lakshmipat University Awards
Best Educational Institution: Employers' Association of Rajasthan, 2019
Best Education Brands: The Economic Times, 2018
The best University of the Year in Academic Excellence & Industry Interface
National Education Excellence Award, 2017
BW Business World and the Education post: 2017
The best University of the Year for Academic Excellence: IPSA, 2016
Placement
JKLU Jaipur has a dedicated placement cell that helps students find good jobs. Students are guaranteed 3- to 4-month internships and receive 100% placement assistance from the university. So far, nearly 169 percent of opportunities for students have been developed. Placement highlights of JKLU:
| | | | |
| --- | --- | --- | --- |
| Particulars | BBA | B.Tech | MBA |
| Maximum Salary | 10 LPA | 10 LPA | 10 LPA |
| Average Salary | 6 LPA | 5.2 LPA | 7.32 LPA |
Top Recruiters: ZS associate, L&T Financial Services, ICICI Securities, HSBC Life, JK Tyre, Flipkart, PeopleScout, Lido learning, Times of India, Tech Mahindra, Nirma, Paytm, NIIT Technologies, Maruti Suzuki, Mahindra, Just Dial, JK Tyre, Hitachi, Ford, Delhi Metro, etc.
Facilities
Sports: Students have access to both indoor and outdoor sports facilities at the university. Indoors, the requisite facilities for these games are provided, allowing students to unwind and enjoy themselves while playing during the evenings and weekends.
Events: National Level Sports Festival, JKLU HR Summit, Lectures, International Conference, Astrophotography Workshop, and other activities are held at the university for students.
Learning Resource Center: The library is housed in a multi-story building and houses an expanding collection of books, journals, and other reading materials. LRC subscribes to a large number of national and international periodicals and journals, as well as a large number of databases.
Courses
B.Tech.
BBA
B.Des.
Pinnacle MBA
M.Tech.
M.Sc.
M.A.
PhD