Master Of Technology in Mechanical Engineering: Course Details, Eligibility Criteria, Top Institutes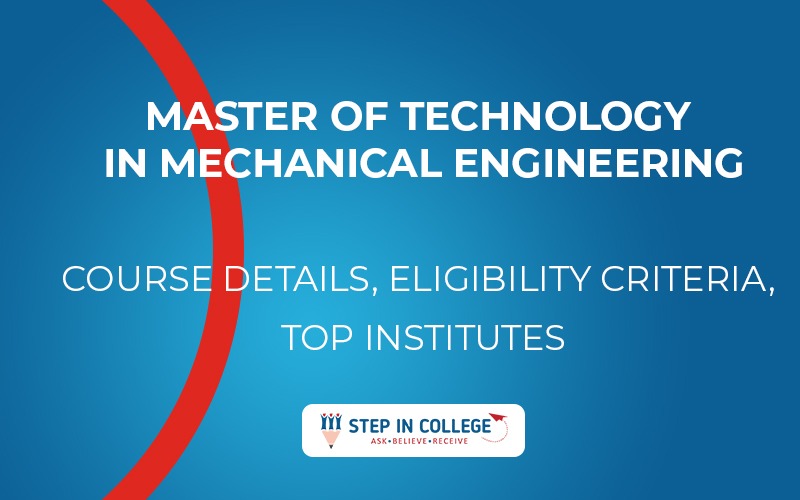 Published by : stepincollege
Master of Technology in Mechanical Engineering is a postgraduate 2 years degree course. It is concerned with the study of mechanics, statics, kinematics, thermodynamics, materials science, and structural analysis as applied to the design, development, construction, production, installation, operation, and maintenance of tools, machines, and other mechanical machinery, such as automobiles, trucks, planes, trains, space vehicles, lathes, milling machines, grinders, large steam and gas turbines, and so on.
Master Of Technology in Mechanical Engineering Course Details, Eligibility Criteria, Entrance Exam, Top Institutes, Syllabus, Job Prospects | StepInCollege
It encompasses all major fields of architecture, thermal and industrial engineering and is general in nature. M.Tech brings a person into the whirlpool of science and mathematics of Mechanical Engineering. The course will help students gain a better understanding of solids, materials, thermodynamics, fluid mechanics, machine design, and many other machines and material concepts.
M.Tech Mechanical Engineering Eligibility Criteria
B.E./B.Tech in Mechanical Engineering or equivalent examination.
GATE (Graduate Aptitude Test in Engineering) Score Merit List is used to determine entry.
M.Tech Mechanical Engineering Entrance Exam
M.Tech Mechanical Engineering Top Institutes
Annasaheb Dange College of Engineering and Technology (ADCET)
Bharat Ratna Indira Gandhi College of Engineering
Birla Institute of Technology (BIT Ranchi)
Birla Institute of Technology and Science (BITS Pilani)
Coimbatore Institute of Technology
Dr. DY Patil Institute of Engineering and Technology
Jadavpur University
KJ Somaiya College of Engineering
Lokmanya Tilak College of Engineering
Pillai Institute of Information Technology, Engineering, Media Studies, and Research
Shri Ram Institute of Management and Technology (SRIMT)
Solapur University
M.Tech Mechanical Engineering Syllabus
Semester 1: Numerical Analysis and optimization, Instruments and maiden, Experimental Stress Analysis, Metal Forming Analysis, Mechatronics and product design, Experimental stress Analysis lab, Mechanical measurement lab. Computational Lab.
Semester 2: Theory of Elasticity, Design of Mechanics, Principles Of Machine Design, General Elective 1, General Elective 2, Seminar, CAD/CAM Lab Design Practical lab.
Semester 3: Mechanical Behavior of Materials, Mechanics Vibration, General Elective 3, General practical Lab 4, Material behavior and vibration lab, Minor Project.
Semester 4: Dissertation, Elect. Design of bearing and shift, Computer-Aided Design, Design of Pollution Control, Tribulus, Computer-Aided vehicle design.
M.Tech Mechanical Engineering Job Prospects
In the business and industry, there is a tremendous need for mechanical engineers as they are versatile and flexible enough to work in diverse job profiles, such as project manager, transportation and automotive engineer, transport analyst, navigation officer, assistant professor in colleges.
Employment Areas
Aeronautical Industry
Consulting Firms
Agricultural Industry
Construction Firms
Automobile Industry
Chemical Industry
Electronics Industry
Hotels
Power Plants
Hospitals
Industrial Machinery industry
Oil Exploration and Refining
Petroleum Industry
Steel Plants
Textile Industries
Job Types
Mechanical Engineering Technician
Associate Prof./Asst. Prof./Professor
Mechanical Production Engineer
Project Manager
Mechanical Engineer
Technical Writer (Machines)
Manufacturing Manager
Mechanical Engineer
Top Recruiters
Tata Motors
Larsen
HPCL
Ford
Metro Rail Corp.
Nuclear Power Corporation of India Ltd.
DAE