MJRP University Details: Scholarship, Placements, Hostel | StepInCollege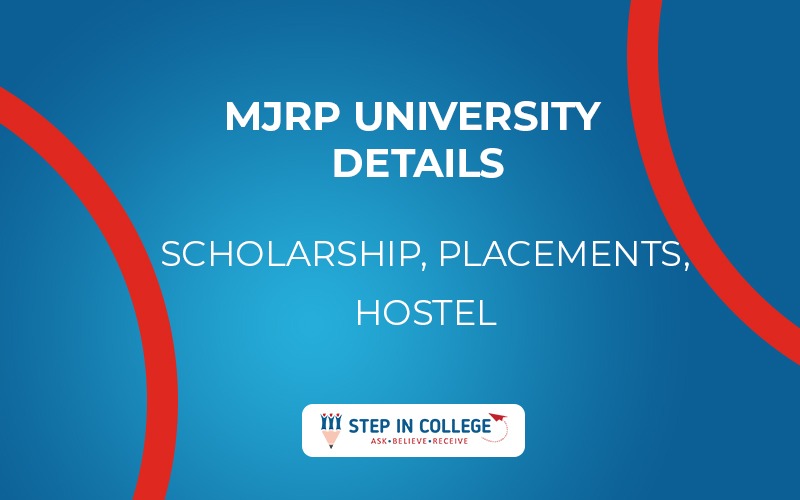 Published by : stepincollege
Mahatma Jyoti Rao Phoole University (MJRP) was established in 2009 with the aim of providing students with a high-quality education that included not only academic knowledge but also technical training. Mahatma Jyoti Rao Phoole was the inspiration for the University's name ( a social reformer who worked for the liberation of women). The University, which is located in Jaipur, has received approval from a number of government bodies, including the AICTE (All India Council for Technical Education), the NCTE (National Council for Teacher Education), and the University Grants Commission (UGC).
MJRP University Details, Courses, and fees, Scholarship, Placements, Hostel | StepInCollege
MJRP, Jaipur was also authorized by the Pharmacy Council of India (PCI) and the Bar Council of India (BCI). The MJRP in Jaipur has partnered with the Macmillan Research Group in the United Kingdom to provide students with international scholarship opportunities and co-publication opportunities.
Courses: In a variety of disciplines, MJRP University offers undergraduate, postgraduate, academic, PG diploma, and certificate programs. MJRP offers BA, BDes, BArch, BBA, BCA, BEd, BPharm, and other undergraduate programs. It also offers a variety of postgraduate programs, including MSW, MTech, MPharm, and others. At MJRP, all of the courses are well-structured and current with market trends. The university offers a BTech program in civil engineering, chemical engineering, computer science, and engineering, among other specializations. The Mahatma Jyoti Rao Phoole University's postgraduate courses are a mix of practical and theoretical experience.
Scholarship: The Mahatma Jyoti Rao Phoole University awards scholarships to deserving students based on their performance in entrance exams. The scholarship is open to all deserving and financially disadvantaged students. All students at Jyoti Rao Phoole University are qualified for a merit-based scholarship. For the scholarship to be accumulated, all qualifying SC/ST, OBC, PWD, and other students must apply for their scholarship form. The scholarship convenience is also completed at the time of enrollment. The following is the tuition fee waiver:
Hostel: MJRP offers a separate hostel for boys and girls with a capacity of more than 200 students, as well as nutritious and sanitary food. For students, there is also a warden who offers motherly care and protection. Every week, a doctor comes to see the students for a routine checkup. For the students' entertainment, the hostel offers indoor and outdoor sports, as well as television. The hostel celebrates festival nights with a theme of dance, music, and plenty of entertainment.
Placement: Mahatma Jyoti Rao Phoole University has a strong placement track record, with all of its graduates working for reputable companies. It keeps students informed about new job opportunities and maintains excellent relationships with professional recruiters. Students offer their best performances with the aid of university-sponsored personality development seminars and training programs. Among their prestigious recruiters are the United Bank of India, HDFC Bank, Oberoi Hotels, Infogen, TATA Consultancy Services, HCL, and others.