NIMS University Details: Courses, and fees, Scholarship, Placements, Hostel | StepInCollege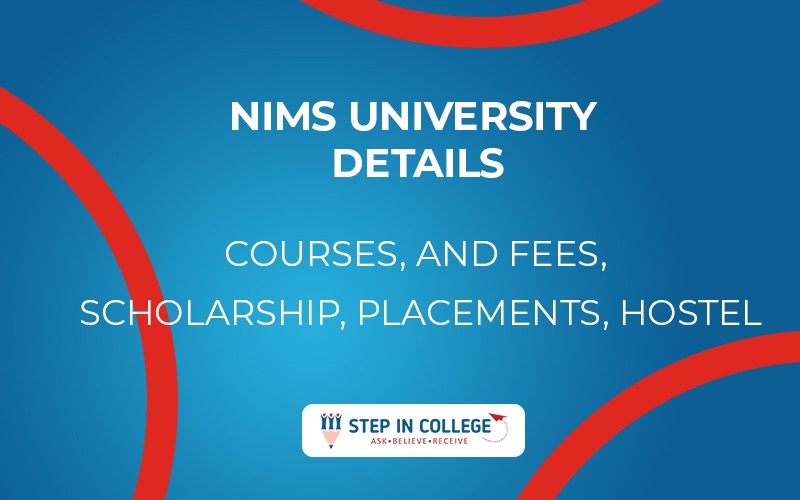 Published by : stepincollege
NIMS University, located in Jaipur, Rajasthan, is one of the largest and best self-financed universities in North India. NIMS University is recognized for its well-maintained state-of-the-art infrastructure and world-class facilities, in addition to its uncompromising curriculum and placements. It's also known for its labs and libraries, which are well-equipped with cutting-edge technology, immersive pedagogy, and academics with established expertise, making the university a haven for both off-campus and on-campus students.
NIMS University Details, Courses, and fees, Scholarship, Placements, Hostel | StepInCollege
The UGC has approved the university in recognition of its contribution to the educational field (UGC). Apart from that, the university has received several awards from well-known government officials, including the MCI, INC, PCI, AICTE, DEC, BCI, and the COA.
The management team and academic council at NIMS University are well-maintained and highly trained, and they all work tirelessly to provide students with uncompromising educational facilities. There is also a Student Council at the university, which serves as an elected representative of the student body. The student council is responsible for developing policies, acting as a governing body, and making decisions that support the student community. Aside from that, the student council serves as a conduit for students to express their thoughts and views in order to improve their situation.
Courses: NIMS University offers over 300 Under-Graduate and Post-Graduate courses. Students may enroll in these courses in either a normal or distance learning format. BTech, MBBS, MTech, and MBA are some of the common courses offered by NIMS University. The average Fee for the courses is 12k to 2lac.
NIMS University Rankings: The teaching pedagogy at NIMS University is well-known. It is one of India's largest private universities. The following are the NIMS University rankings:
Outlook 2019 has ranked architecture 16th,
mass communication 21st,
law 30th,
dentistry 40th.
Scholarship and Financial Aid
Government Schemes – For SC/ST/OBC students, the respective state governments will refund their entire tuition fee according to their state government policy.
Scholarship
Government Schemes – For SC/ST/OBC students, the respective state governments will refund their entire tuition fee according to their state government policy.
For more information on educational loans, visit IDBI Bank.
Placements: The placement cell at NIMS University oversees the university's placement activities. The cell hosts lectures and workshops on campus on a variety of topics based on current demand and emerging technologies. The university's placement activities have earned it a spot among the country's top universities in terms of placement. Summer internships from reputed companies are available to students at NIMS University Jaipur for a duration of six to eight weeks. Internships enable students to become acquainted with industry developments while also gaining experience.
Top Recruiters: A2 Infra, Academic guru, AirNet, Concierge, HCL, Lintech, HMD, Remson, etc.
Hostel:
Hostel for Girls and Boys are available with the 3000 approx Capacity. The Hostel Fees for Tripple Seater is 100000, for Double Seater is 150000 and for Single Seater is 200000. The Mess Fees is Inclusive in Hostel Charges. The Room Type Occupancy basis is Non A/C.
Hostel Facilities/ Amenities Clubs, Restaurant, WiFi, Sport, Library, Labs, Banks, ATMs, Post Office.