Anand International College of Engineering Details: Scholarship, Placements, Hostel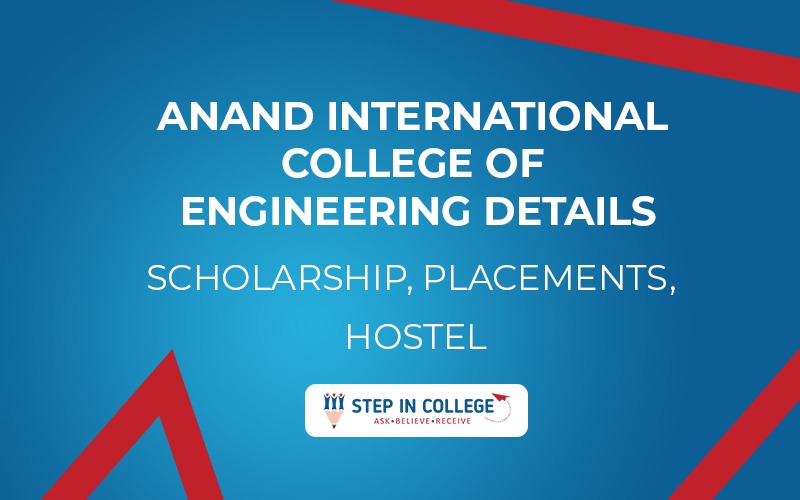 Published by : stepincollege
Anand International College of Engineering (Anand-ICE), founded in 2010, is one of the most prestigious RTU-affiliated colleges in Jaipur. Since its establishment, the institute has maintained its reputation for providing world-class teaching-learning environments. With world-class infrastructure, state-of-the-art labs, and a lush green landscaped campus, the Institute fosters an intellectually stimulating Academic Environment. Anand-ICE is an AICTE-approved engineering college with eminent academicians and scientists on staff who provide academic parenting to students.
Anand International College of Engineering Details, Ranking, Courses and fees, Scholarship, Placements, Hostel | StepInCollege
The institute has implemented cutting-edge pedagogies, such as project/research-based learning, to help students not only grasp the basics of engineering science but also prepare to solve real-world problems in a sustainable manner. Additionally, the program includes intensive industrial training and practices, corporate learning, and life skills, which is a step above what standard AICTE approved engineering colleges in Jaipur provide.
Course:
Students will pursue a B.Tech degree at Anand International College of Engineering. Mechanical engineering, computer science and engineering (artificial intelligence), electrical engineering, and civil engineering are among the specializations available in the B.Tech program at Anand-ICE. The AICTE has accepted all of Anand-courses. Many of the courses emphasize business experience and provide super-specialization leading courses in addition to the core subjects.
Ranking:
94.3 MY FM won the award for 'Best Academic and Industry Interface.'
Rethink India awarded him the Campus Swachhata Award.
The World Consulting and Research Corporation in Singapore called us "Asia's Fastest Growing Educational Institute."
The Competition Success Review Magazine named us the "Top Institute Of India."
Brand Academy awarded him the Global Quality Award.
Career Connect Magazine gave me a five-star ranking for the best quality standards.
DNA has named DNA the Best Private Engineering College in North India.
The Branch Academy named us the Best Upcoming Private Engineering College in the State of Rajasthan.
Placements:
The Training and Placement Cell collaborates closely with the industry. From induction, classroom preparation, internship, and final placement, the institute offers a routine interface between students and industry associates, as well as playing an important role in the students' careers. The following are some of AICE Jaipur's placement highlights:
INR 12 LPA (Maximum Salary)
INR 3 LPA (Minimum Salary)
INR 8 LPA Average Salary
Over 300 opportunities have been placed.
200+ Summer Internship
Tata Consultancy Services, IBM India Pvt. Ltd., Adobe System, JSW Steel Ltd., Byju's, Pinnacle Infotech Ltd, Deloitte, AVL India Pvt Ltd., Capgemini, Accenture, Mittsure Technologies LLP, IBM, Zycus, HSBC, Wipro, Ubisoft, Jaro Education, among others are among the top recruiters.
Scholarship:
Anand-ICE awards scholarships to worthy students so that they can continue to do amazing things. The institute's scholarships are all merit-based. Scholarships are a source of inspiration for students at Anand-ICE.
Anand Merit Scholarship
Anand Global Scholarship
Hostel:
With the feel of a home away from home, the college provides separate boys' and girls' hostels with stylish and upbeat ambiances that encourage meaningful peer discussions to its students who come from all over the world.
The hostel provides the following services:
Fees For Both Girls/Boys from 50k-1.50lac.
Double/Triple sharing AC/Air Cooled Rooms that are well-furnished
RO Drinking Water Mess with 4 Veg Meals a Day, 24 Hour Electricity, and Wi-Fi
During the winter, there is a constant supply of hot water.
Separate Recreation Halls with TVs and a TV-Free Gym
Attractive Round-the-Clock Squash Court and Indoor Sports Area Medical Assistance and Parental Guidance
Departmental Store is open 24 hours a day, 7 days a week, as well as a study and computer centre.