LNMIIT University Details: Courses and fees, Scholarship, Placements, Hostel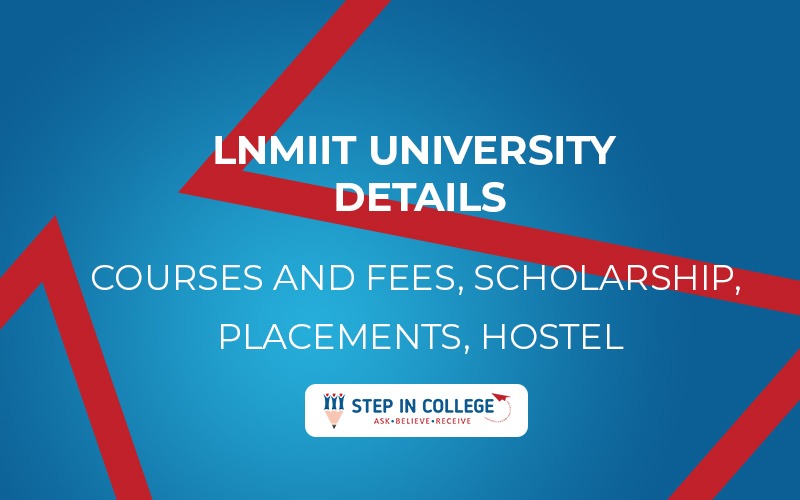 Published by : stepincollege
The LNM Institute of Information Technology is located in the Indian state of Rajasthan, in Jaipur. It was established in 2002 and is accredited by the UGC. The LNMIIT campus is 100 acres in size. In collaboration with the Rajasthan government, it has developed LNM IIT in Jaipur. This institute aspires to be a world–class institute of excellence, with vast campus infrastructure and respected faculty. The foundation is establishing the "Usha Mittal Institute of Technology" for women at SNDT Women's University in Mumbai. It has made a significant financial contribution to the prestigious Indian School of Business in Hyderabad for the advancement of business education.
LNMIIT University Details, Ranking, Courses and fees, Scholarship, Placements, Hostel | StepInCollege
To create a world-class forum for knowledge development through high-quality research and dissemination through technologically-enabled teaching-learning pedagogy in the fields of science, technology, engineering, the arts, and management. By ensuring continuous engagement with industry and other academic and research institutions in India and abroad, we aim to become a catalyst for societal and national growth. Its students do not have access to a hostel. Academic Zone, A/C, AV Lab, Auditorium, ATM, Boys Hostel, Canteen, Computer Lab, Conference Hall, and Fest are all available on campus.
Courses:
LNMIIT offers a variety of undergraduate, doctoral, and academic programs in a variety of fields. The college offers B.Tech and a Dual Degree program (B.Tech + M.Tech) at the undergraduate level. Students will pursue M.Tech and M.Sc degrees at the college's postgraduate level. In addition, LNMIIT Jaipur provides Ph.D. and MS through Research programs in a variety of disciplines.
Ranking:
In India Today's (Private Engineering) ranking for 2020, LNMIIT is ranked 37th.
In 2020, India Today (Engineering) ranked LNMIIT 67th out of 67.
In 2019, LNMIIT was ranked 145th out of 145 engineering colleges by Outlook (Engineering Colleges).
The Week (Private Engineering) has ranked LNMIIT among the top 36 schools in 2020.
In the year 2020, LNMIIT has been ranked among the top 65 The Week (Engineering) schools.
In 2020, NIRF (Pharmacy) ranked LNMIIT 195th out of 195.
In 2020, NIRF (Overall) rated LNMIIT in the 150-200 range.
Scholarships:
Merit-based Scholarship
Merit-Cum-Means Scholarship and BPL Scholarship
Merit-cum-Means Scholarship
Merit Criterion (First Semester)
BPL Scholarship - Quantum of Scholarship
Placement:
The institute's planning and selection cell handles all aspects of placements at LNMIIT for students in all departments. It is a student body that is headed by the Recruitment and Selection Officer and directed by the Faculty Advisors, all of whom are directly supervised by the honorable Director. The activities are overseen by a committee of student representatives to ensure continuity with the institute's various policies and the organizational officials that coordinate with their recruitment organizations.
Amazon, Mahindra, Adobe, Media.net, EagleView, Samsung BNY Mellon, OYO Rooms, Goldman Sachs, Delhivery, Zomato, Go-Jek, American Express, Sprinkler, among several others are among the institution's major recruiters.
Hostel And Mess Charges:
Per Semester Hostel Fee: Rs. 21,000/-
Mess (Food) Fees: Rs. 17,000/- Per Semester, Adjustable At The End Of The Semester On An Actual Basis
Additional Fees: Rs. 7,000/- per semester
Rs. 45,000/- in total (Rupees Forty-five Thousand Only)