Master of Technology in Structural Engineering: Top Colleges, Syllabus, Job Prospects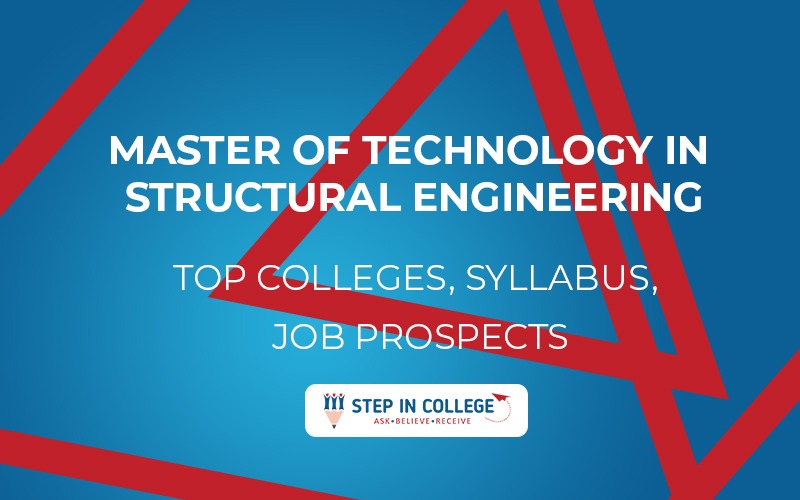 Published by : stepincollege
M. Tech in Structural Engineering is a full-time postgraduate 2 years course. The course's main goal is to provide advanced learning focused on structural analysis' fundamental principles to interested applicants. Students are capable of applying various approaches to such principles, studying various types of structures, and determining the force and displacement parameters of such structures. Other course objectives in specialist fields such as Offshore Structure/ Administration (General)/ Bridge Structure/ Hydraulic Structure include the development of onshore infrastructure skills and sound history.
Master Of Technology in Structural Engineering Details, Eligibility, Entrance Exam, Top Colleges, Syllabus, Job Prospects | StepInCollege
It's a part of structural design that deals with things like the auxiliary plan, essential safety, general well-being, unwavering standards of quality, seismic resistance, and construction disappointments. The course is particularly beneficial for those who want to learn how to construct tall towers, bridges, reservoirs, and flyovers and compare them to existing structures. Furthermore, one runs into issues like institutional ingenuity, solid innovation, pre-assembled structures, savvy structures, steel structures, composite structures, and erosion building.
M.Tech in Structural Engineering Eligibility Criteria
BE or BTech in Civil Engineering or another comparable degree from a recognized university, such as Environmental Engineering, Chemical Engineering, Electricity, and Climate Engineering, with a minimum aggregate score of 55 percent.
Students of at least 50 percent (45 percent for SC/ST/OBC candidates) MSc in Environmental Science marks in total are also eligible to qualify for the course.
M.Tech in Structural Engineering Entrance Exam
Manipal University Online Entrance Test (MU-OET)
International Institute of Information Technology, Hyderabad
GATE
PGEE
M.Tech in Structural Engineering Top Institutes
University of Petroleum and Energy Studies, Dehradun
Hindustan Institute of Technology and Science, Chennai
Sharda University, Noida
MVJ College of Engineering, Bengaluru
Jawaharlal Nehru Technological University (JNTU), Anantapur
Amrita University, Coimbatore
ACS College of Engineering, Bengaluru
Galgotias University, Noida
Visvesvaraya Technological University, Belagavi
International Institute of Information Technology, Hyderabad (IIIT), Hyderabad
M.Tech in Structural Engineering Syllabus
Year I
Semester 1: Structural Dynamics, Advanced Structural Analysis, Advanced Design of Steel Structures, Advance RCC Design, Advanced Mathematics, Green Building Methodology, Computer-Aided Sad.
Semester 2: RCC Bridge Design, Theory of Elasticity and Plasticity, Advance Concrete Technology, Environment Health and Safety, Earthquake Resistant Design of Structures, Structural Engineering Lab, Advanced Design Lab.
Year II
Semester 3: Seminar, Dissertation-1.
Semester 4: Seminar, Dissertation-2.
M.Tech in Structural Engineering Job Prospects
Candidates with an MTech in Structural Engineering will work as consulting structural engineers for construction firms, private businesses, and government agencies.
The following are some of the job roles that an applicant with an MTech in Structural Engineering degree might pursue:
Bridge Engineer
Structure Engineer
Design Engineer
Structural Consultant
Offshore Design Engineer
Offshore Construction Engineer