MNIT Details: Courses and fees Scholarship, Placements, Hostel | StepInCollege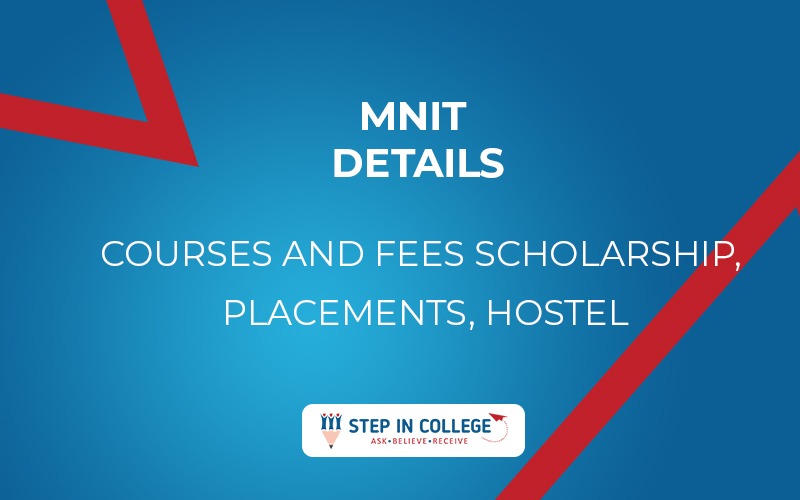 Published by : stepincollege
MNIT (Malaviya National Institute of Technology) was established in 1963 as Malaviya Regional Engineering College (Jaipur) and has quickly risen to become one of India's top engineering colleges. In 2002, the premier institute was designated as a National Institute of Technology (NIT), and it has since served as a national research center. The Ministry of Human Resource Development is funding MNIT Jaipur (MHRD).
MNIT Details, Ranking, Courses and fees, Scholarship, Placements, Hostel | StepInCollege
Thousands of students have earned their diplomas from MNIT with honors. MNIT Jaipur was established with the aim of providing high-quality technical education that meets international standards. Apart from academics, MNIT Jaipur places equal emphasis on innovation and is constantly striving to develop cutting-edge technology to address current and future technological growth challenges. MNIT Jaipur, on the other hand, is playing a critical role in meeting the industry's current and future demands, and the premier institute is capable of producing skilled and trained professionals in the sector to meet those demands.
Courses:
MNIT Jaipur offers a wide range of undergraduate and graduate programs. MNIT Jaipur offers a variety of B.Tech specializations. In addition, the premier institute offers a Bachelor of Architecture (B.Arch) program. M.Plan and M.Tech courses have several specializations, and MBA and MSc courses are also taught at MNIT Jaipur. MNIT Jaipur's courses are a strong combination of practical and theoretical skills that help students succeed and keep them up to date with what's going on in the professional world. Candidates may pursue lucrative careers in a variety of industries after completing courses at MNIT Jaipur, depending on their interests and potential.
Placements:
The selection and training cell at MNIT Jaipur is in charge of MNIT Jaipur placements. The training and placement cell is in charge of promoting the necessary industrial training for undergraduate students. The cell ensures that businesses and organizations are invited to participate in MNIT Jaipur placements for undergraduate and postgraduate students. Candidates are placed at MNIT Jaipur based on their consistent performance over the years in their respective courses. The students in the 2018 batch were successfully placed. There were a total of 431 students who were put. The highest annual placement package (UG+PG) was 40 lakhs. The average UG+PG placement package was 8.1 lakhs per year.
Scholarships:
Scholarships are awarded to deserving students, especially those from low-income families or those who fall into the Reserved Categories.
Scholarships from the Ministry of Steel Authority are available to students in the Department of Metallurgical and Material Engineering.
Persons with Disabilities National Scholarship
The National Scholarship for Persons with Disabilities Trust Fund is managed by the Ministry of Social Justice and Empowerment of the Government of India.
Scholarships for College and University Students from the Central Sector (MHRD, Govt. of India).
Hostel:
Hostel Fees For Boys/Girls From Rs. 32 K - Rs.47 K.
Hostel Fee & Mess Advance
Mess Advance every semester, which is changed in the Mess Bill at the time of departure: 20,000 people
Youth Hostel Caution money for new entrants must be deposited only once, at the time of hostel assignment (refundable): 15000 per semester in room rent, light, and water charges 6000: Room Rent, 6000: Light & Water Charges, 6000:
Total: Rs47000 (total: 12000)