SKIT Details: Courses and fees, Ranking, Placements, Hostel | StepInCollege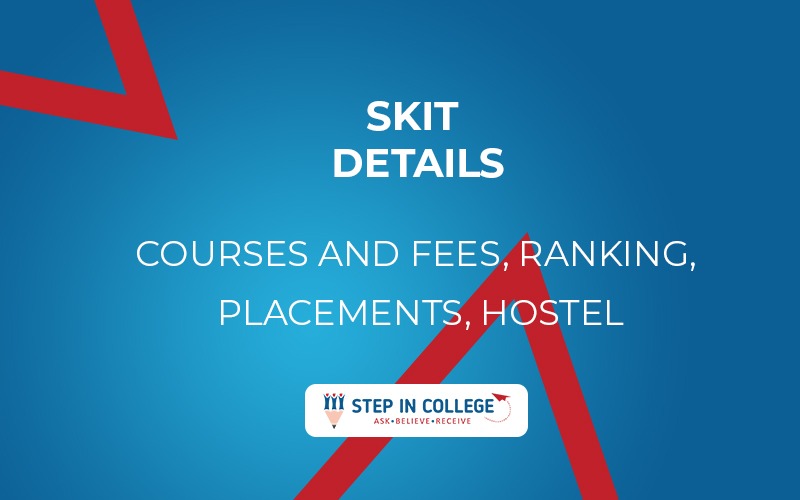 Published by : stepincollege
The Swami Keshvanand Institute of Technology (SKIT) was established in the year 2000 and is one of the country's most prestigious technical and management institutes. The AICTE has approved SKIT, which is affiliated with Rajasthan Technical University. The institute is known for its high-quality education and strong interface, which aids students in obtaining summer internships and placements.
SKIT Details, Ranking, Courses and fees, Scholarship, Placements, Hostel | StepInCollege
SKIT emphasizes science and creativity in addition to traditional academics. SKIT Jaipur offers undergraduate and postgraduate engineering and management courses with the aim of producing industry-ready managers and engineers who can drive research and problem solving within the domain of their industry. The institute is in the heart of Jaipur, the Pink City, which is a mix of Indian heritage and modernity. The SKIT campus is surrounded by lush greenery and a peaceful atmosphere. The campus provides all of the necessary amenities for students, including hostels, libraries, computer laboratories, air-conditioned classrooms, and a cafeteria.
Courses:
Engineering, management, basic sciences, and humanities courses are all available at SKIT. MBA and engineering specializations are available at SKIT. SKIT's MBA programs provide students with both theoretical and practical skills. SKIT Jaipur courses emphasize not only managerial expertise but also the development of the required skills through extracurricular and indigenous activities. In the field of engineering, SKIT offers a variety of undergraduate, postgraduate, and doctoral programs. SKIT's BTech and MTech programs are very successful because they encourage students to pursue higher education in technology and industrial science in order to make them global competitors.
Hostel:
Fees For Both Girls/Boys is 98K. Separate hostel facilities for boys and girls are available on campus, with two edifices housing 460 and 265 students, respectively. In the Hostel Mess, students will eat safe and nutritious meals. A Common Area for sports, a television, a Gymnasium, and an Indoor Sport's room are among the recreational resources available. Rooms in the hostel are assigned on a "first-come, first-served" basis.
Scholarships:
Amount of Scholarship: Up to Rs12400. SKIT provides students with a variety of scholarships. They are as follows:
Scholarship for Shrimati Gyani Devi
Alumni Scholarships worth Rs. 10 Lacs are available from SKIT for needy/deserving students.
The AICTE provides the following scholarships to students whose family income is less than or equal to Rs. 8 lacs per year.
Two girl candidates/families are eligible for the Pragati Scholarship Scheme.
Saksham Scholarship Program for Differently Abled Students (disability of not less than 40 percent ).
Placements:
Swami Keshvanand Institute of Technology, Management, and Gramothan assisted students with placements to the fullest extent possible. For campus placement, companies such as Infosys, Cognizant, Capgemini, Mahindra, Wipro, Oracle, Patni Computers, Persistent Systems, PharmARC, Huawei Technologies, IBM India, ICICI Prudential Life Insurance, Apollo Tyres and others come to SKIT. Many new recruiters have begun to visit the SKIT campus in recent years. Many SKIT graduates have gone on to work for some of the world's most prestigious companies. Students pursuing B.Tech and MBA degrees can expect to earn between Rs. 4 and Rs. 8 lakh per year on average.