University of Technology Details: Courses and fees, Placements, Hostel | StepInCollege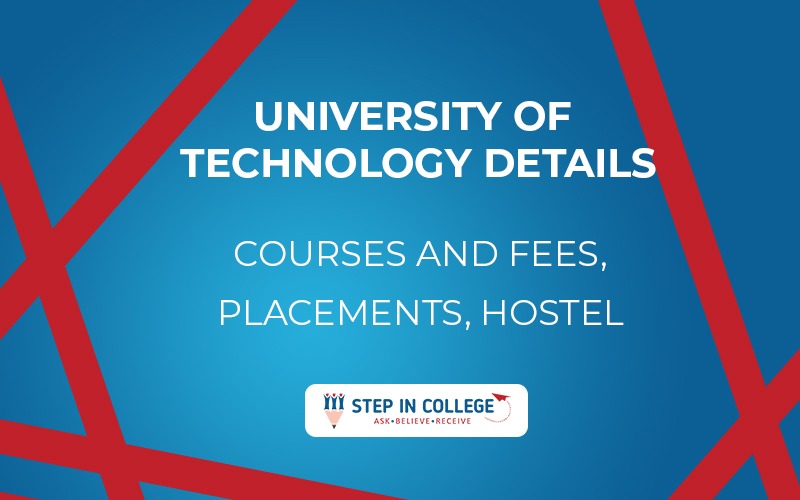 Published by : stepincollege
The University of Technology was founded by the Rajasthan State Legislature under Act No. 28 of 2017. It is a UGC accredited university under section 2(f) of the UGC Act 1956. Deepshikha Kala Sansthan, Jaipur, is a well-known educational institution that funds the University of Technology. Engineering and Technology, Management, Law, Science, Arts, Commerce, Education, Languages, Medical and Health, Alternative Therapy, Religion, and Telecommunications are among the areas in which the university offers a diverse range of courses and a wide pool of resources. The university is known for providing the best learning solutions and facilities for all-around student growth.
University of Technology Details, Ranking, Courses and fees, Scholarship, Placements, Hostel | StepInCollege
The company has achieved outstanding results and has risen to the top of educational institution rankings. The company frequently promotes cultural and environmental issues and is involved in a variety of social causes. It has led to various programs that have helped students discover value outside their regular curricula, such as student camps, art workshops, talent competitions, and other numerous awareness initiatives. UOT has had a significant impact on the education sector as a modern education center, thanks to its well-researched and well-defined learning methods, up-to-date facilities, and, above all, choices.
Courses:
The University of Technology offers a variety of degrees in fields such as architecture, science, and humanities, among others. The University of Technology Sanganer offers programs in the arts, engineering, technology, pharmaceutical science, medicine, veterinary science, management, computer applications, law, Applied Sciences, Life Science, Humanities, Agriculture, Design, Media and Journalism and Mass Communication, Alternative Therapy, Religion, Physical Education, and doctoral programs. Students at the University of Technology Sanganer can also choose between certificate and diploma programs.
Placement Cell:
UoT has strategic alliances and placement tie-ups with numerous corporate organizations and industry players with whom we organize placement drives and job fests at the University of Technology in order to ensure high placements every year. Since then, we've been able to prompt and commit 100,000+ placements, involving over 400 companies. The career and placement cell at UOT Jaipur is very well-functioning, and it plays an important role in student selection and placement in reputable organizations.
Highest Package: INR 7.18 LPA
Average Package: INR 5 LPA
Top Recruiters: Infosys, Cardekho, HDFC, AXIS, Coca-Cola, Genpact, TCS, Girnar Softwares, IBM, Metacube, Monster, GemPulse, Dot Squares, Cipla, Indiabulls, JK Cement, etc.
Scholarship:
Merit-Based Scholarship
Girl Child Promotion Scheme for Higher Education
Special Scholarship for the promotion of education in particular regions
Special Protection Wards Scheme
Jain Minority/SC/ST/OBC Students Special Scheme
Bihar Students Special Scheme-The Credit Card Scheme
Hostel:
Within the school, the hostel provides a homey environment for students, both residential and out-station, with the best possible amenities such as attached toilets, laundry facilities, nutritious food, pure drinking water, 24-hour critical supplies, security system, medical facilities, telephone facilities, campus ATM, and everything else that such a facility needs. Separate study areas allow students to spend academic hours with students from different cultures, traditions, and knowledge orientations, resulting in a healthy and friendly atmosphere all around. We also have separate buildings for girls and boys.