Banasthali Vidyapith Details: Courses and fees, , Ranking, Placements | StepInCollege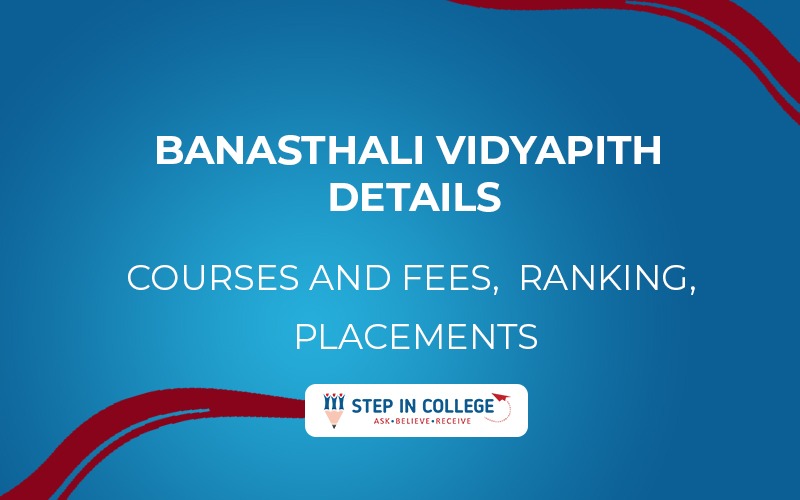 Published by : stepincollege
Banasthali Vidyapith Details, Ranking, Courses and fees, Scholarship, Placements, Hostel | StepInCollege
Banasthali Vidyapith University in Jaipur offers primary through Ph.D. degree programs on a women-only campus. The National Assessment and Accreditation Council awarded the University an 'A' grade (NAAC). The Banasthali root is special in more ways than one. Banasthali Vidyapith does not owe his life to an educator's or a social reformer's zeal. It's also not the growth of a philanthropist's fortune. It rose from the ashes of a blossoming Shanta Bai flower that had withered until it had bloomed, just like the mythical phoenix. It's the natural filling up of the hole left by Shantabai's death. Smt. Ratan Shastri and Pandit Hiralal Shastri (former Home and Foreign Secretary) saw Banasthali fill the vacuum left by the sudden death of Shantabai, their gifted and promising daughter, on October 6, 1935. They hoped that as they grew older, they would campaign for women's rights.
Banasthali Vidyapith Courses
The university offers a variety of three-year or six-semester undergraduate programs, including B.A., B.Sc., B.Sc. (Home Science), B.Sc. (Aviation Science), BCA, BBA, and B.Com. There is also a two-year or four-semester B. Ed. program with a mandatory aptitude test. There is also B.Tech. (CSE/EC/EI/EE/IT/BT/CE/MT), B.Pharm., B.Des., and Integrated LLB programs with varying course lengths.
Banasthali Vidyapith Ranking/Achievements:
In India, according to Outlook Ranking 2020, he is ranked 99th in the management group.
Times Higher Education Ranking 2020 places it at number 801 in the world's science colleges.
According to QS Ranking 2020, India is ranked 74th in the overall group.
In the NIRF Rankings 2019, it was ranked 19th in the Pharmacy category, and 87th in the overall category.
Banasthali Vidyapith Hostel:
All newly admitted students will be paid a one-time hostel admission fee of Rs. 5,000/-.
Mess Charges (For 10 Months): 21,500.00
Electricity & Water (For 10 Months): 6,500.00
Room Rent (For 10 Months): 6,500.00
Campus Fee (Annual): 19,000.00
Total: 53,500.00
Banasthali Vidyapith Placements:
Since the University's founding, we have provided high-quality education to our students so that they can contribute to organizations, society, and the world. Our alumni work very successfully in a variety of industries at the state and national levels as a quality workforce and productive entrepreneurs.
Top Recruitments: Cipla Ltd, CMC, Centurion Bank, Deutsche Bank, Capital IQ, Accenture, TCS, Flipkart, Wipro, Oracle, Amazon
Banasthali Vidyapith Scholarships
The following scholarships are available to Banasthali Vidyapith students:
Scholarships based on merit
Merit-based and need-based scholarships are available.
Merit-based scholarships
Scholarships are available from the university, the state government, and private institutions. Scholarships are available in the form of cash awards ranging from Rs 5,000 to Rs 10,000, or as partial or full tuition fee waivers, depending on the scholarship type.