BITS Details: Courses and fees, Scholarship, Placements, Hostel | StepInCollege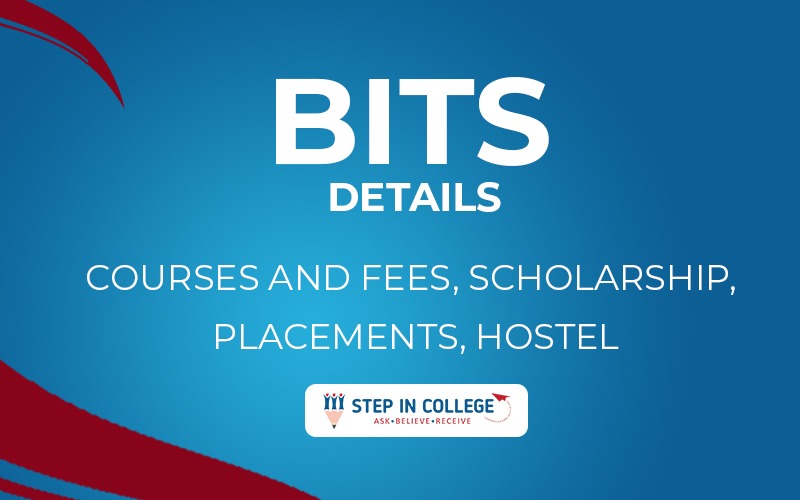 Published by : stepincollege
BITS Pilani is located in the Indian state of Rajasthan. It was established in 1964 and is NAAC accredited. The 328-acre campus of the Birla Institute of Technology and Science in Pilani is home to the Birla Institute of Technology and Science. Mr. GD Birla, an eminent industrialist, once dreamed of creating a higher education institute that would provide high-quality technical education to worthy, meritorious youth from across India. The dream came true in the latter half of the twentieth century when Mr. GD Birla founded the Birla Institute of Science. BITS Pilani, as it is called, has had a major impact on the future of students studying Science, Commerce, and Engineering.
BITS Details, Ranking, Courses and fees, Scholarship, Placements, Hostel | StepInCollege
BITS is a well-known institute in India that provides high-quality education in the fields of science and technology. BITS Pilani's main goal is to use its students to represent the nation and the world in the best possible way. The rigorous academic schedule at BITS Pilani, combined with the excitement of exploration that students are continually exposed to, has enabled students to achieve their goal of serving the nation and the world. The BITS group is equally committed to working for the betterment of humanity with zeal, creativity, effectiveness, and wisdom.
BITS Pilani Awards and Rankings
In 2019, NIRF ranked them 25th.
In 2018, NIRF ranked them 17th.
In 2017, Outlook India ranked them 5th.
In 2017, India Today ranked them 4th.
In 2016, Outlook ranked them 6th.
In 2016, India Today ranked them 3rd.
In 2016, The Week ranked them 7th.
BITS Pilani Courses and fees:
BITS Pilani's tuition fees are the same in Pilani, Goa, and Hyderabad for all courses such as B.Tech, M.Tech, B.Pharm, M.Pharm, and MBA. Fee Type
First Semester: 178000
Second Semester: 178000
Advances: 24000
Total Annual Fee: 380000
BITS Pilani Placement:
For a significant number of firms, BITS Pilani is a preferred recruiting destination. Each of their programs is structured to provide our students with a well-rounded curriculum that includes both theory and practice. They are also encouraged to engage in extracurricular activities, as this aids in the development of soft skills and the development of well-rounded personalities. This is what sets our students apart and makes them successful employees in every organization they enter. Amazon, KPMG, Morgan Stanley, PWC, Hindalco, Hitachi, Honda, Infosys, and TESCO are among the Institute's top recruiters.
BITS Pilani Scholarship:
Organize Merit and Merit-cum-Need Scholarships: These grants are available to students enrolled in Integrated First Degree Programs. Merit awards reimburse complete semester and admission fees for the top ten students in each class, and Merit-Cum-Need awards reimburse 50% or 25% of semester and admission fees for those chosen.
Student Aid Fund: This fund might be able to provide some financial assistance. These awards are usually given only in the second semester.
Earn While You Learn Programme (EWYLP): The Earn While You Learn Programme (EWYLP) offers a variety of financial assistance schemes.
BITS Pilani Hostel
The fees for both Boys/Girls are Rs 57.25 k. The Institute is entirely residential, and all students are housed in hostels. Only in extraordinary circumstances, such as when the student's parents or close relatives live in Pilani, can permission to become a day-scholar be given. There are eleven boys' hostels and one girls' hostel complex. The rooms in the hostel are fully furnished. In each hostel, there is a common room with cable TV and a telephone. Many of the hostel rooms have access to the internet. Many of the hostels have solar water heating systems. The girls' hostel, on the other hand, has its own mess, which is located within the hostel's perimeter. Students staying in the hostel are required to eat their meals in the Hostel Messes. The students run the mess halls attached to the hostels.