Jayoti Vidyapeeth Women's University: Courses and fees, Scholarship, Placements, Hostel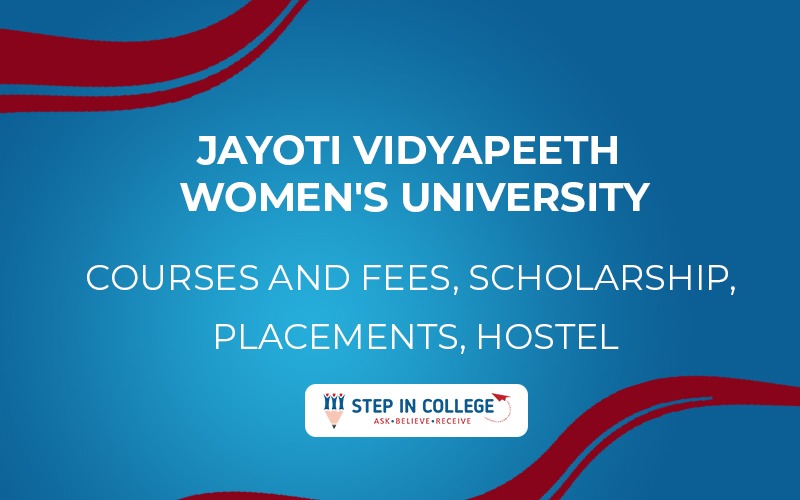 Published by : stepincollege
Jayoti Vidyapeeth Women's University Details, Ranking, Courses and fees, Scholarship, Placements, Hostel | StepInCollege
The "Nation's First State Private Women University," Jayoti Vidyapeeth Women's University, was established on April 21, 2008, as the "Nation's First State Private Women University." Many government organizations recognize the university, including the University Grants Commission of India (UGC), the Pharmacy Council of India (PCI), the Government of Rajasthan, NAAC, the Bar Council of India, and the Central Council of Indian Medicine, among others. The university aspires to be a world-class center for clinical care, research, education, and training in the professional and medical fields. The goal of Jayoti Vidyapeeth Women's University is to provide education for community development and women empowerment.
JVWU Courses:
Around 120 academic programs are currently available at the university, including B.Sc, BCA, B.Pharm, M.Tech, MPT, and M.Des. The program is tailored to the needs of society and industry, resulting in disciplined, professional people. JVWU, Jaipur focuses on a few key areas, including offering training that leads to women being recognized as flexible and fostering women empowerment. The Joint National Entrance Exam is used to admit students to JVWU's various courses (JNEE). JNEE is an online entrance exam held once a year at approximately 30 testing locations around the world.
JVWU Awards and Rankings:
The "Education Leadership Award 2018" was given to the university.
"The Knowledge Review Magazine 2018" listed JVWU, Jaipur among the top 10 best women's empowerment and education institutes in India.
JVWU Placements:
Jayoti Vidyapeeth Women's University's placement activities concentrate on providing 100 percent placement assistance to students as well as providing a forum for them to develop their skills. To provide certification to students, the college's placement cell collaborates with a number of companies and institutes, including CISCO, Redhat, IBM, and Microsoft IT Academy. Every year, the college welcomes a large number of companies to participate in the placement season.
TATA, IBM, Infosys, Bosch, Snapdeal, Honeywell, NIIT, Wipro, TCS, Reliance, InfoEdge, Microsoft, Hindustan Times, among others are among the top recruiting companies at Jayoti Vidyapeeth Women's University.
JVWU Scholarships
Students from various Indian states may receive financial assistance from the university.
Scholarships are awarded based on the department's eligibility.
Various government departments, such as the AICTE, the Department of Minority Affairs, and the Department of Social Justice and Empowerment, provide scholarships to students.
JVWU Hostel:
The fee is Rs 1.25 lakh for both girls and boys. At JV, we strive to make your stay as relaxed, secure, and convenient as possible. A wide range of lodging options is open. The university has world-class residential facilities, including multistory hostels with air conditioning and cooling. Rooms are assigned based on preference and availability. In university hostels, rooms are fully furnished and provide bedding. Every room has access to the internet and telephones, allowing for easy communication with the outside world while remaining under surveillance.