Manipal University Details: Scholarship, Placements, Hostel | StepInCollege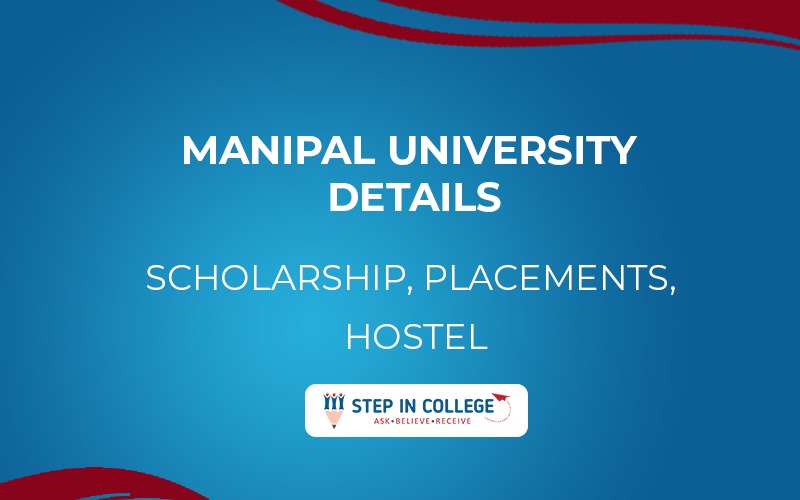 Published by : stepincollege
Manipal University Details, Ranking, Courses and fees, Scholarship, Placements, Hostel | StepInCollege
In the fields of education, science, and healthcare, the Manipal Education Group is a visionary leader. It has impacted the lives of over 3,00,000 students from 59 countries over the course of six decades. The School of Electrical, Electronics, and Communication at Manipal University is located in Jaipur, Rajasthan, India. It was established in 2011 and is affiliated with Manipal University. It is accredited by the UGC. University offers 15 courses in one stream, Engineering, and two degrees, B.Tech and M.Tech. The campus covers 122 acres. For its students, a hostel is open. A/C, Boys Hostel, Canteen, Computer Lab, Girls Hostel, Gym, Mess, Library, Medical Services, and Cls. The room is among the additional campus amenities.
Manipal University Courses:
MAHE Manipal offers over 75 undergraduate and 225 graduate courses. The academy also offers one integrated curriculum, five certificate courses, five post-basic certificate courses, one diploma, four post-basic diplomas, 12 PG diplomas, one advanced PG diploma, and 13 super specialization courses.
Manipal University Awards and Rankings
The Jaipur campus of Manipal University has been given a LEED INDIAN- PLATINUM ranking for Energy Conservation and Environmental Design in 2016.
ABP News named Outstanding Engineering Institute North in June 2016.
On August 28, 2015, the Economic Times presented Manipal University Jaipur with an award for excellence in the area of e-Governance.
Prime Minister Shri Narendra Modi praised Mr. Akshay Saini, a B Tech CSE student, for creating an animation walkthrough of the Skill India Portal.
The Economic Times has given The Economic Times the Outstanding Contribution to Digital India Award.
Hindustan Times named it the region's top university in December 2013.
Under the MHRD's initiatives, a recognized center for QEEE has been created.
Economic Times named it an eGov Campus in August 2015.
The National Informatics Centre (NIC) of the Government of India has designated MUJ as an eGov campus.
Manipal University Placements:
The college provides daily training to its students in the requisite hard and soft skills, allowing them to develop trust and skill before attending an interview. The training phase begins right away in the seventh semester. They also held mock group discussions and interviews with our students on a regular basis to ensure that they were job-ready. Dell has signed an MOU in which our students will be invited to participate in live programs, internships, and industry-academic workshops. In collaboration with businesses, a variety of industry-oriented training programs on cutting-edge technology such as IoT (Internet of Things) have been launched on campus.
Sapient, Dell, Directi, Amazon, Gram Power, Mettl, SAP Lab, Think and Learn, Secure Meters, Appirio, and Metacube are just a few of the companies involved. Not only for engineering and management, but also for our BBA and BCom students, renowned companies such as Genpact, Tata Consultancy Services, and Tech Mahindra have visited us. ICICI Bank, S.G. Analytics, Axis Bank, ITC, Bharti Airtel, and Paperpedia are among the recruiters who have so far participated in the MBA placement session.
Manipal University Scholarships
Merit Scholarships are available for MD and MDS students.
Scholarships for Achiever, Scholar, and Freeship
Scholarship for Board Toppers
Scholarships for Students in the Academy of General Education
The General Education Academy is a non-profit organization dedicated to the advancement (AGE) a financial award
Scholarship for Merit and Means
Waiver of Tuition Fees by the AICTE
Scholarship for Kadambi
Scholarship from the ITC
Manipal University Hostel:
The college campus is direct across the street from single and twin-sharing hostels. They have separate rooms for boys and girls and are centrally air-conditioned. Hostel fees range from Rs. 90.50K to Rs. 1.82 lakh for both girls and boys.