Master of Science in Zoology: Course Details, Syllabus, Top Colleges |StepInCollege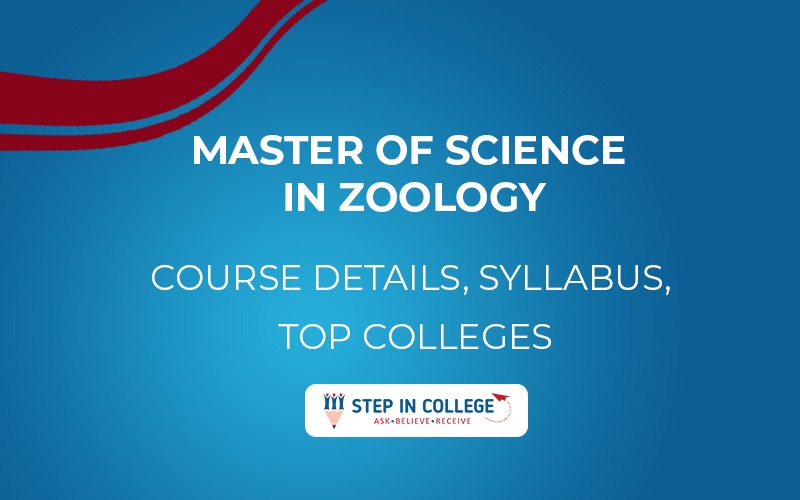 Published by : stepincollege
Master Of Science in Zoology Course Details, Eligibility, Entrance Exam, Syllabus, Top Colleges, Job Prospects | StepInCollege
M.Sc in Zoology is a Postgraduate 2Years course. This program includes zoology, a branch of science that deals with the structure and capacity of animal bodies. Zoology is the branch of science that studies the world's animals as a whole, including their structure, embryology, creation, grouping, propensities, and appropriation, all things being equal, both living and dead. Zoology is a diverse topic, with the world's animals collectively broadening its scope to include fields such as inherited qualities and organic chemistry. In the field of untamed life safety and study, the M Sc Zoology course's operation spectrum is highly sought after. MSc Zoology is a popular choice among candidates with a BSc in Zoology or other Allied Medical Sciences. It is the perfect curriculum for someone who wants to develop a lifelong connection with animals. MSc in Zoology covers a broad range of topics that deal with the study of all species, including their science, hereditary characteristics, grouping, growth, and other topics. Graduates of this program find jobs as specialists, teachers, educators, zoologists, and zoo creature government assistance, among other occupations.
M.Sc in Zoology Eligibility Criteria
A Bachelor's degree in Zoology, Life Science, Medicine, or related subjects, or an equivalent degree from a recognized institute, is required.
In most institutes, a passing grade in the qualifying examination is required.
M.Sc in Zoology Entrance Exam
BHU PET
AMU PG entrance tests
LPU PG entrance test
AUCET
Christ University Assessment Test
DUET
PUET
M.Sc in Zoology Syllabus
Semester I: Basic concepts of Biomolecules and Structural Biology, Enzymes and Metabolism, Cellular Organization, Functional Biology of Nucleic Acids, Basic concepts of Ecology, Community Organization and Structure, Biogeography of India, Habitats, and Resources, Natural Resource Management, Introduction to Immune System, Antigen-Antibody Nature and Complement System, Hypersensitivity Reactions and Autoimmune Diseases, Transplantation and Tumour Immunology, Biosystematics and Taxonomy, Protozoa to Platyhelminthes, Annelida to Echinodermata, Practicals.
Semester II: Separation and Diagnostic Techniques, Biostatistics Introduction, Measures and Theories of Probability, Hypothesis testing, and Inferential Statistics, Digestion-Respiration- Circulation, Osmoregulation, Excretion and thermoregulation, Muscle Physiology, Neurophysiology & Receptors, Endocrinology, Bioluminescence & Stress Physiology, Genetics, Overview of Developmental Biology, Organogenesis, Evolution, Functional Anatomy of Vertebrates, Practicals.
Semester III and IV: Endocrinology, Applied Zoology, Medical Entomology, Parasitology.
In Semester III and IV candidates can choose from one out of the elective streams offered. The elective subjects include Comparative Animal Physiology, Neuroscience, Comparative Animal Physiology, Parasitology, Fisheries.
M.Sc in Zoology Top Colleges
Banaras Hindu University, Varanasi
University of Hyderabad, Hyderabad
Calcutta University, Kolkata
Jadavpur University, Kolkata
Anna University, Chennai
Manipal Academy of Higher Education, Manipal
Savitribai Phule Pune University, Pune
Aligarh Muslim University, Aligarh
University of Delhi, New Delhi
Bharathiar University, Coimbatore
M.Sc in Zoology Job Prospects
MSc Zoology is a more advanced course, and graduates can pursue a variety of careers after completing the program. The following are some of the career opportunities for MSc Zoology graduates:
Zoologist
Ecologist
Environmental Consultant
Conservation Officer
Zookeeper
Field Trials Officer
Professor