Master of Technology in Chemical Engineering: Top Colleges, Entrance Exam, Syllabus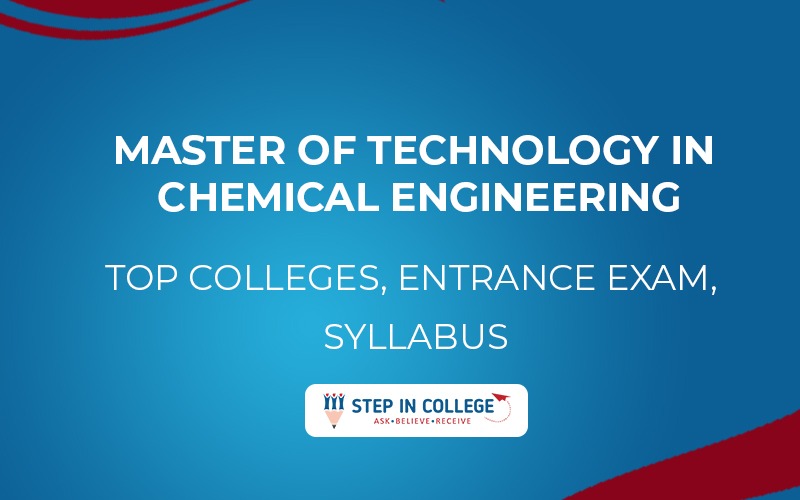 Published by : stepincollege
Master Of Technology in Chemical Engineering Course Details, Eligibility, Entrance Exam, Syllabus, Top Colleges, Job Prospects | StepInCollege
M.Tech. Chemical Engineering is a full-time post-graduation 2 years degree course. It will include theoretical as well as practical details required to become a certified Chemical Engineer. MTech Chemical Engineering is a programme that focuses on Thermodynamics, Process Control, and Fluid Dynamics. The course involves a comprehensive investigation and exploration of various chemical engineering topics. IITs such as IIT Bombay use Numerical and Statistical Methods in their educational plans, making the course more versatile. Candidates gain an in-depth understanding of both theoretical and practical aspects of Chemical Management, Extraction, and Separation Techniques. This course prepares students for positions in major petrochemical companies and petroleum treatment plants, such as ONGC and BPCL. Following MTech, applicants will work in Water Treatment Plants, the Pharmaceutical Industry, and FMCGs.
M.Tech Chemical Engineering Eligibility Criteria
A BE/BTech degree from a recognised college is required.
At least 55% of their student's graduate (special provision for reserved candidates).
Candidates who are in their final year of examination or have yet to receive their results may still be eligible for the programme.
M.Tech Chemical Engineering Entrance Exams
M.Tech Chemical Engineering Top Colleges
IIT Kharagpur, Kharagpur
NIT Trichy, Tiruchirappalli
IIT Bombay, Bombay
IIT Madras, Mumbai
IIT Delhi, Bangalore
IIT Roorkee, Roorkee
IIT BHU, Varanasi
Institute of Chemical Technology, [ICT] Mumbai
Indian Institute of Technology, [IIT] Kanpur
Anna University, Chennai
M.Tech Chemical Engineering Syllabus
Semester I: Process Modelling and civilization, Advanced process control, Advanced chemical engineering, Advanced Mathematics, Analysis of chemical reactors, Designing of chemical reactors, Elective.
Semester II: Fluidization engineering advancement, Chemical process design, Phenomena of Advanced transportation, Advanced Organic Chemistry, Elective, Workshop.
Semester III: Chemical Process in Industries, Analysis and Instrumental Methods, Advanced Chemical Engineering, Workshop, Open Elective.
Semester IV: Analysis of Energy Engineering, Advancement in Materials Sciences and Technology, Open Elective, Project, Internship.
M.Tech Chemical Engineering Job Prospects
MTech is enough to get you into entry-level roles at a rumoured company. Internships that are remembered as part of MTech projects' educational plan will aid in future advancement. Following graduation as a Chemical Engineer, one can look for government jobs in the same way that one can look for jobs in MNCs.
Process Engineer
Production Engineer
Project Manager
Head Plant Manager
Plant Designer
Quality Control Manager