Geetanjali University Details: Courses and fees, Scholarship, Placements | StepInCollege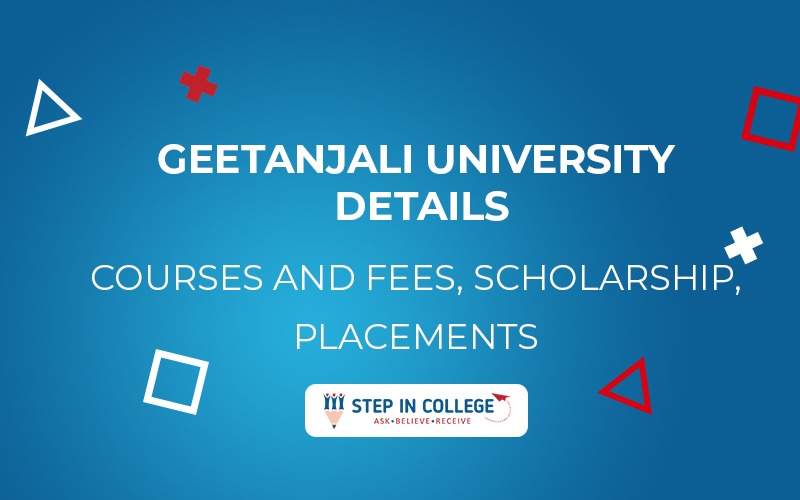 Published by : stepincollege
Geetanjali University is located in Udaipur, Rajasthan, which is surrounded by the Aravalli Hills. Founded in 2011 by Shri JP Agarwal with a mission to promote quality education and research, as well as strong value systems, in order to lay a strong foundation for our country's future generations and make the world a better place through individual contributions. Geetanjali University was established with the aim of developing the most advanced teaching models in Undergraduate and Postgraduate Medical Education in all of its clinical and non-clinical divisions in order to demonstrate an exceptional level of Medical Education in the country.
Geetanjali University Details, Ranking, Courses and fees, Scholarship, Placements, Hostel | StepInCollege
The aim continues to maintain the highest level of teaching and preparation of individuals in all areas of medical science. The University is spread out over 50 acres and has all of the required modern amenities and infrastructure. Geetanjali University has been offering high-quality education in the fields of healthcare, dentistry, nursing, physiotherapy, pharmacy, and allied medical services under one roof for many years.
Geetanjali University Courses
Geetanjali University offers a variety of undergraduate, graduate, postgraduate, and doctoral programs. The collaboration with Geetanjali University offers an opportunity for individuals to develop and succeed. To provide high-quality education to students, the University's management team employs highly trained and skilled professionals. The faculty makes use of the most up-to-date technology, case studies, and study materials, all of which contribute to the students' holistic growth. It will bring us great joy to teach and train them in a variety of Multi-Disciplinary courses.
Geetanjali University Placements
Since it is a medical school, Geetanjali University has a strong placement record. Since this is a medical-based institution, there is a small possibility that top companies will come here for placement activities. The institution runs a hospital that provides students with instruction, real-world problem solving, and other opportunities, and some students are even hired as doctors here. Many of the students register with the ICMR and are interested in working with a number of public and private hospitals as well as educational institutions.
Geetanjali University Hostel
Candidates from far-flung states or districts can stay at the University Hostel, which offers good and secure lodging at reasonable rates.
Fees for the hostel: Fees will be Rs. 1.05 lac - 2 lac for both males and females.
Geetanjali University Ranking Achievement:
According to World Health & Congress Wellness, Geetanjali University has been named the "Best Multi Super Specialty Hospital."
"Best Patient Friendly Hospital" according to the AHPI Award, "Medical Institute of the Year" according to the Indian Education Congress 2017, and "Best Medical College" according to the World Health & Congress Wellness Awards.
Healthcare Leadership Award 2016 "Best Green Award" "Best Quality Initiative in Healthcare" according to World Health & Congress Wellness
According to World Health & Congress Wellness, "Best Cardiac Service Provider of the Year."