ICFAI University Details: Courses and fees, Scholarship | StepInCollege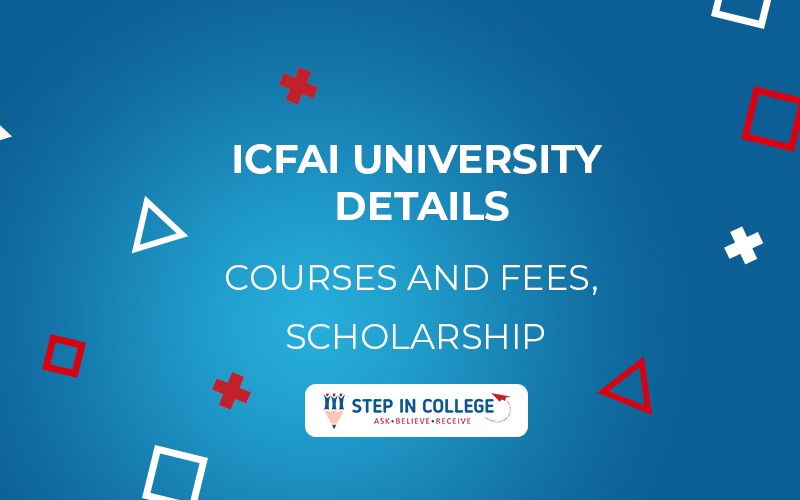 Published by : stepincollege
ICFAI University Jaipur (IU Jaipur) is one of Jaipur's most prestigious private universities. The ICFAI University, Jaipur Act, 2011 supervised the establishment of the IU Jaipur in the year 2011. The UGC, AICTE, AIU, the Government of Rajasthan, and BCI have all given their approval to the institute. The institute was also named the Leading Private University in India by the Pan India Educational Excellence Award. The Institute aspires to be a top-ranked private university of choice for students, faculty, and businesses, with a reputation for excellence in higher education and research, especially in areas related to social needs.
ICFAI University Details, Ranking, Courses and fees, Scholarship, Placements, Hostel | StepInCollege
The ICFAI University Jaipur campus is spread over 40 acres of land in an environmentally friendly setting, with a total built-up area of over 2,00,000 square feet. The IU Jaipur campus is located in the Aravali foothills and features immaculate classrooms, labs, workshops, cafeteria, student welfare facilities, sports fields, and moot courts.
ICFAI University Courses:
ICFAI University Jaipur offers undergraduate and postgraduate programs in science, engineering, management, law, commerce, and information technology, among other areas. By integrating cutting-edge teaching and learning methodologies, the Institute is actively striving to provide high-quality education. Interested candidates can also apply on campus or online by completing an application form. The institute offers a number of types of courses in a variety of specializations for each course. As a consequence, when it comes to choosing a curriculum at the time of admission, the student has a lot of choices.
ICFAI University Awards
ICFAI University has earned the following honors:
The university has been awarded the GPTS Research Institute's "Best Place to Learn Qualification 2017-18," as well as the Capability Tree Knowledge Alliance's "Thought Leadership Award 2017 for the ICFAI Case Study Centre," and the Business World Education Award for "Best Higher Education Brand for Excellence in Curriculum 2017."
The "Iconic University of India 2017-18" award was also given by the World's Best Brands & Leaders Asia & GCC.
ICFAI University Scholarship:
Merit-based university scholarships are given out. Students who achieve a successful score in 10+2, Graduation, and Postgraduation are awarded cash prizes ranging from 90 to 70%. Merit Scholarships (based on previous academic records) and Need Scholarships (based on previous financial need) are the two types of scholarships available. This scholarship is awarded to applicants with a 10+2 grade.
Merit Scholarships awarded on the basis of semester-by-semester performance: This scholarship is given to 10% of the batch based on their academic performance during the semesters.
ICFAI University Placement:
The University's training and placement wing are in charge of training and placement activities on a full-time and ongoing basis. The IFCAI University Placement Committee plays an important role in assisting students with their planning activities and providing appropriate assistance and advice when it comes to placement. The CRMC team invites leading companies from all industries to participate in the Placement process. HCL, IBM, BOSCH, Wipro, Axis Bank, Infosys, Tata Consultancy Service, Girnarsoft, HP, HDFC Bank, and others are among the major recruiters at IFCAI University.
ICFAI University Hostel:
Both male and female fees are Rs38.6k. Separate hostel facilities for boys and girls are also available at IFCAI University Jaipur, which is well connected by public transportation. At the time of admission, students are given a range of lodging options. Study tables, high-quality mattresses, pillows, and bed linen are offered in the National Academy of Sports Management Hostel, as well as light-emitting diode lighting, a fan, and an attached washroom.