IIS University Details: Courses and fees, Scholarship, Placements, Hostel | StepInCollege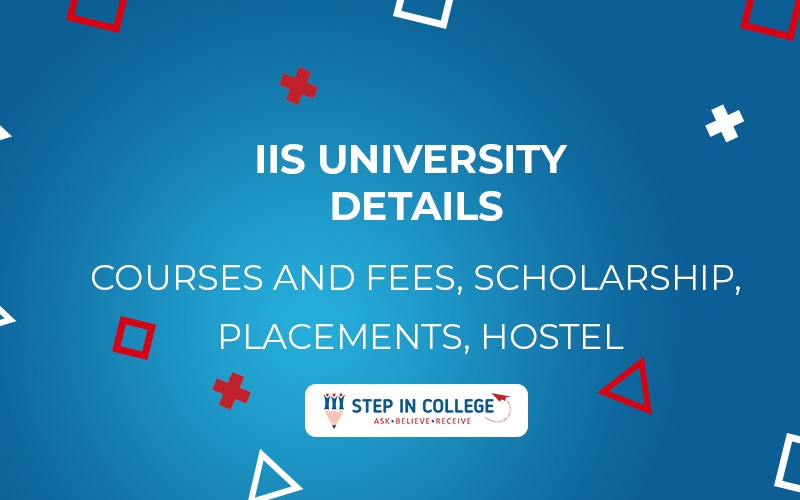 Published by : stepincollege
The International College for Girls (ICG), a pioneering institution for women's education, was established in 1995 as an affiliated college to the University of Rajasthan. The National Assessment and Accreditation Council (NAAC)[Notification] has been recognized for promoting higher education excellence at ICG. The Committee for University Grants is an autonomous institution (UGC). ICG is Rajasthan's only college to receive NAAC A+ accreditation. The college has also been classified as a Model College by the Rajasthan government.
IIS University Details, Ranking, Courses and fees, Scholarship, Placements, Hostel | StepInCollege
In setting our own educational agenda (courses, syllabi, teaching methodologies, etc.) as well as the authority to grant degrees, the status being considered to be a university has given greater autonomy. Jaipur is approved by UGC and also accredited by the National Assessment and Accreditation Council for the academic courses and programs offered under the IIS(Deemed to be University) aegis (NAAC). IIS(Deemed to be University), Jaipur has already secured a spot in the list of institutions of the 'A' category reviewed by the Ministry of Human Resource Development, Government of India, giving more credence to our pursuit of excellence in higher education to universities
IIS University Placement cell:
IIS (Deemed to be University) has a full-fledged Training Placement & Counselling Cell that looks at the overall preparation and implementation of IIS (Deemed to be University) students' job advice, career counseling, and job opportunities.
The cell undertakes a range of activities, including the organizing of campus interviews, summer internships, the organization of seminars and programs to build and enhance employability skills such as resume preparation, interviews, group conversation, leadership skills, etc. The placement cell is also more of a 'Career Services' facility than only for final placements.
These operations, which are scheduled throughout the year and are a routine function of the cell, are carried out on the basis of an annual activity plan planned at the beginning of the academic session.
IIS University Scholarships:
Shiv-Saraswati Memorial Gold Medal: Toppers of Arts and Social Sciences, Research and Commerce and Management Faculties
Dr. Shanta-Narendra Bhanawat Memorial Gold Medal: At UG and PG speeds to achieve the best scores in JMC.
Vidya Vinod Kala Memorial Award: Instead of Oration
Prem Chand Bakshi Memorial Gold Medal: For achieving the top marks at UG level in Chemistry.
K.M. Sahai Memorial Gold Medal: Honours for achieving the best scores in economics
O.P. Bansal Memorial Award: For achieving the top marks at UG Level in advertisement and brand management
Radhey Shyam Badhalia Memorial Award: To be awarded the top marks in Fine Arts
Ram Pyari-Surji Memorial gold medal: For achieving the best marks at UG level in Physics
Hukam Kaur-Nand Ram Memorial Gold Medal: For achieving the best marks at PG level in Physics
Smt. Pawan Bansal Endowment Award: In M.Com, to achieve the best points.
J.P. Gupta Memorial Gold Medal: For achieving the best marks at UG Level in mathematics
Aditi Sanghi Memorial Award: For Excellent Athlete Results
IIS University Hostel
The fees for both Boys/Girls are Rs. 97.85k.