Master of Science in Botany: Course Details, Top College, Job Prospects | StepInCollege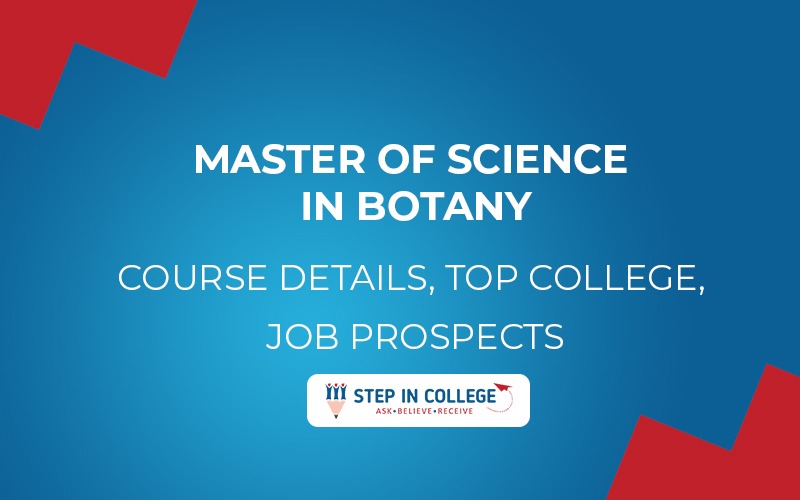 Published by : stepincollege
Master Of Science in Botany Course Details, Eligibility, Entrance Exam, Syllabus, Top College, Job Prospects | StepInCollege
Master of Science (M.Sc) in Botany is a postgraduate 2 Years Course. Each part of plant physiology, their birthplace, and their effect on the climate are alternated in MSc Botany research. Plant Biology is another name for it. MSc Botany is a branch of science that deals with the study of plants in depth. The structure, digestion, multiplication, development and progress, and the relationship of the plant realm with the environment are all covered in this course. MSc Botany students will also have the opportunity to investigate the medicinal effects of plants and identify plants that are dangerous to use. It is the systematic examination of a variety of plant signs and their highlights. The course goes into every aspect of plant science in great detail. Plant physiology, plant realm, Taxonomy, microbiology, genetic qualities, and genetics are among the topics covered.
It is frequently a theoretical course with some opportunities for scholarly exploration, which is supplemented by research facility work. After completing this course, most students go on to pursue a career in academia. A few understudies additionally pursue science and advanced studies. Botany Ph.D. courses are sought after by understudies preparing for higher examinations. They can pursue jobs such as residency and senior exploration person after completing a Ph.D. degree. Causes the applicant to have both real and hypothetical control over the situation.
M.Sc. in Botany Eligibility Criteria
A bachelor's degree in biology or botany from a recognized university or equivalent
In most of the institute, a minimum percentage of 45 percent is sufficient.
M.Sc. in Botany Entrance Exams
BHU-PET (Banaras Hindu University)
DU Entrance Test (DUET) (Delhi University)
CUCET (Central university common entrance examination)
LPU NEST
TUEE
M.Sc. in Botany Top Colleges
Miranda House, Delhi
Hindu College, Delhi
Hansraj College, Delhi
Sri Venkateswara College, Delhi
Osmania University, Telangana
Fergusson College, Maharashtra
Mahatma Gandhi University, Kerala
Bethune College, Kolkata
Sacred Heart College, Kerala
St. Teresa's College, Kerala
M.Sc in Botany Syllabus
Semester I: Algae and Bryophytes, Fungi and plant viruses, Pteridophytes, gymnosperms and Palacobotany, Microbiology, Practicals.
Semester II: Angiosperms-I (Taxonomy and Biosystematics), Angiosperms-II (Morphology, Embryology and Anatomy), Genetics and Cytogenetics, Soil Science and Phytogeography, Practicals.
Semester III: Plant Biochemistry, Plant Physiology, Plant Ecology, Elective subjects.
Semester VI: Molecular Genetics, Genetic Engineering and Biotechnology, Plant resource Utilization and Conservation, Biostatistics, Cytology and Plant Breeding, Elective papers.
M.Sc. in Botany Job Prospects
The following are some of the job roles that a candidate with an MSc Botany degree might pursue:
Botanist
Floriculturist
Ecologist
Environmentalist
Plant Conversationalist
Researcher
Botany Professor