Pacific University Details: Courses and fees, Scholarship, Placements, Hostel | StepInCollege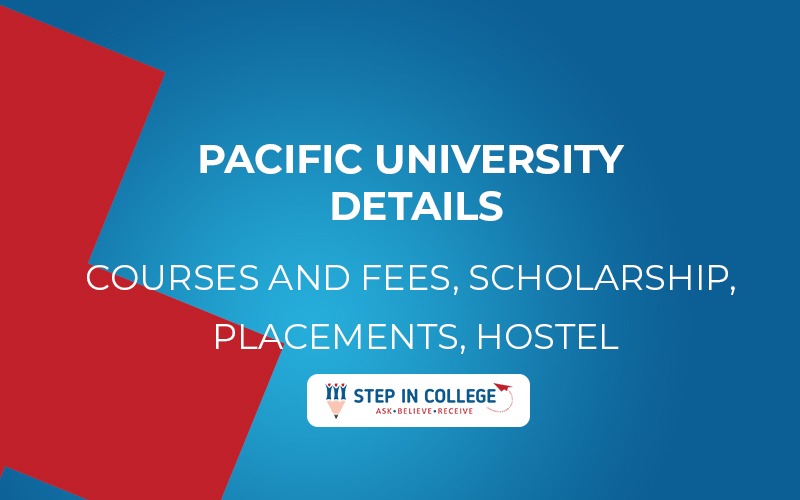 Published by : stepincollege
Pacific University was established in 1997 with the aim of providing high-quality education in a wide range of vocational, technological, and non-technical fields. Pacific University is now one of the top private universities in the state of Rajasthan for technical and higher education after 23 years. In Udaipur, the University is near the Airport Road. The Pacific University campus spans 100 acres, with a built-up area of 2,50,000 square meters. The University campus's lush green landscape is free of pollutants and provides the ideal setting for educational activities. The University has hostels (separate for boys and girls), a library, and laboratories on campus, as well as state-of-the-art classrooms.
Pacific University Details, Ranking, Courses and fees, Scholarship, Placements, Hostel | StepInCollege
Recruiters place a high value on students who graduate from Pacific University. On average, every graduating student receives at least two job offers. Pacific University's placement office assists students in obtaining employment not only in the United States but also abroad. Recruiters who come to the University during the campus placement push deliver excellent annual packages to students. Pacific graduates are currently employed by over 150 global and Indian mega brands. Pacific University has the highest placement average in Northern India.
Pacific University Courses
Pacific University offers a variety of courses in management, engineering, arts, commerce, science, law, fashion technology, and agriculture, among other areas. In all related disciplines, the University offers undergraduate, postgraduate, M.Phil, and research programs.
Pacific University Awards and Rankings
CRISIL has rated Pacific University as Rajasthan's Top Institute for Higher Education.
According to UniRank, Pacific University is ranked 37th in Rajasthan.
Pacific University Placement
Graduates of Pacific University operate in fields such as information technology, information services, and insurance, as well as finance, telecommunications, KPO, BPO, and automobiles. Some of the work openings open to students include Relationship Managers, HR Recruiters, Portfolio Managers, Education B2B Marketing, Media and Advertising, Digital Marketing, and Financial/ Data Analytics.
An effective placement, according to Pacific University's placement office, is just as essential as a good education. The Pacific University placement cell is one of the strongest in the northern Indian region because of this belief and their unwavering dedication to assisting students in seeking employment. Students are granted direct placements and job opportunities because the university has connections with a variety of leading companies. They've also been able to secure competitive annual compensation packages. Companies like Atlas, Kotak Mahindra Bank, ICICI Bank, Skytech, and others hire Pacific University students for various positions every year. On many occasions, several organizations have come to the University in the hopes of attracting students.
Pacific University Scholarship:
Minority Scholarship Programs at the National Level
This category includes the following castes: Sikhs, Christians, Parsis, Buddhists, and Jains are among the Muslims (ST/ SC/ OBC).
Scholarships Amount
What Does Merit Cum Mean? Scholarship Programs
Scholarship Program for Post-Metric Students
Pacific University Hostel
The college campus has seven separate hostels for boys and girls, each with its own design and furnishings, as well as separate ones for Undergraduate and Postgraduate students. Each hostel room is well-equipped with a double bed, study table, and wardrobes, as well as an attached bath and toilet with hot water available 24 hours a day. Each hostel has its own common room with a color television and DTH service, as well as facilities for indoor sports, where students can unwind after long days of studying. Faculty and workers from outside Udaipur are welcome to stay in the hostels.