Mahatma Gandhi University of Medical Sciences & Technology: Facilities, Hostel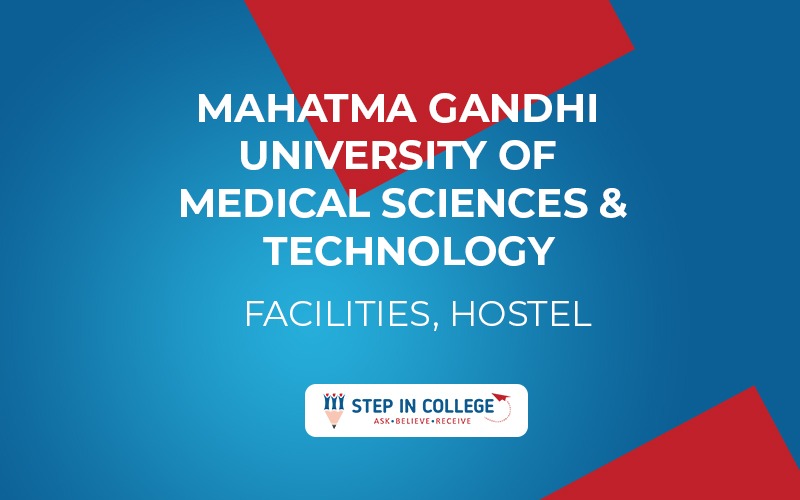 Published by : stepincollege
The India Education Trust (IET) was founded in 1999 under the visionary leadership of Dr. ML Swarankar, a renowned gynecologist and expert in IVF and microsurgery. Encourage and fund the efforts of other educational institutions that benefit and enhance public health in general. Creating and running scientific and educational facilities in the fields of medicine, dentistry, nursing, and pharmacy.
Mahatma Gandhi University of Medical Sciences & Technology Details, Course, Facilities, Hostel | StepInCollege
Develop health manpower by developing training centers for medical and allied health care practitioners. Because of the need for large-scale infrastructure and heavy financial requirements, medical education and large-scale medical facilities have so far been the stronghold of government colleges and universities in Rajasthan, Mahatma Gandhi Medical College, and Hospital was the first recognized private sector medical college and hospital in Rajasthan and is also the first recognized private mediator in Rajasthan. The goal of the university is to create a strong base for the country's best medical professionals who are morally strong and have a highly committed culture of work. The Trust plans to introduce international collaboration and create truly global standard hospitals and educational institutions such as AIIMS, New Delhi, and PGIMER, Chandigarh, to increase hospital capacity to 1,500 beds and, in due course of time, to provide world-class medical facilities. The Trust intends to foster international collaboration and establish truly global standard hospitals and educational institutions, such as AIIMS in New Delhi and PGIMER in Chandigarh, in order to increase hospital capacity to 1,500 beds and provide world-class medical facilities over time.
Course
Mahatma Gandhi University of Medical Sciences & Technology provides various undergraduate, postgraduate, and Ph.D. courses.
Facilities
Rajasthan's Mahatma Gandhi University of Medical Sciences and Technology is one of India's top universities. With a vast, lush green campus, it has a world-class infrastructure. MGH is the only private hospital approved for complex liver transplant surgery in Rajasthan. The pancreatic, Cadaver Transplant,' incompatible' kidney and liver transplant has been successfully performed by the first private hospital in the state.
For students, many other facilities such as transport, sanitation, travel, hostel, library, cafeteria, gym, medical, etc. are available.
Library: The University has a well-equipped library with all the books for all the courses open to the students. The book can be taken from the library and read by students.
Hospital and Medical Facilities: As a multi-specialty teaching hospital, the university has 850 beds and is considered to be the top dental, nursing, and physiotherapy college that has revolutionized medicine in the private sector.
Hostel: The University provides all outsiders coming from distant places with the hostel's facility. The hostel facility is also provided to foreign students applying for university studies. Separate hostels for boys and girls are available. With 24/7 tight security, the hostels are fully safe along with other amenities, including wi-fi facilities, laundry, banking facilities with an ATM counter, and a cooling system.
Hostel:
Hostel Fees: 1.6 lac - 2.2 lac
BDS Students
Single (Non AC) – Rs. 220000
Double (Non- AC) – Rs. 160000
B.Sc (Nursing Students)
Single – Rs. 60000
Double – Rs 40000
Tripple – Rs 30000
MD/MS Students
Single – Rs. 330000
Double – Rs. 220000