Master of Arts in Public Administration: Top Colleges, Syllabus, Job Prospects | StepInCollege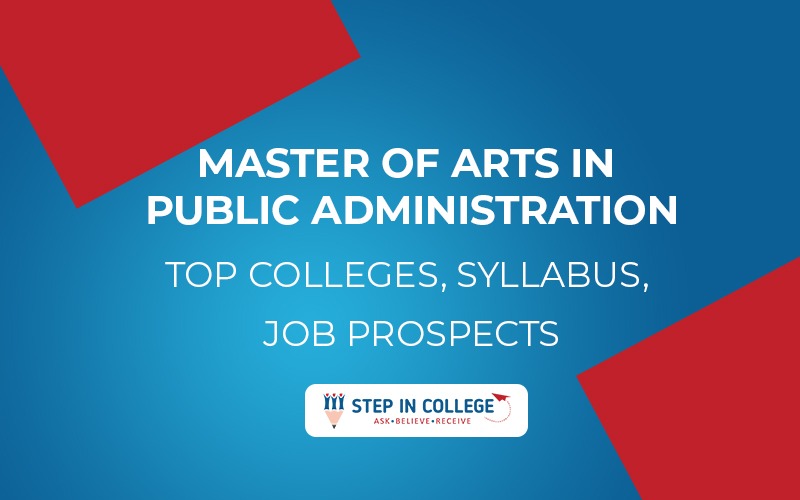 Published by : stepincollege
Master of Arts Public Administration is a 2 years post-graduate program. Various universities around the country deliver it across their Social Science departments. The course's main goal is to provide a thorough understanding of the interrelationships between the state, society, and administration. Management, political science, economics, civics, and law, among other subjects, are among the specializations available. The courses expose students to the social and political problems that are at the heart of the country's public administration. The Master of Public Administration program offers students a basic understanding of the government's various offices and how they function.
Master Of Arts in Public Administration Details, Eligibility, Entrance Exam, Top Colleges, Syllabus, Job Prospects | StepInCollege
It additionally covers a few socio-policy-centered issues which should be tended to in our general public. It manages the monetary organization and the fundamentals of the Administrative hypothesis. Applicants who have great relational abilities, both composed and verbal, solidarity, the capacity to deal with and appreciate mathematical information are generally reasonable for this course. This course likewise requests authority capacities that enable the possibility to complete their commonsense work (fieldwork) productively.
MA in Public Administration Eligibility Criteria
Graduation in any stream
Minimum Marks Required is 50% to 60%
Age Limit: Some institutes may have an age limit for candidates.
MA in Public Administration Entrance Exams
Jawaharlal Nehru University JNU, New Delhi Entrance Exam
Dr. B.R. Ambedkar Open University Entrance Test
Kurukshetra University Entrance Exam
IPU CET (Indraprastha University)
JMI (Jamia Millia Islamia)
AMU (Aligarh Muslim University)
PET (Banaras Hindu University, Varanasi)
MA in Public Administration Top Colleges
Banaras Hindu University, Varanasi
Presidency College, Chennai
Jamia Millia Islamia, New Delhi
Madras Christian College, Chennai
Sri Krishna Arts and Science College, Coimbatore
DAV College, Chandigarh
Annamalai University, Chidambaram
Amity University, Noida
SS Jain Subodh PG College, Jaipur
MA in Public Administration Syllabus
First Year: Administrative Theory, Public Personnel Administration, Labor Laws, Financial Administration, Administrative Thought, Administrative Issues, Indian Constitution, Industrial Relations, Organizational Issues.
Second Year: Public Administration in India, Public Thought, Research Methodology, Urban Local Administration, Rural Administration, Social Welfare Administration, Issues in India Administration, Public Policy, Viva Voice.
MA in Public Administration Job Prospects
In India, public administration has risen to prominence rapidly, and its reach is expanding all the time.
Budget analyst
Tax Examiner
Administrative officer
Consultant