Master of Science in Food Technology: Entrance Exam, Top Institutes, Syllabus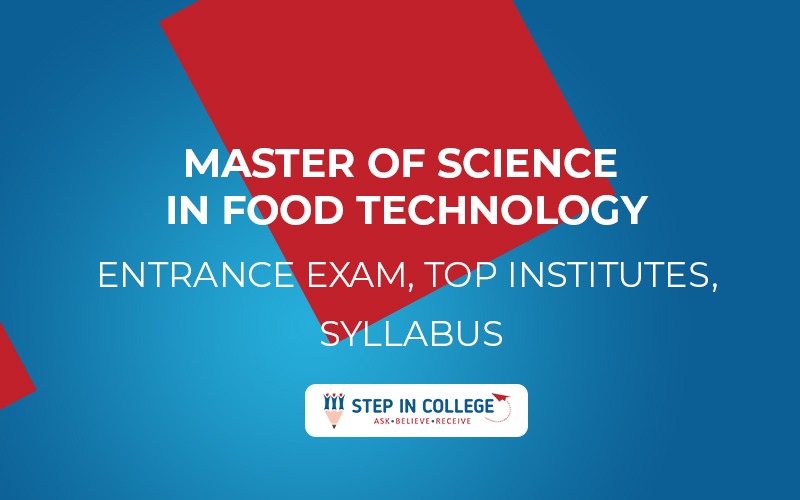 Published by : stepincollege
M.Sc. in Food Technology is a 2-year postgraduate course. It is a subdiscipline of Agricultural Sciences and Technology that is primarily concerned with food's technological aspects. Food scientists are in charge of developing new food products, food design processes for producing such products, packaging material selection, sensory evaluations, as well as microbiological and chemical research, as well as self-life analyses of the commodity with professional expert panels or potential customers. The food processing industry in India is a potential source of driving the rural economy because it brings a synergy between agriculture and related industries. Food processing industry advances result in improvements such as reduced food waste, increased rural income, value addition, job creation, crop diversification, and export earnings.
Master Of Science in Food Technology Details, Eligibility, Entrance Exam, Top Institutes, Syllabus, Job Prospects | StepInCollege
MSc in Food Technology students learns about the genetic structure of plants and crops, as well as how to find alternative sources of nutrition for the human body. It is a serious course that has applications in the horticulture industry, food manufacturing businesses, and food packaging businesses. The course instructs students on how to investigate the most recent technologies and science in order to extemporize the use, packaging, hygiene, and cleanliness of food items. MSc Food Technology is for candidates who have strong research skills and a desire to pursue a career in the field of food handling and creation. Understudies acquire knowledge about food science and innovation during the curriculum. They receive itemized topic knowledge that they can submit at the expert stage.
M.Sc Food Technology Eligibility Criteria
BSc degree in Food Technology, BSc Biology, BSc Bio-Chemistry, or equivalent is required.
The qualifying test should have a minimum passing percentage of 50%.
MSc Food Technology Entrance Exams
CFTRI Entrance Examination
Govind Ballabh Pant University of Agriculture and Technology entrance test
MDU CEE
M.Sc Food Technology Top Institute
Lovely professional university, Delhi
Lovely professional university, Jalandhar
Punjab University, Chandigarh
Jain University, Bangalore
Annamalai University, Tamil Nadu
Jadavpur University, Kolkata
Guru Nanak institute of technology, Kolkata
Anna University, Chennai
IKGPTU, Punjab
Jawaharlal Nehru technology university, Kakinada
M.Sc Food Technology Syllabus
Semester I: Nutrition Biochemistry, Food Processing, Food Chemistry, Fruits, Vegetables and Plantation Crops, Biostatistics, Advanced Labs.
Semester II: Fermentation Technology, Food Safety, Toxicology, Food Microbiology, Food Biotechnology, Bioinformatics, Advanced Labs.
Semester III: Food quality and assurance, Meat, Poultry and Fish production- technology, Food industry Waste management, Food Analysis techniques, Labs, Thesis.
Semester IV: Bakery and Confectionery Products, Plant-derived foods, Intellectual Property Rights and Ethical Issues, Thesis.
M.Sc Food Technology Job Prospects
MSc Food Technology students have the choice of pursuing specialized professional roles. These professionals may use their knowledge to help improve the quality of food processing, packaging, and food supply safety.
The following are some of the job positions open to MSc Food Technology applicants:
Food Packaging Manager
Food Technology Specialist
Food Production Manager
Quality Control Manager
Brewer Manager