Master of Science in Nutrition and Dietetics: Top college, Syllabus, Job Prospects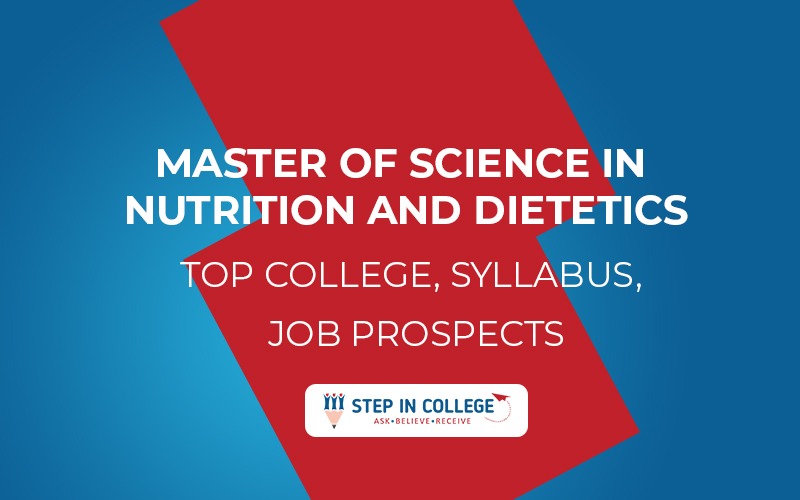 Published by : stepincollege
M.Sc. Nutrition and Dietetics is a postgraduate 2 years course. It oversees the nutritional quality of food standards and their impact on the human body. The human way of life necessitates a balanced and nutrient-dense diet in order to live a long and healthy life. Only nutritionists and dieticians will have an outline for a healthy eating regimen that will increase personal satisfaction. With this in mind, the course is gaining in popularity.
Master Of Science in Nutrition And Dietetics Details, Eligibility, Top college, Syllabus, Job Prospects | SteoInCollege
Following graduation, post-graduates in this program are placed in a variety of health organizations, research foundations, hospitals, or other food organizations. The MSc Nutrition and Dietetics program is divided into four semesters, with all topics focusing on diet and human nutrition. The focus of this course is to improve the understudy's knowledge of various topics. -
Nutrients in food and their effects on the human body
The basics of a well-balanced diet and how it affects the human body
Food ingredients have consistency, structure, and safety properties.
Recognizing the significance of fitness and exercise
M.Sc. in Nutrition and Dietetics Eligibility Criteria
The Bachelor's Degree course or any other equivalent course from any recognized university.
At least 50 percent scores on the UG basis in aggregate.
The candidates are required to complete their graduation in any of the disciplines like BSc Biology, Home Science, BSc Microbiology, B.Sc. Food Science, BSc, Clinical Biochemistry, Life Sciences, BNYS, BAMS.
Candidates appearing in the final year examination of graduation course can also apply for this course on a provisional basis.
For SC/ST/OBC candidates there is a 5% relaxation on the aggregate marks. The reserved category students need to secure 45% marks at the UG level.
M.Sc. in Nutrition and Dietetics Top Colleges
Manav Rachna International University, Faridabad
SGT University, Gurgaon
Kurukshetra University, Kurukshetra
Acharya N.G. Ranga Agricultural University, Hyderabad
Alphonsa College, Pala Kottayam
Andhra University, Visakhapatnam
Berhampur University, Orissa
JSS University, Mysore
SRM University, Kanchipuram
Islamic University of Science and Technology, Jammu and Kashmir
Welcome Group Graduate School of Hotel Administration, Manipal
M.Sc. in Nutrition and Dietetics Syllabus
Semester 1: Food science, Diet Therapy I, Nutrition through developmental stages, Food Science, Nutraceuticals and functional foods.
Semester 2: Advanced Nutrition I, Diet therapy II, Community nutrition, Diet control,
Food cost and quality control, Human Rights, Extra: disciplinary paper (E.D).
Semester 3: Advanced Nutrition: II, Research Methodology and statistics, Nutritional management safety for food science, Nutritional Biochemistry, Clinical Nutrition, Computer Application, Internship.
Semester 4: Financial and food management, Clinical Nutrition, Dissertation.
M.Sc. in Nutrition and Dietetics Job Prospects
Students who have finished this post-graduation degree program will get various MSc Nutrition and Dietetics occupations as indicated by their abilities and interests. There are different MSc Nutrition and Dietetics occupations in Public Health Clinics, Private and Govt. clinic, Health Maintenance Organizations, Institutes for Research Organizations, Airlines, Athlete Camps, and significantly more.
Succeeding to finishing this PG course, understudies can function as Clinical Dieticians, Management Dieticians, Consultant Dieticians, and that's only the tip of the iceberg. That, yet they can likewise function as a Private Practitioner, Private Dietician Consultant, Pediatric Dietrich Specialist, Assistant in the association's dietetic office, and so on
Clinical Dietician.
Consultant Dietician
Management Dietician
Community Dietician
Nutrition Product Manager