Master of Arts in Hindi Course Details: Top colleges, Syllabus, Eligibility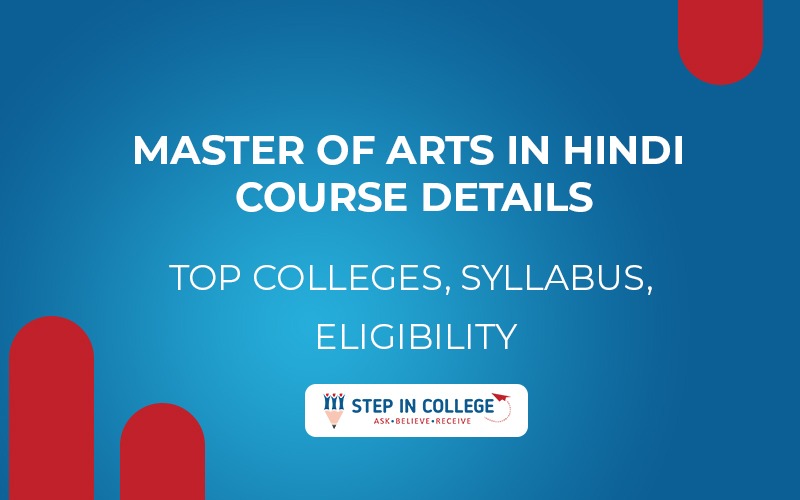 Published by : stepincollege
Master of Arts in Hindi is a postgraduate 2Years program. This program's main goal is to introduce students to a broad range of Hindi literature. The course consists primarily of the study of Hindi literature, linguistics, and philosophies. Learners are exposed to a wide variety of Hindi literature in this program. The course has diverse applications and helps to familiarize detailed concepts of Hindi as a language.
Master Of Arts in Hindi Course Details, Eligibility, Entrance Exam, Top colleges, Syllabus, Job Prospects | StepInColleges
In a number of states, Hindi has been designated as a co-official language. Most states require high school teachers to have a Bachelor's degree in the subject they teach, and getting a Master's degree in the same subject is even more appealing to employers. In the teaching profession, a Master's degree carries a lot of weight, and those with a Master's are considered experts in their field. A Master's degree teaches you how to teach the knowledge to your students, while an undergraduate degree provides you with knowledge of a subject. While completing the degree, you will have the opportunity to teach in a classroom environment under the guidance of an experienced instructor.
MA in Hindi Eligibility Criteria
A Bachelor's Degree or higher from a recognized College/University is the minimum prerequisite.
Candidates must also have completed their 12th (10+2 Schooling System) with a minimum of 50% marks from a recognized board in order to qualify for the MA Hindi Program.
It is preferable to get a bachelor's degree in Hindi.
MA in Hindi Entrance Exams
DUET (Delhi University Entrance Test)
IPU CET (Indraprastha University)
AMU (Aligarh Muslim University)
JNUEE (Jawaharlal Nehru University Entrance Examination)
MA in Hindi Top Colleges
Miranda House, New Delhi
Lady Shri Ram College For Women, New Delhi
Hindu College, New Delhi
Hansraj College, New Delhi
Osmania University College for Women, Hyderabad
Jesus and Mary College, New Delhi
Indraprastha College for Women, New Delhi
Ramjas College, New Delhi
Kishinchand Chellaram College, Mumbai
Mehr Chand Mahajan Dayanand Anglo Vedic College for Women, Chandigarh
MA in Hindi Syllabus
Semester I: History of Literature – Ancient and Medieval, Novel and Short Story, General Linguistics, Translation – Theory and Practice.
Semester II: History of Literature – Modern Period, Prose II – Drama and One-Act Plays, Ancient and Medieval Hindi Poetry, Origin and Development of Hindi Language and Structure of Hindi.
Semester III: Modern Hindi Poetry including Chayavad, Theory of Literature - Indian and Western, Dalit Literature in Hindi/ Official Language Hindi and Functional Hindi/ Sanskrit, Indian Theatre/ Journalism and Media/ Cultural Tourism.
Semester IV: Post-Chayavad Hindi Poetry, Current Trends in Indian Literature, Feminist Writing in Hindi/ Special Author: Mohan Rakesh/ Minor Literary Forms in Hindi, Hindi Writings in Kerala/ Special Author: Premchand/ Sanskrit, Project Work/Dissertation, Viva-Voce Examination.
MA in Hindi Job Prospects
MA In today's market, Hindi graduates have a lot of options. After completing this course, you will have a plethora of career opportunities. They can work in areas such as government, news channels, schools and colleges, publishing houses, and so on.
Hindi Professor
Hindi Interpreter
Hindi News Reader
Hindi Editor