Master of Arts in History Course Details: Top Institute, Syllabus, Job Prospects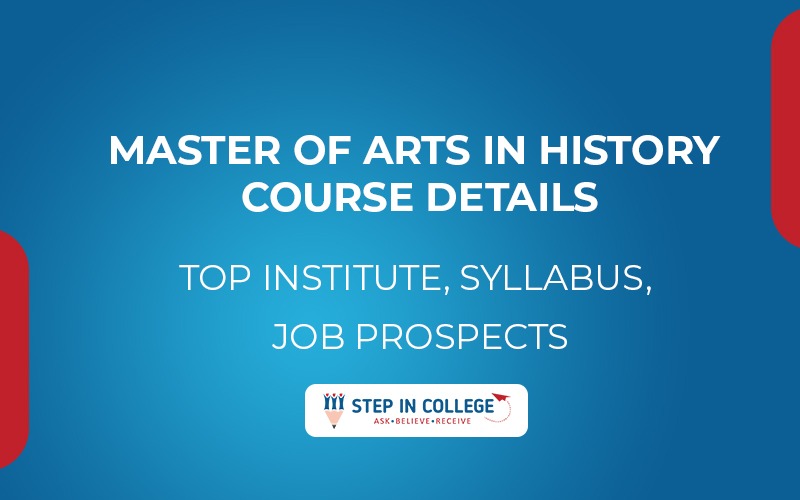 Published by : stepincollege
Master Of Arts in History Course Details, Eligibility, Entrance Exam, Top Institute, Syllabus, Job Prospects | StepInCollege
Master of Arts in History is a postgraduate 2 years course. This course focuses on humanity's incredible accomplishments as well as its tragic mistakes. As a result, we are better able to comprehend how things were and how we could approach making a better future. It will aid in the organization and management of our communities for the good of everyone if we have a better understanding.
It is a more specialized course that can be useful to students who have completed a BA in History.
It's a path with a lot of possibilities. The number of jobs available in the government sector is very high. Historians, museum curators, archivists, archaeologists, high school teachers, and other professions are available to graduates. Graduates will develop good writing, critical thinking, and analysis skills that will help them in their careers as authors, editors, or analysts.
M.A in History Eligibility Criteria
Bachelor's degree in History from a recognized University with a minimum overall aggregate of 50%.
M.A in Entrance Exams
BHU PET
DU Entrance Exam
JNUEE
M.A in Top Institute
Jesus and Mary College, Delhi
Lady Shri Ram College for Women, Delhi
AMU - Aligarh Muslim University, Aligarh
BHU - Banaras Hindu University, Varanasi
The Hindu College, Delhi
Ramjas College,
Presidency University, Bangalore,
St Xaviers College, Mumbai
University of Hyderabad - UOH, Hyderabad
Miranda House, Delhi
M.A in Syllabus
Semester 1: Aspects of Ancient India, State and Society in Medieval India, History of Tamil Nadu.
Semester 2: State and Society in Medieval India, Modern India, Indian Government and politics, Interdisciplinary course- History through literature.
Semester 3: Modern India, World History, Computer application in Historical Studies, Contemporary Issues in International Relations, Special Course-Research Methodology, Cybersecurity.
Semester 4: Historiography, History of Tamil Nadu, The economic history of India, History of the Cholas/ History of the Guptas.
M.A in Jobs Prospects
MA History graduates have a plethora of job options. And most of these workers are in the private sector. Graduates will work in fields such as:
The museum, as curators, archivists, etc.
Archaeological departments as an archaeologist.
Media stations as a journalist, writer, editor, etc.
Tourism as tour guides or museum guides, archiver, etc.
Research and survey
Employment Areas
Archaeology Sites
Historical Fiction Writing
Archives
Historical Parks
Journalism
Museums & Art Galleries
Publishing Houses
Public Relation Offices
Survey Agencies
Tourism Industry
Job Types
Historian
Court Houses Archivist
Documentation Specialist
Librarian
National Parks & Historic Sites Manager
Library Systems Analyst
Research Assistant
Teacher & Lecturer
Records Manager