Shyam University Details: Courses and fees, Scholarship, Hostel | StepInCollege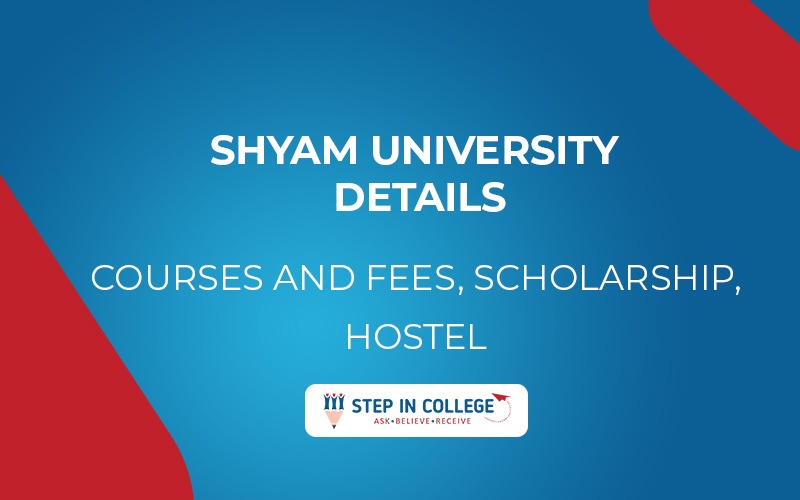 Published by : stepincollege
Shyam University Details, Ranking, Courses and fees, Scholarship, Placements, Hostel | StepInCollege
Shyam University was established in 2010 and is one of the most prestigious universities in Rajasthan. Shyam University's campus is lush green, pollution-free, and has an eco-friendly climate, covering 38.25 acres of land surrounded by the Aravali Hills. The BCI, AICTE, PCI, and NCTE have all granted accreditation to the university. Shyam University also has a hostel facility, where students are equipped with all facilities as well as cutting-edge infrastructure. Other campus amenities at Shyam University include large classrooms, a computer lab, a library, laboratories, and a sports field.
Shyam University also provides more than 20 management, engineering, and other courses.
Shyam University's central library is well-stocked, and the entire campus is Wi-Fi available. It has state-of-the-art smart classrooms for effective instruction. The university ensures that its students receive a high-quality education, and the curriculum is revised on a regular basis to keep up with industry demands. Shyam University's knowledgeable faculty goes above and beyond to introduce new and engaging teaching methods.
Shyam University is unusual in that the concerned authorities have taken great care not to disrupt the ecological balance of the region in which the varsity is built by erecting buildings and other facilities. The buildings were designed with the area's geographical and topological conditions in mind, and the campus was built with a focus on energy conservation and water harvesting.
Shyam University Courses: Shyam University also provides more than 20 management, engineering, and other courses. Shyam University offers a variety of programs to students and has developed a strong reputation in the field of education in just one year. The university accepts students for a variety of programs, including Diploma, MPhil, BTech, MTech, M.Sc, and others.
Shyam University Placement
Shyam University's training and placement team takes charge of the training and placement activities on a full-time and continuous basis. The team initiates and maintains the university-industry dialogue and oversees the summer internship program and final placement events, staffed by trained professionals and placement executives. The team assesses standards of student success and ensures adequate training for their corporate placements.
The university saw a good placement record with an average package of INR 3.7 LPA during the recent placement season, and the highest package was 10 LPA. Some of the industry giants, including Microsoft, Deloitte, Accenture, Concept, Maruti Suzuki, Mercedes Benz, IDBI Bank, Coca-Cola, IBM, Dell, and many more, are recruiters at Shyam University.
Shyam University Hostel: For male and female students, hostel facilities are available. Residents' services include 24 hours hot water, Wi-Fi, In-hostel canteen.