Sir Padmapat Singhania University Details: Courses and fees, Scholarship, Placements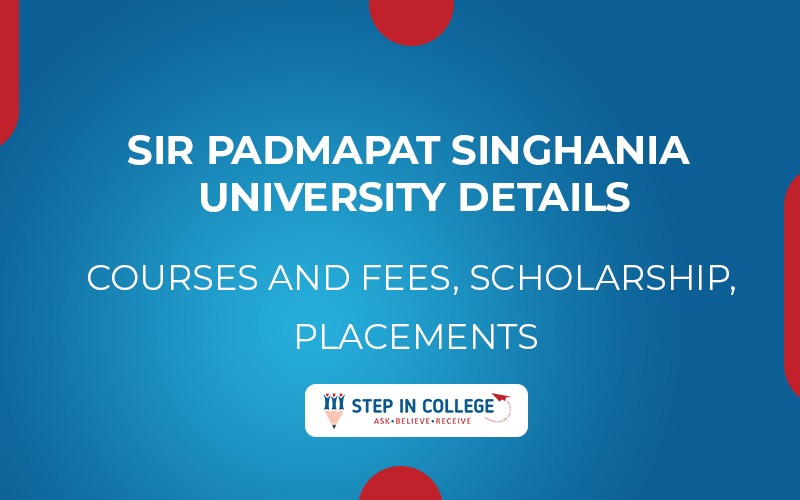 Published by : stepincollege
Late Sir Padampat Singhania, the visionary founder of the J K Organization, dreamed of an empowered Indian population, from whom India will take its position as an equal in the community of nations, nearly half a century ago. Empowerment, he claims, necessitates education and awareness. That became the cornerstone of the organization's social responsibility philosophy, and the J K Cement Nimbahera Foundation (JKCNF) was founded. The engagement with education became stronger and deeper over time. It is now affiliated with twelve educational institutions, which educate approximately 14000 students at different stages of the learning curve, two decades later.
Sir Padmapat Singhania University Details, Ranking, Courses and fees, Scholarship, Placements, Hostel | StepInCollege
The University feels that education should be both extensive and useful, allowing students to participate in the community's "humane culture" and to discover and apply knowledge to society. The emphasis is on the power of knowledge and the "learning by doing." It is the heart of our educational mission. The goal is to upgrade the knowledge and educate students in the areas of science, technology, administration, and other science in the 21st century that will best serve the nation and the world. The university works to generate, disseminate, preserve and work with others to address the most serious challenges of the world.
Sir Padampat Singhania Rankings and Awards
Awarded in Leading Education Institutions 2020 by Competition Success Review.
The university received numerous awards, the most recent being Times Group's best Institute for Innovative Learning.
NIRF ranked 95th in India in Udaipur, Sir Padampat Singhania University (SPSU has been ranked 95th amongst the top 100 categories in India and is one of the youngest institutions to be so ranked).
SPS University is one of India's top 100 higher education universities of Category A. SPS University.
Sir Padampat Singhania University Placements
SPSU Udaipur has a dedicated positioning cell that guarantees that students can start their careers with the high possible training and placement opportunities. In the past few years, the university has had many successful positions. The 2018 and 2019 academic years saw 100 percent successive placements. INR 8 LPA provided by the Indian army and the Hitachi India Ltd received the highest package, followed by an INR 6.5 LPA package. Overall, the average wage for investments was INR 4.5 LPA with a minimum wage of INR 2.4 LPA.
Top Recruiters are IBM, Macleods Pharma, TCS, PinnacleCad, Hewlett Packard, Maintec Technologies, McKinsey, Indian Army, Syntel, Indian Navy, JK Cement, Collabera, Bollhoff, Mphasis, Mindtree, Aspiring Minds
Sir Padampat Singhania University Scholarship
Merit-Based Scholarships
Scholarship for Farmer's Children
JK Group Scholarship
Sir Padampat Singhania University Hostel: Fees are 90 k - 1.40 lac for both girls and boys. Separate hostel facilities are available at SPSU. Twin-sharing rooms are available in the hostel. All of the hostels and faculty residences have Internet, telephone, and television connections, as well as R.O. water, standby electricity, and security facilities. All of the hostels have common rooms with amenities such as TV, newspapers, magazines, a table tennis board, a badminton court, and so on. Both residents have access to laundry facilities for clean and sanitary clothing washing. Hostel Fees (includes Mess Fees (Vegetarian & NonVegetarian))-
Non-AC 2 Seater: Rs. 90000/-
AC 2 Seater: Rs. 140000/-