University of Kota Details: Scholarship, Placements, Courses and fees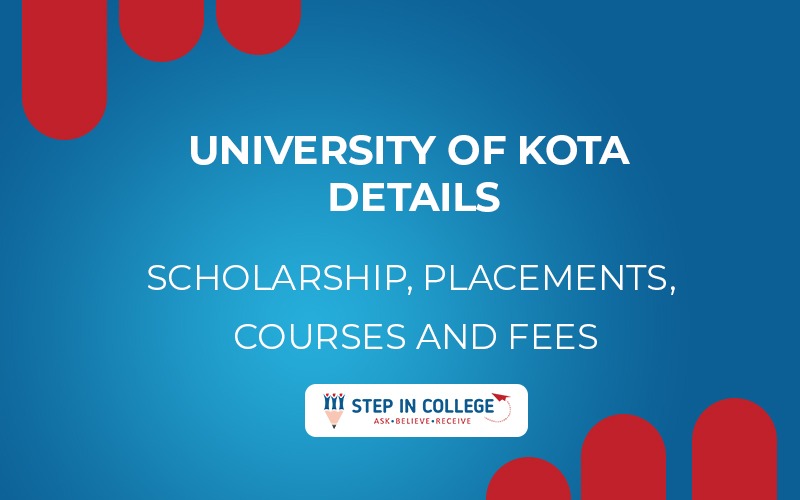 Published by : stepincollege
The University was added to the list of universities maintained by the UGC Act, 1956, through notification No F.9-23/2003(CPP-I) dated February 23, 2004, and received Central Assistance in accordance with Commission Decision (item No.5.17) dated October 22, 2012, framed rules under section 12(B) of the UGC Act, 1956. The University of Kota is a rapidly expanding university in the state that is expanding its teaching and research capabilities.
University of Kota Details, Ranking, Courses and fees, Scholarship, Placements, Hostel | StepInCollege
As a result, during the 2012-2013 academic sessions, recruitment for different teaching and non-teaching roles was conducted in order to strengthen the University's teaching and research enrollment. The University has formed national and international collaborations by signing Memorandums of Understanding (MOUs) with organizations such as the Centre for Climate Science and Policy Research at Linkoping University in Sweden and DCM Sriram Consolidated Limited in Kota.
Various national and foreign collaborators/study groups visited the University's various departments and provided their suggestions/inputs as part of the ongoing effort to improve research quality. According to UGC guidelines, the university is now committed to conducting meaningful and socially significant research in the thrust areas of respective disciplines and enrolling students for Ph.D. programs through entrance examinations. So far, the University has awarded over a hundred Ph.D. degrees, and approximately eleven hundred scholars are pursuing PhDs in various fields with approximately two hundred authorized research supervisors. The university departments frequently organize meetings, seminars, and conferences at the state and national levels, as well as publishing their research papers in journals, books, and book chapters of national and international repute.
University of Kota Course:
The University of Kota offers Undergraduate, Postgraduate, and Doctoral degrees in six different streams: Arts, Science, Commerce, Education, Law, and Management.
B.Sc., B.A., B.Com., L.L.B., and B.P.E.D. are examples of undergraduate courses.
M.Sc., M.A., M.Com., M.P.E.D., L.L.M. are some of the postgraduate courses available.
Botany, Chemistry, Computer Science, Mathematics, Physics, Zoology, Economics, Geography, Education, and Law are some of the doctoral courses available.
University of Kota Scholarships
The Department of Social Justice and Empowerment offers post-matric scholarships to SC/ST/OBC/SOBC students.
The Department of Minority Affairs offers post-matric scholarships to students from minority communities.
Indira Gandhi Postgraduate Scholarship for Single Girl Children (UGC)
The Rajiv Gandhi National Fellowship is a joint venture between the UGC and the Rajiv Gandhi Foundation.
Women's UGC Postdoctoral Fellowship
Maulana Azad National Fellowship for Minority Students (UGC-Maulana Azad)
University Rank Holders are eligible for a UGC-Post Graduate Merit Scholarship.
SC/ST applicants may apply for a UGC-funded postdoctoral fellowship.
ICSSR fellowship for Post Graduate ICHR-Post Graduate Merit Scholarship UGC/CSIR-JRF/SRF/RA UGC/CSIR-JRF/SRF/RA UGC/CSIR-JRF/SRF/RA UGC/CSIR-JRF/S
Fellowship with DST-Inspire
University of Kota Placement
During the session, the placement cell will host a Placement Drive for university recruitment. In the campus placement process, students are selected based on a percentage criterion set by the company/recruiters during the campus drive. After meeting the requirements, the student takes the written exam; after passing the written exam, the student moves on to the community discussion round; and finally, the shortlisted candidate goes through the rounds of professional and personal interviews. Many renowned companies visited the campus for placements such as Central Govt. Veterinary Hospital, Dadar & Nagar Haveli, Silvassa, Vulture Safe Zone Program, BHNS, Bundelkhand, Damoh, M.P., TSA (Turtle Survival Alliance), Itawa, UP, Mohd Ali, WII Dehradun, MHTR Kota, WII Dehradun, WII Bhagalpur, Bihar, etc.
University of Kota Awards & achievement
In the 2010-11 academic year, the university won the ALL-INDIA INTER-UNIVERSITY GENERAL CHAMPIONSHIP OF WOMEN-JUDO. Ms. Gagan Deep Kaur, a student at our university, has won the GOLD MEDAL in the 63 kg category and open group in the All-India Inter-University General Championship, making history at Pune University, Pune.