Master of Arts in Economics Details: Top Colleges, Syllabus, Job Prospects | StepInColleges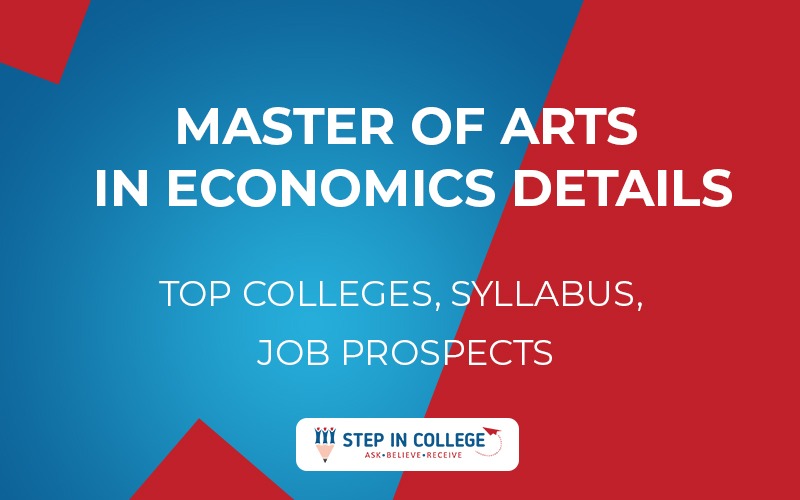 Published by : stepincollege
Almost every college of arts and humanities offers an economics specialization as part of their Master of Arts degree program. MA in Economics is a program that gives students a deep understanding of the financial and management sectors while also improving their soft skills, preparing them to face any challenge in the public sector, industry, or market. MA in Economics teaches students about the most up-to-date economic theory concepts.
Master of Arts in Economics Details, Eligibility, Entrance Exam, Top Colleges, Syllabus, Job Prospects | StepInColleges
Via different projects and internship programs, the course provides them with practical experience. This course is popular among students who are interested in the global economy and related fields. Students will gain an understanding of how an economy's finances evolve while also gaining critical thinking skills for assessing the financial market's vicissitudes.
The science of wealth creation, distribution, and consumption is known as economics. The MA in Economics program is offered not only on a regular basis but also through distance and correspondence.
M.A. in Economics Eligibility Criteria
A bachelor's degree in economics or in a relevant field of study.
A minimum percentage of 50% at the level of graduation is required.
M.A. in Economics Entrance Exams
Delhi University Entrance Test (DUET)
Banaras Hindu University - Postgraduate Entrance Test (BHU PET)
Jawaharlal Nehru University Entrance Test (JNUET)
Telangana State Common Post Graduate Entrance Test (TS CPGET)
Calcutta University Entrance Exam (CUEE)
Allahabad Post Graduate Admission Test (Allahabad PGAT)
Andhra University Common Admission Test (AUCET)
M.A. in Economics Top Colleges
Miranda House College, New Delhi
Presidency College, Chennai
Ramjas College, New Delhi
Fergusson College, Pune
Christ University, Bangalore
St. Mira's College for Girls, Pune
Symbiosis College of Arts and Commerce, Pune
St. Xavier's College, Jaipur
Kristu Jayanti College, Bangalore
Mithibai College of Arts, Mumbai
M.A. in Economics Syllabus
First Year: Microeconomic Analysis, International Trade, Elementary Statistics, Monetary Economics, Optional Paper 1, Macroeconomic Analysis, International Finance, Theory of Practising and Distribution, Quantitative Methods, Viva Voce, Statistics and Computer Applications, Growth and Development of Economics.
Second Year: Economics of Industry, Public Economics, Economics of Growth, Issues in the Indian Economy, Optional Paper 2, Economics of Agriculture, Indian Public Finance, Growth Models in Economics, Introductory Mathematical Economics, International Finance, Selected Problems of the Indian Economy, Viva Voce.
M.A. in Economics Job Prospects
Following is a list of some of the most common career options for students who have completed an MA in Economics. Students with a postgraduate degree in Economics may apply for a variety of jobs in a variety of industries. They would have no trouble finding work in the private sector, trade and finance, economic consultancy companies, and so on. The pay scale for postgraduates in economics is reasonably decent, and it increases as the candidate progresses in his or her career. The most in-demand job roles following an MA in Economics are listed below.
Research Associate
Accountant
Business Analyst
Financial Analyst
Corporate Analyst
Personal Finance Consultant
Operations Manager
Investment Banker
Marketing Analyst
Branch Manager
Credit Officer
Cash Officer