Master of Arts in Geography Details: Job Prospects, Top Colleges, Syllabus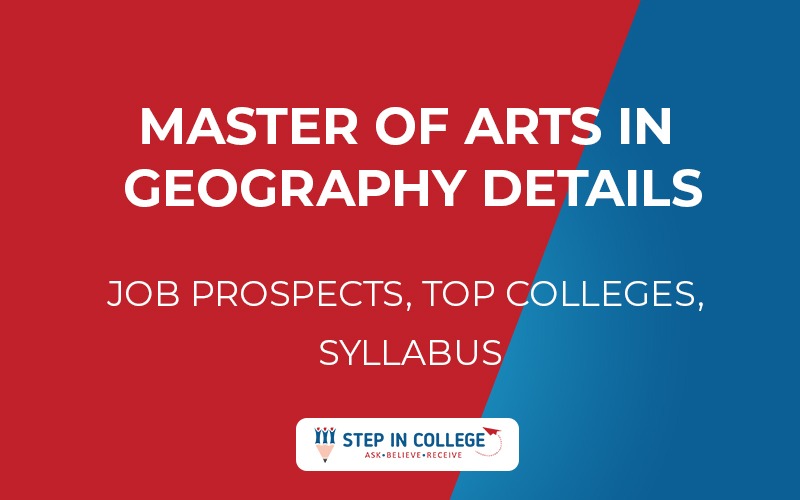 Published by : stepincollege
Master of Arts in Geography is a postgraduate 2 years course. This course provides a detailed analysis of the human aspects of understanding the physical, regional, and economic characteristics of the earth's geographical dimensions. The course emphasizes theoretical as well as practical information and comprehension. The social science element of geography is the subject of the MA Geography program. It entails a detailed investigation of Human Geography, as well as the relationship between humans and their generated environment, as well as the management and utility of space. This course is mainly job-oriented and provides a comprehensive view of the discipline from a social science viewpoint.
Master of Arts in Geography Details, Eligibility, Entrance Exam, Top Colleges, Syllabus, Job Prospects | StepInColleges
The course provides a detailed and in-depth analysis of the earth's physical features as well as human behavior. The thesis focuses on the social science aspect of the subject, namely Human Geography, which is a branch of geography that studies the built environment and how humans construct, view, and handle space, as well as the effect humans have on the space they occupy. This course's syllabus is split into four semesters. MA Geography is a very necessary and realistic course.
MA in Geography Eligibility Criteria
A minimum of 50% in aggregate from a recognized board at the secondary high school or comparable level, with higher marks in social sciences.
Graduation with Geography as the main subject and a minimum aggregate score of 50% is expected.
MA in Geography Entrance Exam
JNUEE
BHU PET
JMI
DUET
PU CET PG
MA in Geography Top Colleges
University of Delhi, New Delhi
University of Rajasthan, Jaipur
Institute of Geoinformatics & Remote Sensing, Kolkata
Jamia Millia University, New Delhi
Nalanda Open University, Patna
Loyola College, Chennai
Symbiosis Institute of Design, Pune
Apeejay College of Fine Arts, Jalandhar
Banaras Hindu University, Banaras
Banasthali Vidhyapeeth, Jaipur
MA in Geography Syllabus
Semester I: Geomorphology, Climatology and Soil Geography, Nature of Geography, Economic Geography, Quantitative Techniques and Digital Data Processing, Soil Water Analysis, Surveying and Field Report.
Semester II: Geohydrology and Oceanography, Biogeography, Historical and Political Geography, Geographical Thought, Cartographic Techniques and Map Projection, Thematic Mapping and Geographical Information System.
Semester III: Social, Cultural and Settlement Geography, Population and Human Development, Regions and Regional Entity of India and West Bengal, Special Paper, Applied Statistical Techniques in Geography, Special Paper.
Semester IV: Resource Planning and Development, Regional Planning and Development, Land Use Planning and Rural Development, Special Paper, Remote Sensing and Geographical Information System, Term Paper (on special papers).
MA in Geography Job Prospects
Academic and research positions are available to students who have completed an MA in Geography. Post-graduates are recruited by both public and private sector companies for advanced research and discovery.
Employment Areas
Agricultural Research
GIS and Remote Sensing
Colleges/Universities
Environment Protection Agencies
Gas Exploration Companies
Government Research Institutes
Mining Industry
NGOs
Oil Drilling Companies
Solid Waste Disposal
Job Types
Agricultural Specialist
Geographer
Cartographer
Demographer
Forest Manager
GIS and Remote Sensing Specialist
Regional and Urban Planner